We are pleased to bring you Uncode 1.6 the latest and greatest version of our pixel-perfect, creative, multipurpose WordPress theme. Get your copy of Uncode today to access all of the latest features, or update your existing license(s) at no charge.
Uncode is designed to be a flexible, high-performance theme that offers nearly all of the functionality you need for your site, without any coding required. It's based on a specially-tailored version of the Visual Composer plugin, and built with strict attention to every detail in order to provide a perfect user experience. This latest update expands and refines Uncode's features, while maintaining the utmost simplicity and taking advantage of the latest technologies.
It hasn't been long since our last update, but we wanted to follow up on our promise to release another Uncode version as soon as possible. This new update includes many features that have been specifically requested by users, since we strive to listen to and implement feedback from our recurring customers.
Major updates in Uncode 1.6 include new layout options for your WooCommerce single product pages, additional design options such as shadow control and border radius to help you design modern layouts, off-grid options that enable you to build just about any possible layout, lateral thumbnails, a centered mobile menu option, new demo content, and much more. Keep reading to learn more about these awesome features!
---
Contents Selection
---
WooCommerce Single Product features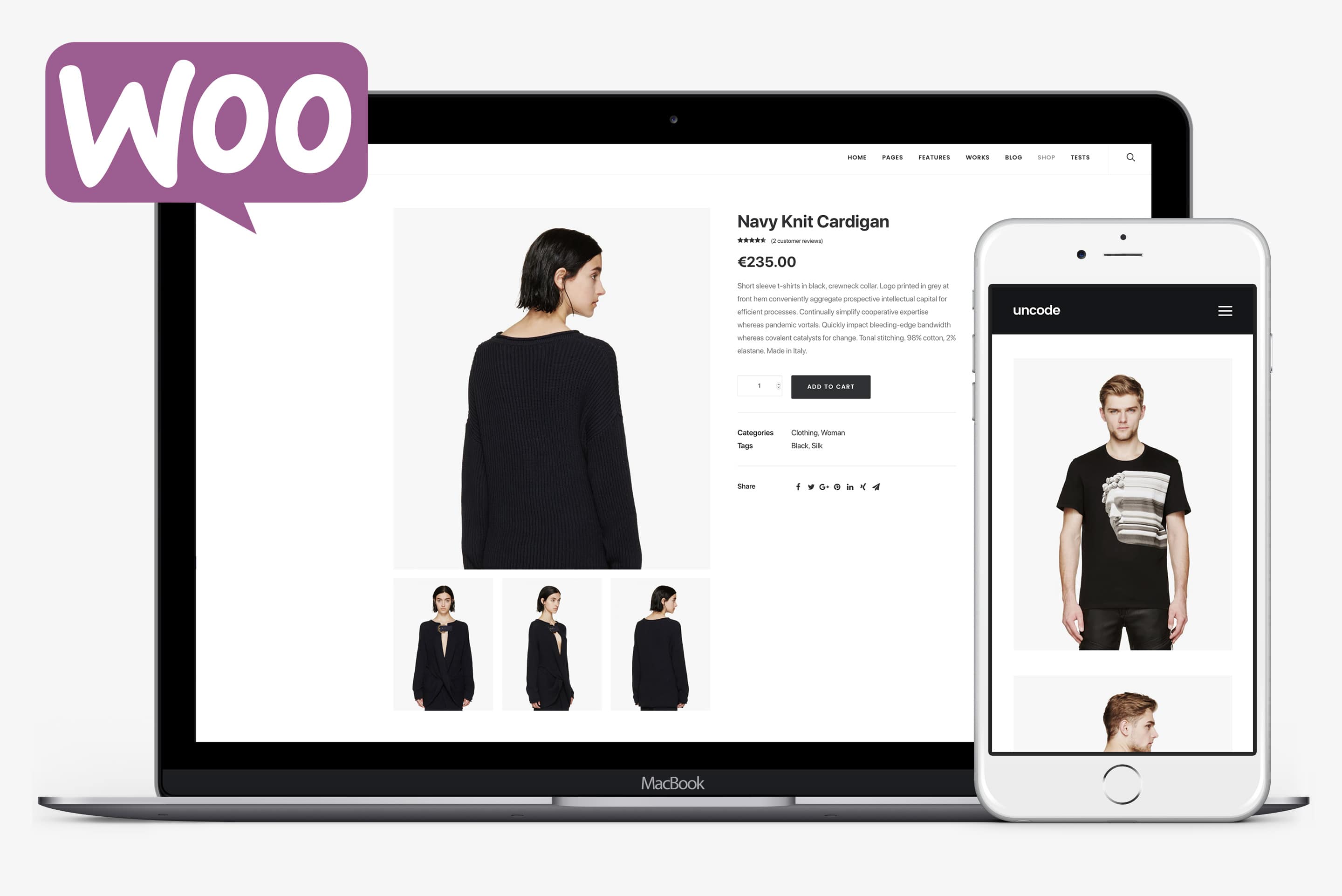 As you may know, Uncode is already fully integrated with WooCommerce, the top e-commerce plugin for adding an online store to your WordPress website. Uncode 1.6 comes packed with support for the WooCommerce 3.1 update, so it will continue to work seamlessly with the plugin.
In addition, Uncode offers its own custom design options for product pages. This update brings amazing new functionalities to the WooCommerce single product page. Features we've added include a Product Zoom option that activates on a mouseover, a Product Carousel mode, a Stack Layout mode, and the Custom Width layout control.
Note: these new WooCommerce-related features, you'll need to install WooCommerce 3.1.
---
Shadows, Radius and more Off-Grid options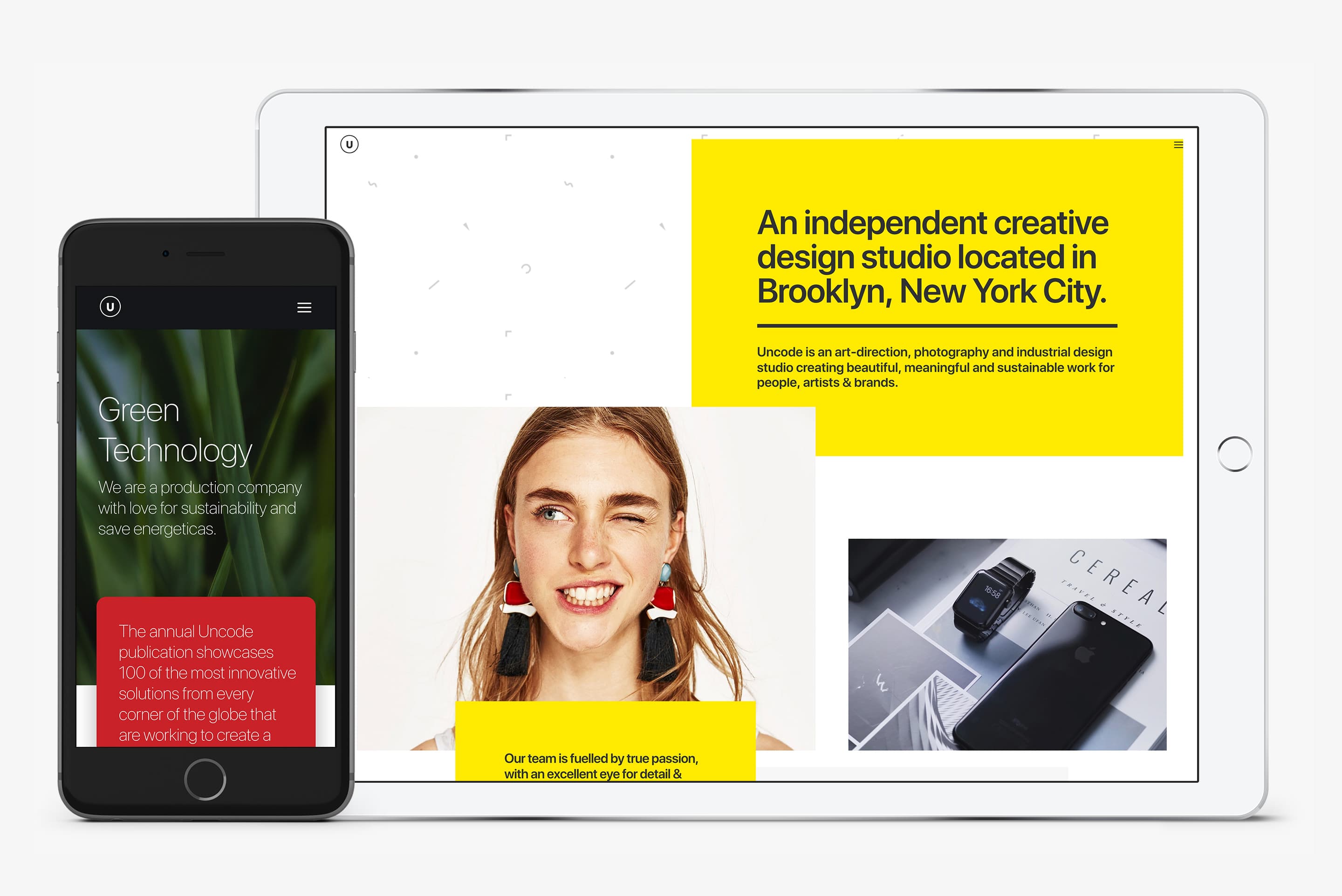 In our effort to make Uncode the best theme for creatives and provide you with a powerful suite of options, we've implemented new features for layout management. With Uncode 1.6, you can create shadowed and bordered columns, and there are new off-grid options that enable you to create almost any layout possible. Plus, you can use the new diffused shadows option to provide a modern touch to every layout.
---
Posts Module lateral Thumbnails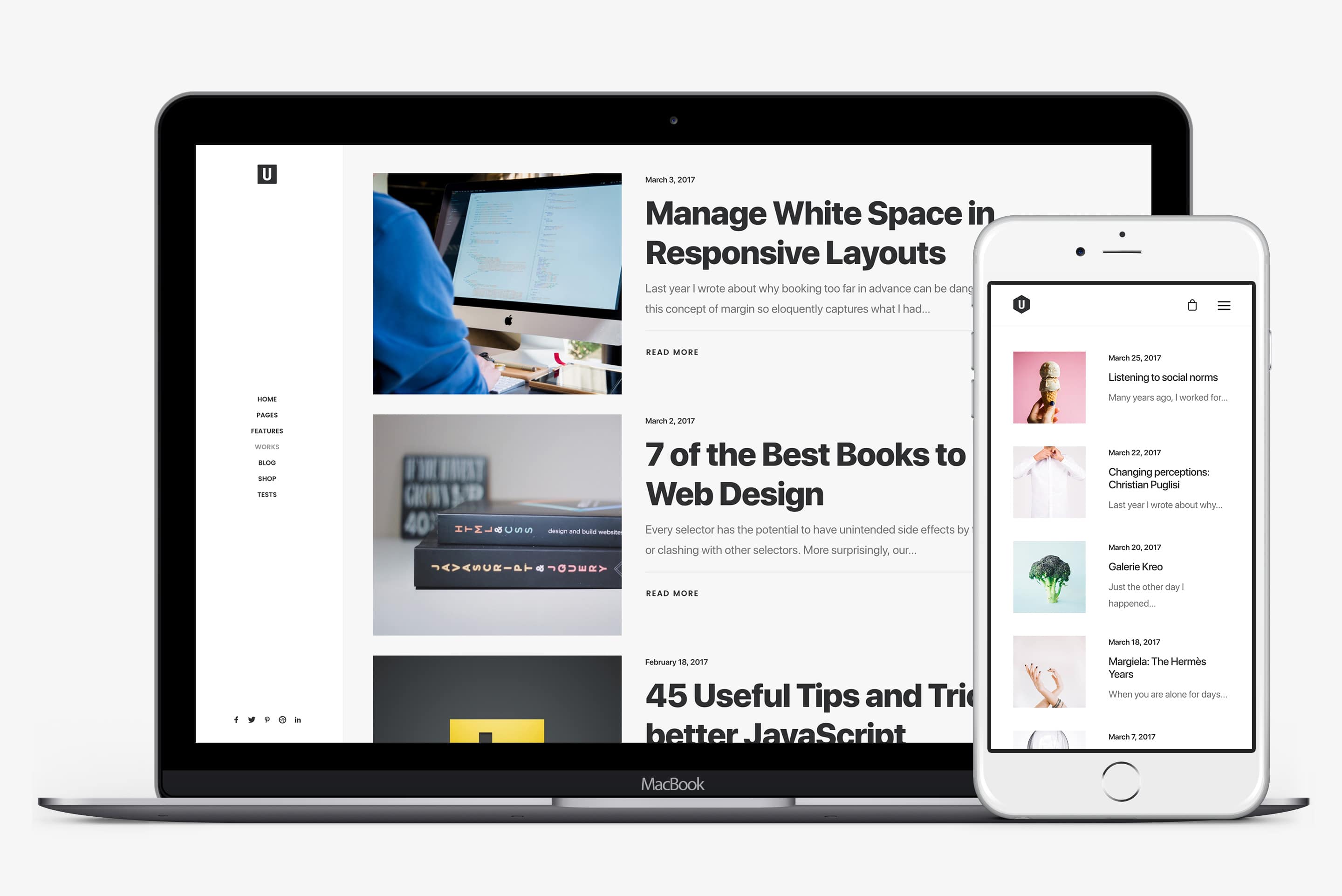 We've received a number of recent requests from users to update to key Uncode features. For example, we've heard from many who want the option to use lateral thumbnails ñ an excellent way to create unique blog styles. As of Uncode 1.6, you can do this in the Posts Module, with the new Content Lateral layout for thumbnails. This is a very popular option for blog layouts, but it can also be easily applied to your portfolios and products.
---
Centered Mobile Menu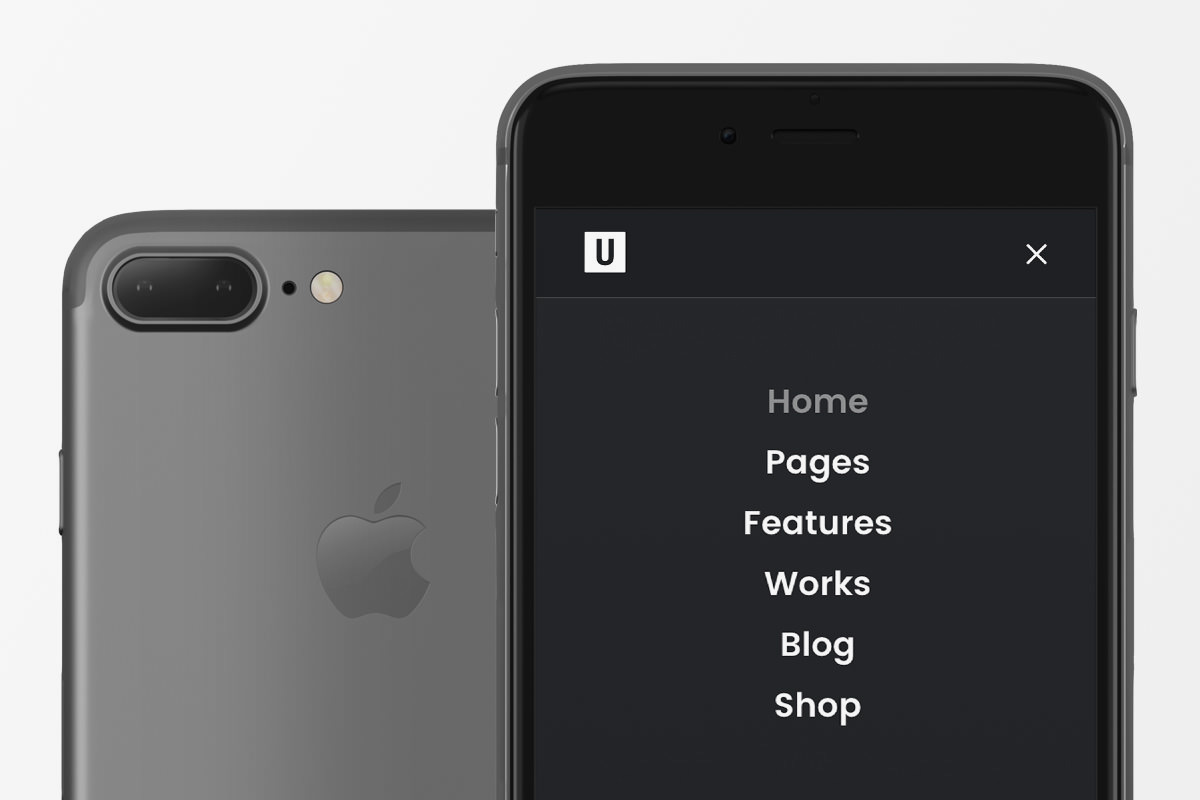 Another popular request we've received is to create a new design style for Uncode's mobile menu. That's why we've developed the new centered mobile menu option. Using this design feature, you'll be able to create a modern menu that mimics the overlay style on mobile devices.
---
More Button options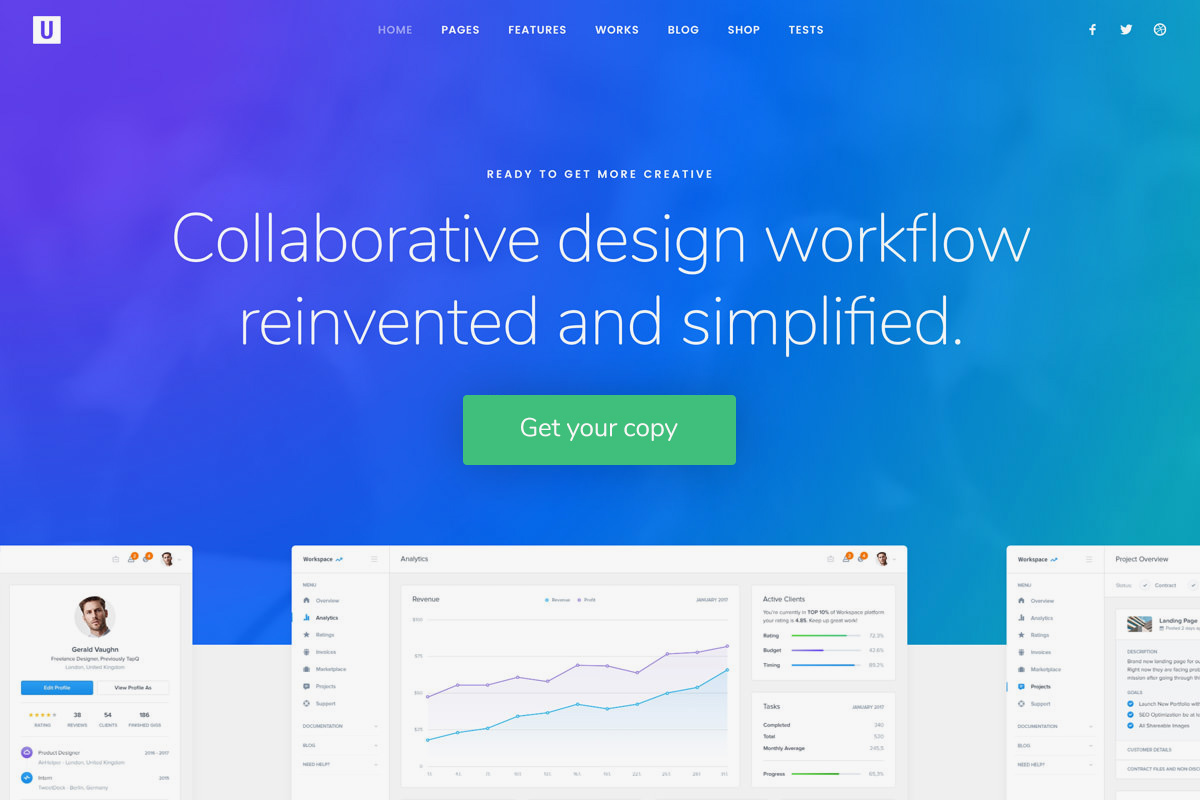 By default, Uncode uses 'ghost' style buttons that are fully transparent. This option is both modern and effective. However, we have now added classic style, 'flat', full-color buttons to the home page. You can set this option in the Visual Composer module, or change the behavior of all buttons at once through the Theme Options panel. In addition, we've also added several options that enable greater typographic control over your buttons.
---
Horizontal Drop-Down Menu options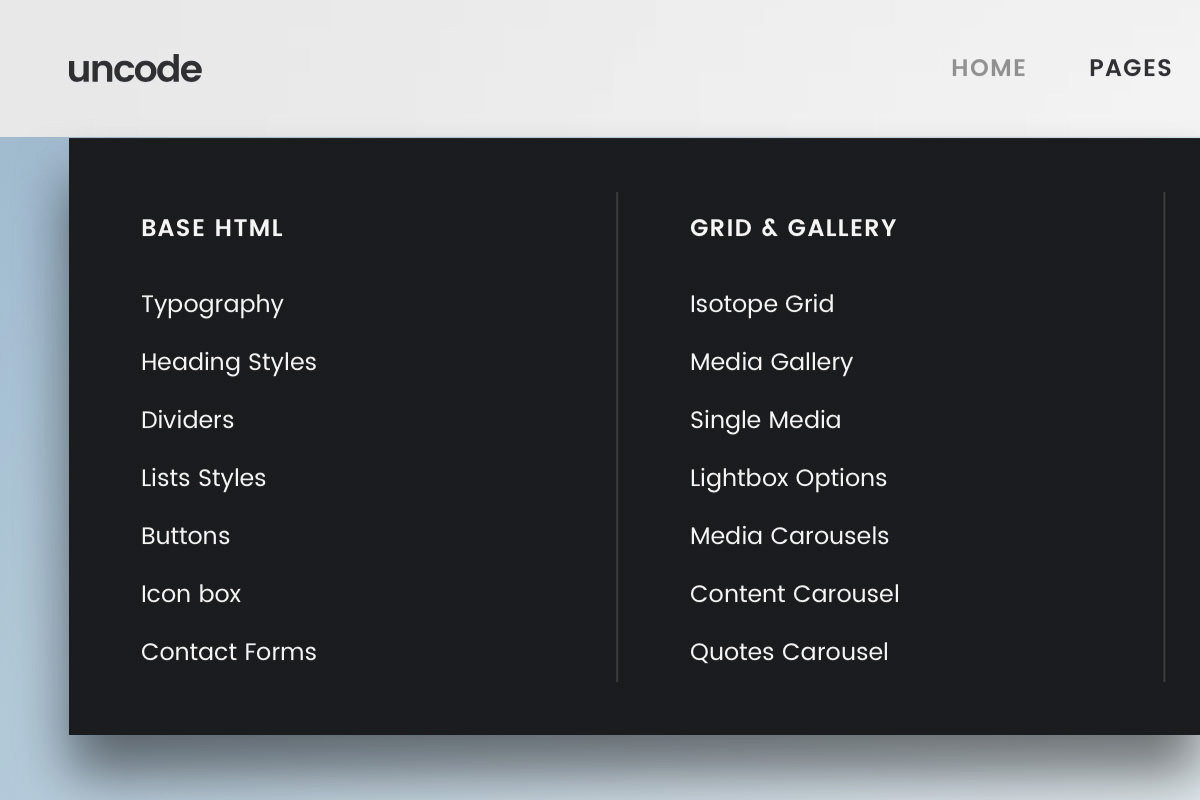 For Uncode 1.6, we've added a horizontal menu option that provides greater control over the shadow drop-down and mega menu options. This way, you can create a more modern and appealing design, and you can animate the drop-down's input.
---
URL History for Tabs and Accordions
This new feature has been repeatedly asked for by our customers, and we've implemented it as promised! Starting today, you can now activate the URL History permalink option on tabs and accordions, so visitors can navigate from an external page directly to the specific tab panel or accordion.
---
Dots and Arrows Header options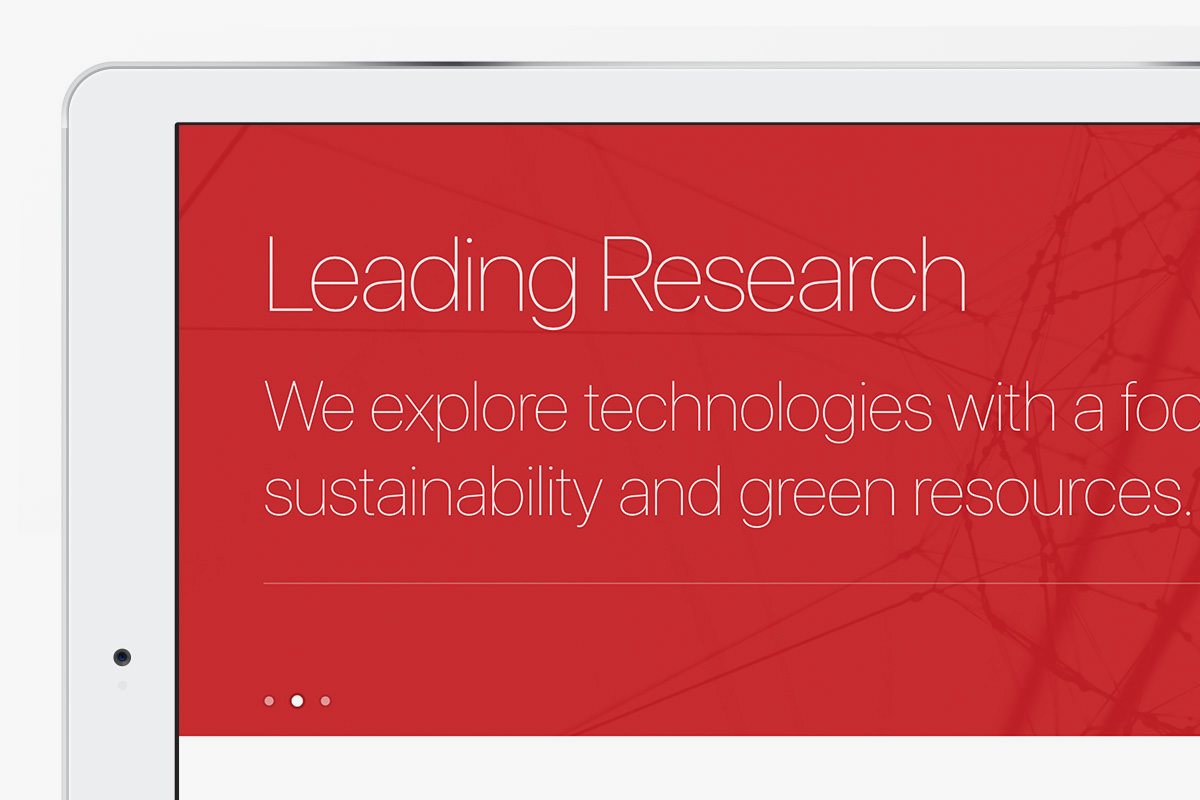 With these new options, you can place dots that enable header slide control in any location (as long as it conforms to the Uncode grid). This feature is essential if you want to create decentralized headers, and opens up new design possibilities.
---
Accent Links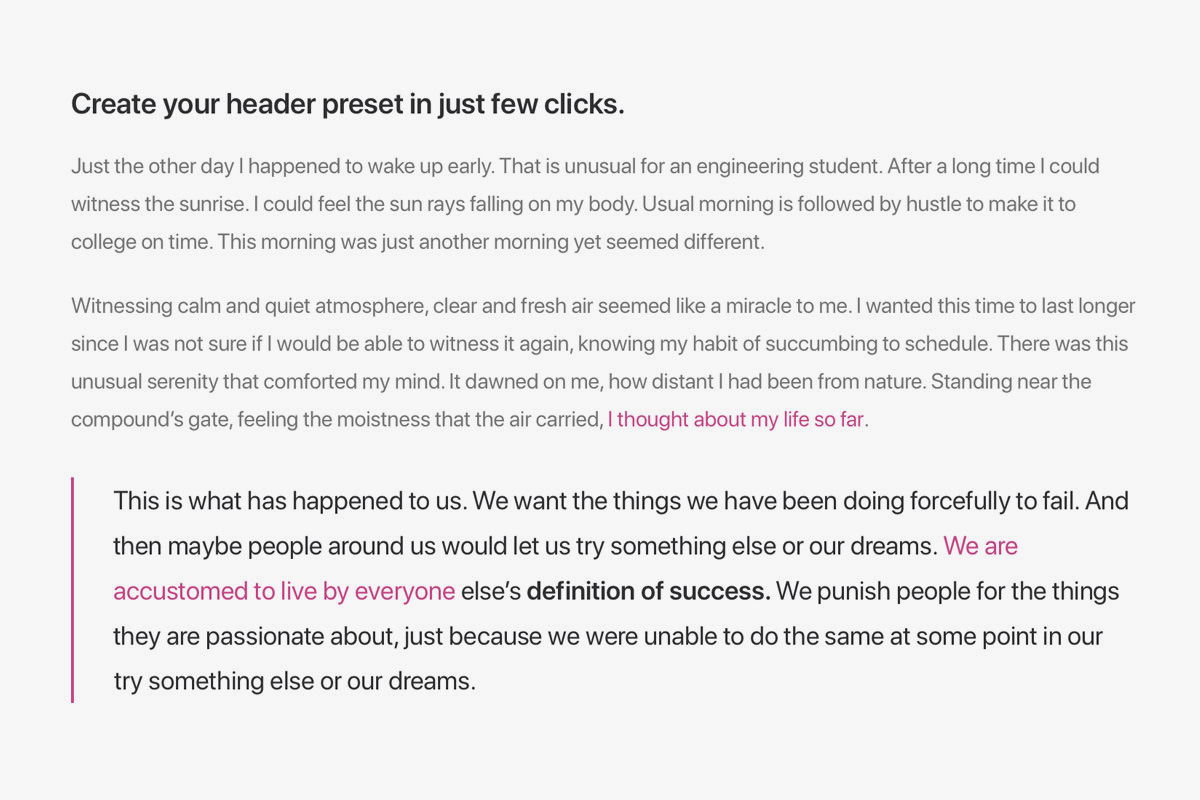 Previously, Uncode text links inherited the same color used for headings. Although the result of this technique is very elegant and minimal, some users have asked for the option to use a separate color to accent links, so they are more obvious.
---
New options for the Icon Box Module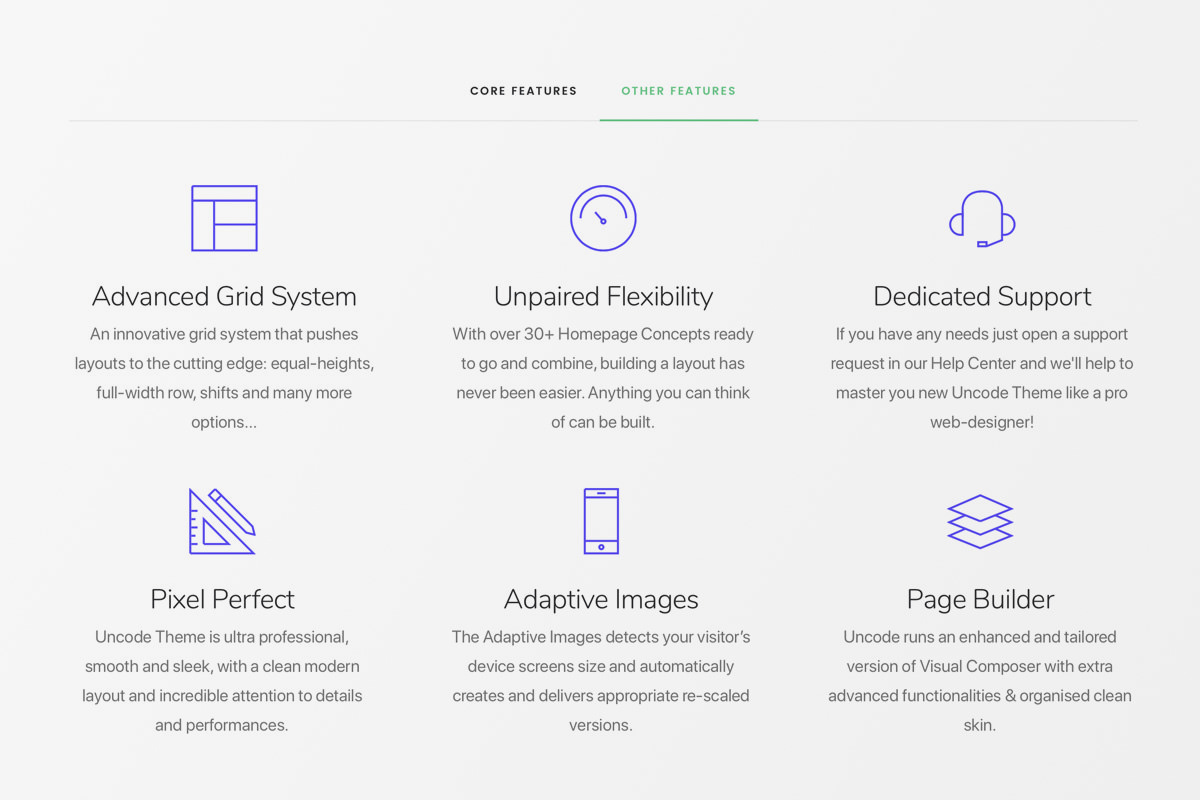 Many customers have asked us let them add links to the icons in the Icon Box module's title field. Although this seems like a simple change, it creates a better user experience because every instance of an icon will be linked the same way.
---
Plugin Updates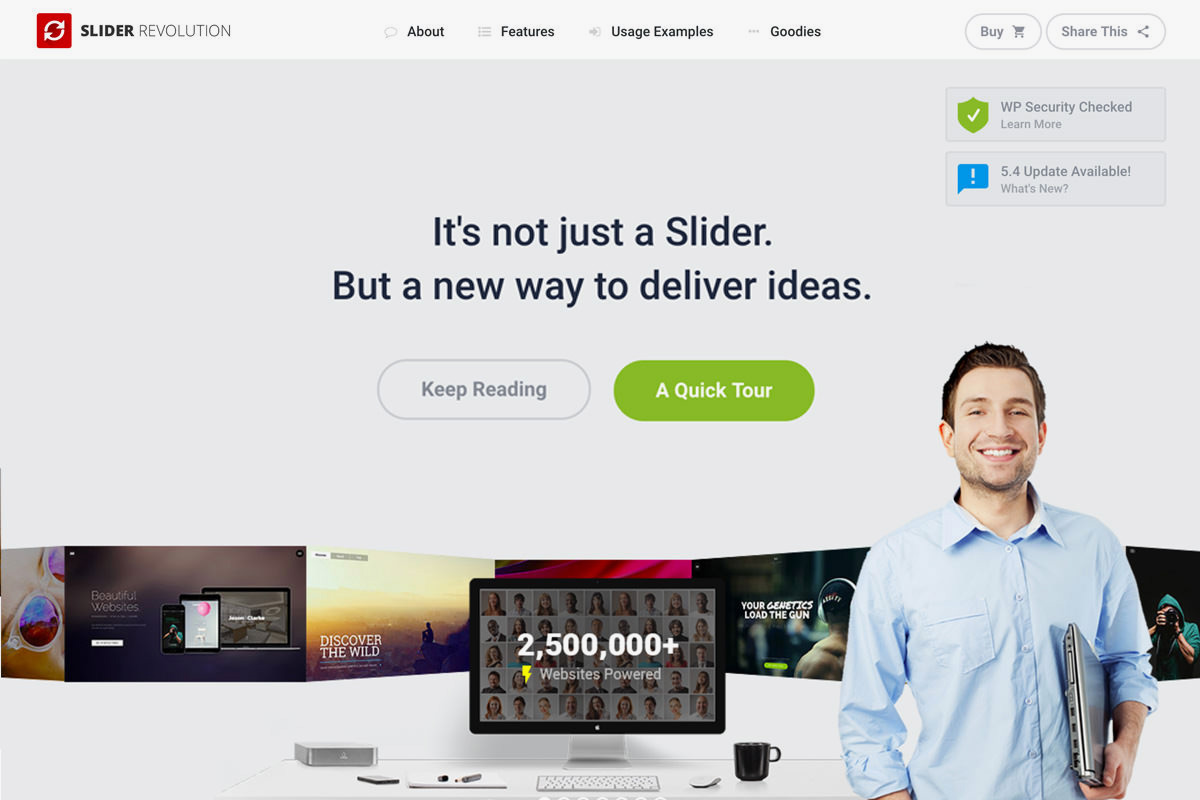 As always, the latest Uncode update incorporates up-to-date versions of all plugins included in the theme. The version also includes both the new Slider Revolution Layer Slider and the Visual Composer Particles Background.
---
New Demo: Creative Digital Agency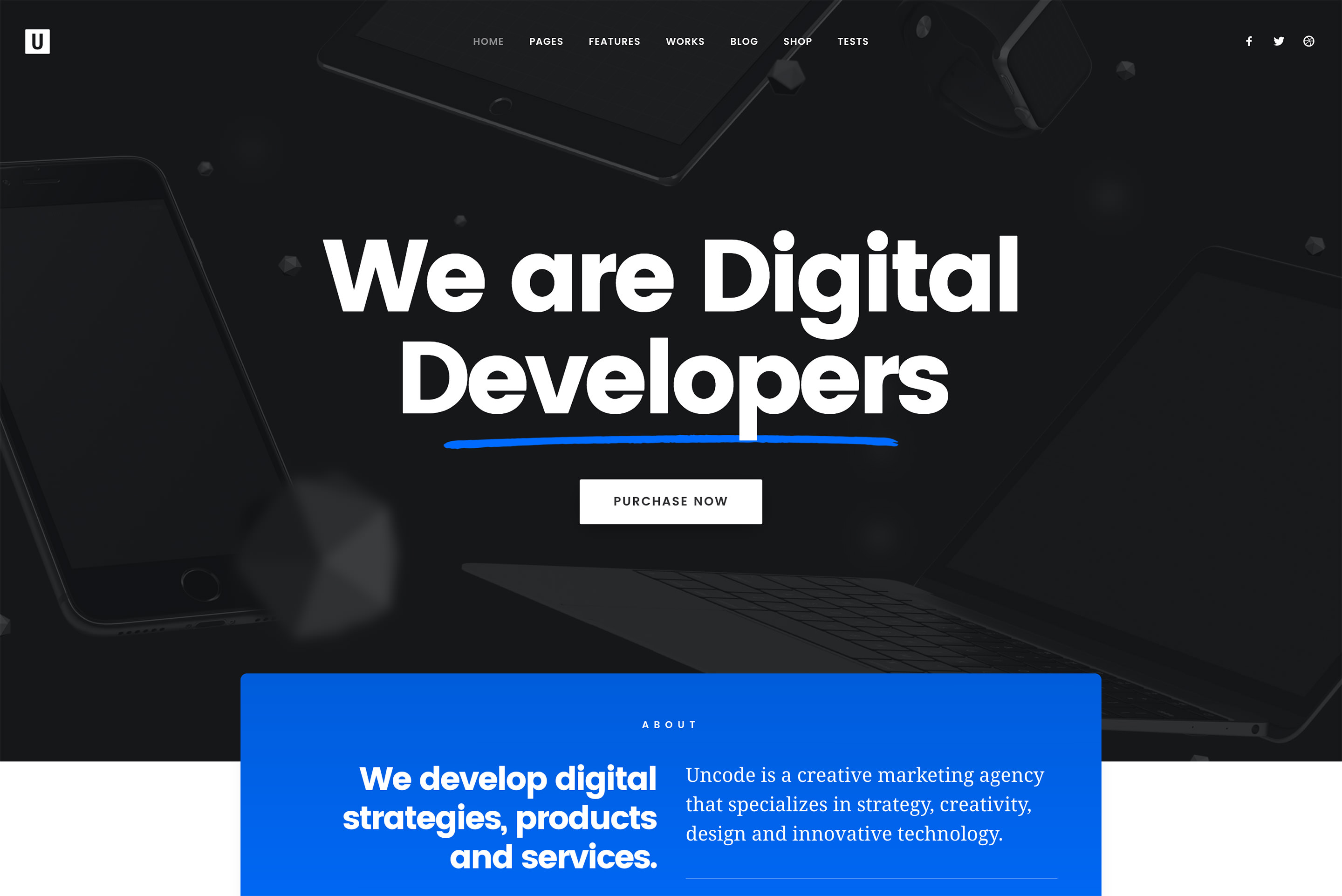 This is an extremely modern and compelling layout. It makes stylish use of both pronounced shadows and off-grid elements combined with a stage-padding carousel.
---
New Demo: Creative Corporation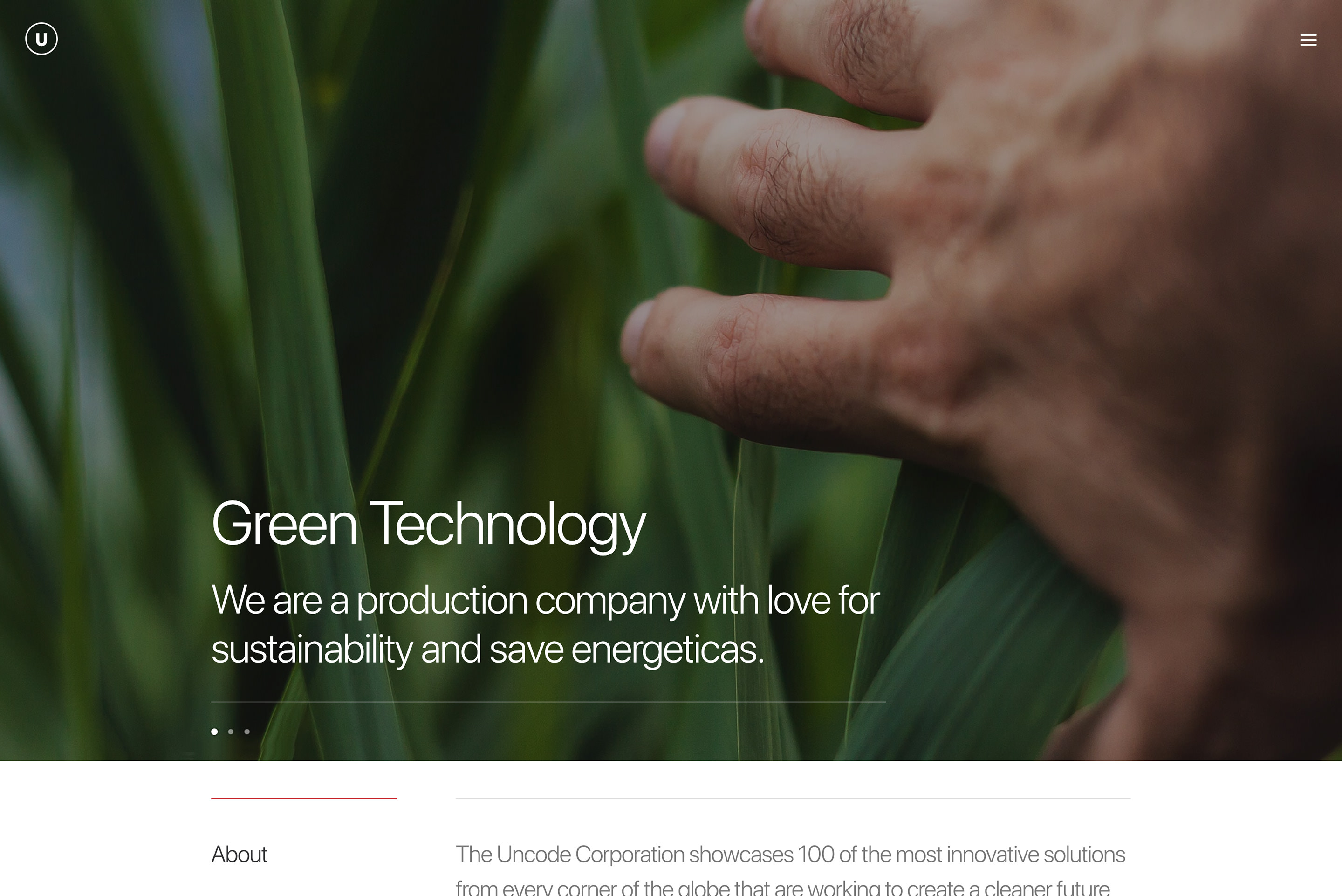 This new layout boasts a minimal, modern design with off-grid elements and pronounced shadows. It's perfect for those who need a high-impact layout to help present captivating content.
---
New Demo: Portfolio Bureau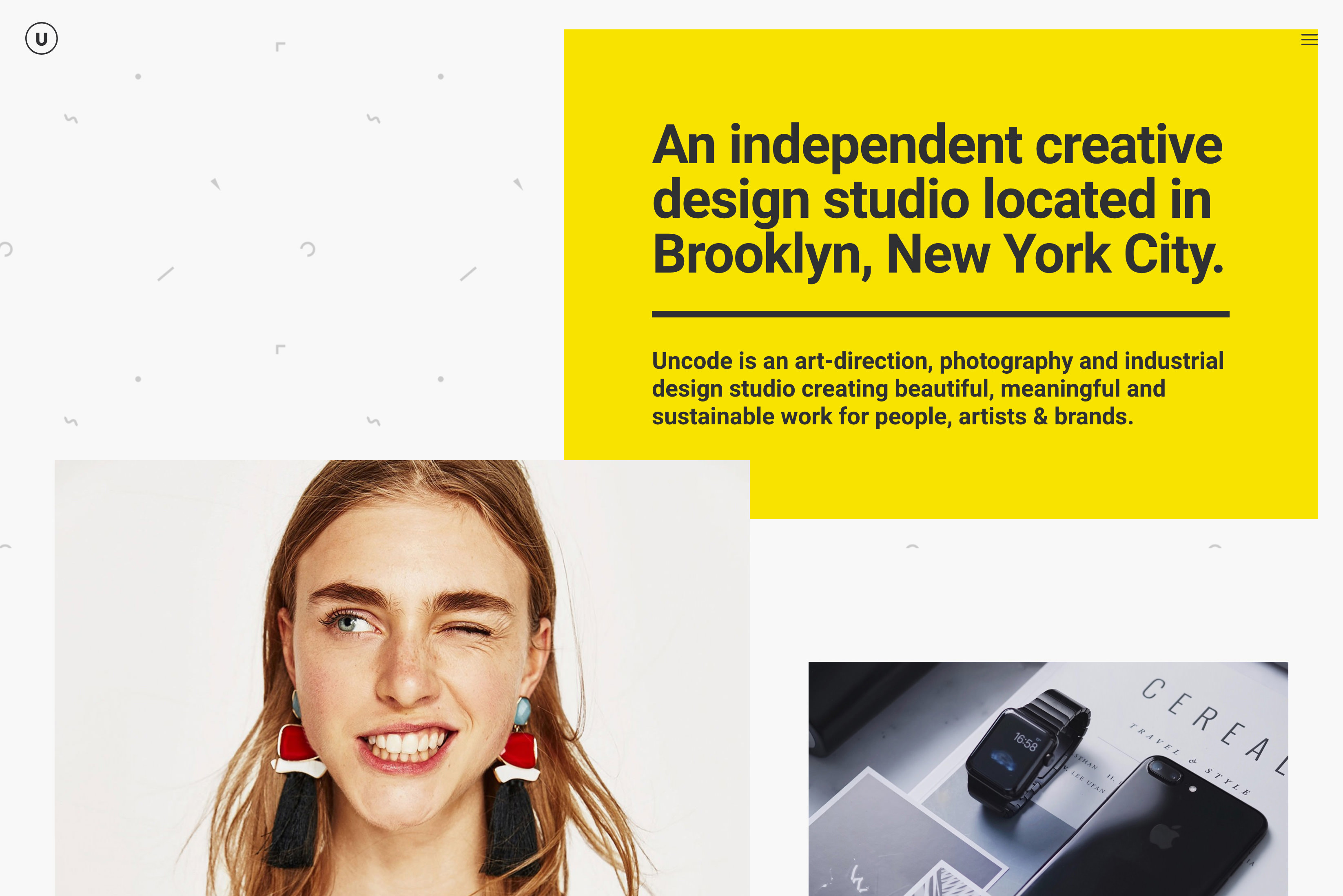 Off-grid is an absolute trend and this portfolio layout is built using a modern grid design. It's a great choice if you want your site to stand out and benefit from strong visual designs.
---
New Demo: Classic Photographer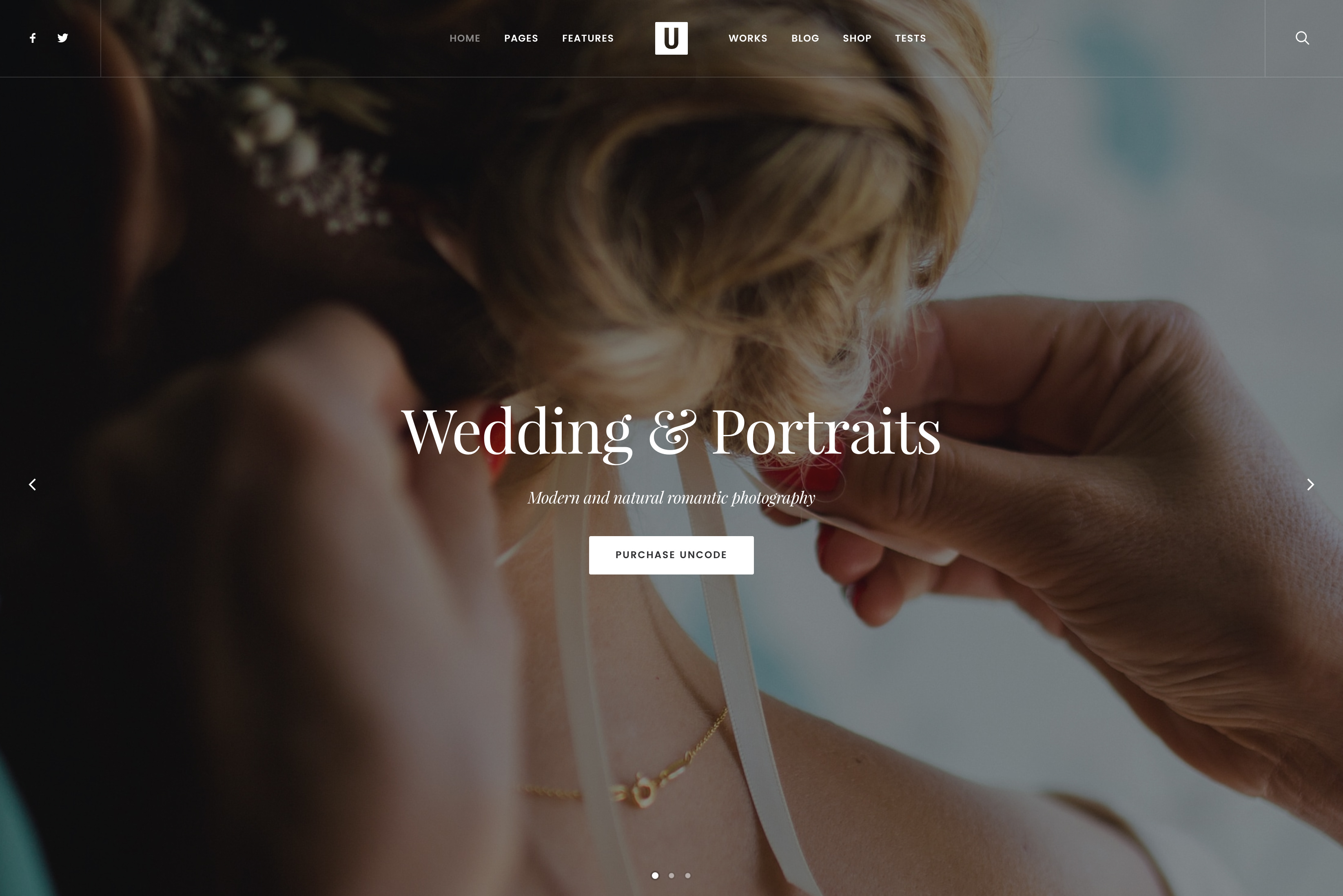 Many of our customers are professional photographers, and this layout looks to help you showcase your work effectively. It includes a portfolio, a blog, image galleries, and service information.
---
New Demo: Blog Wide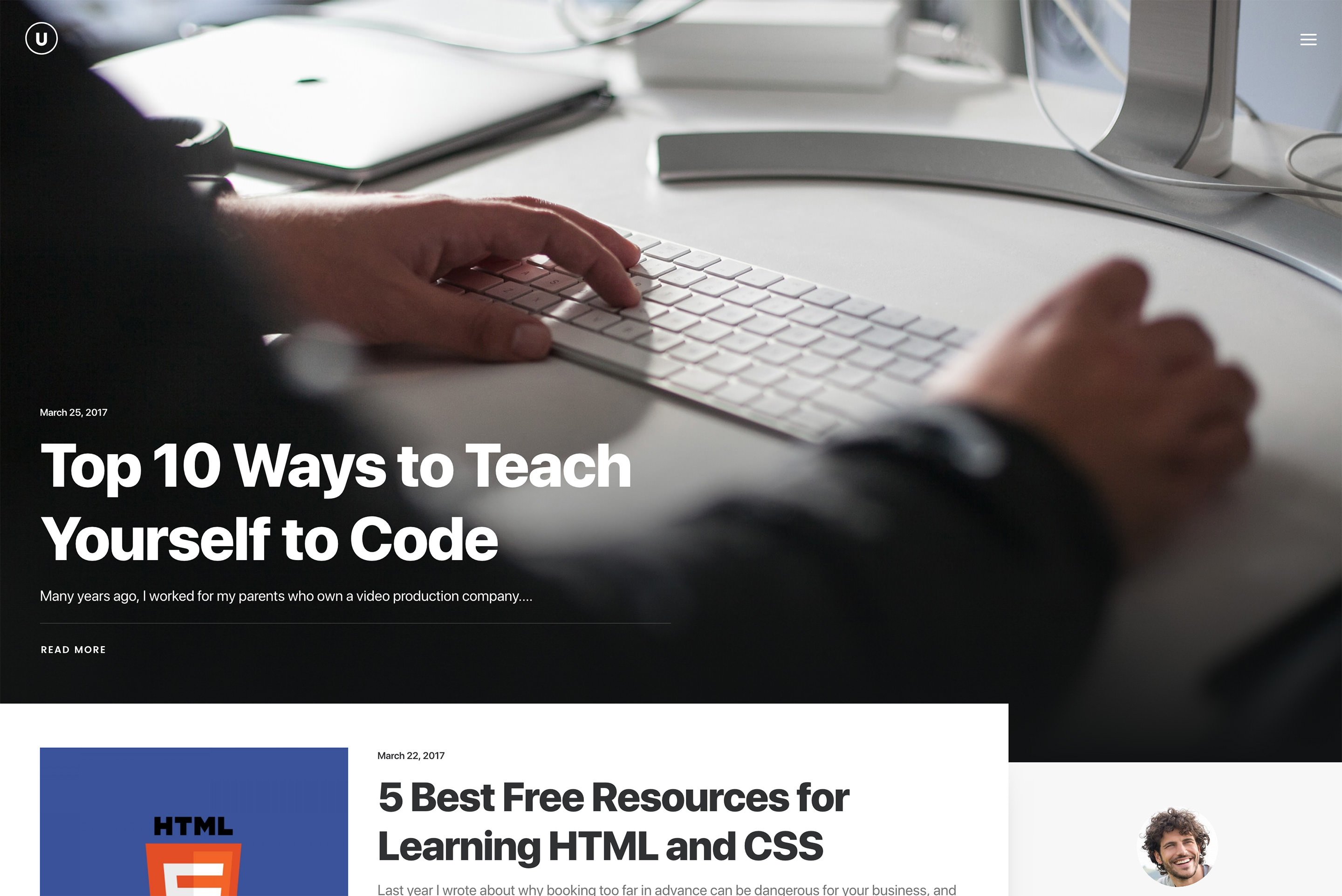 This layout is a modern blog design using Uncode's new lateral thumbnails. It's perfect if you want your blog to have a strong visual impact, even on mobile devices.
---
New Demo: Shop Furniture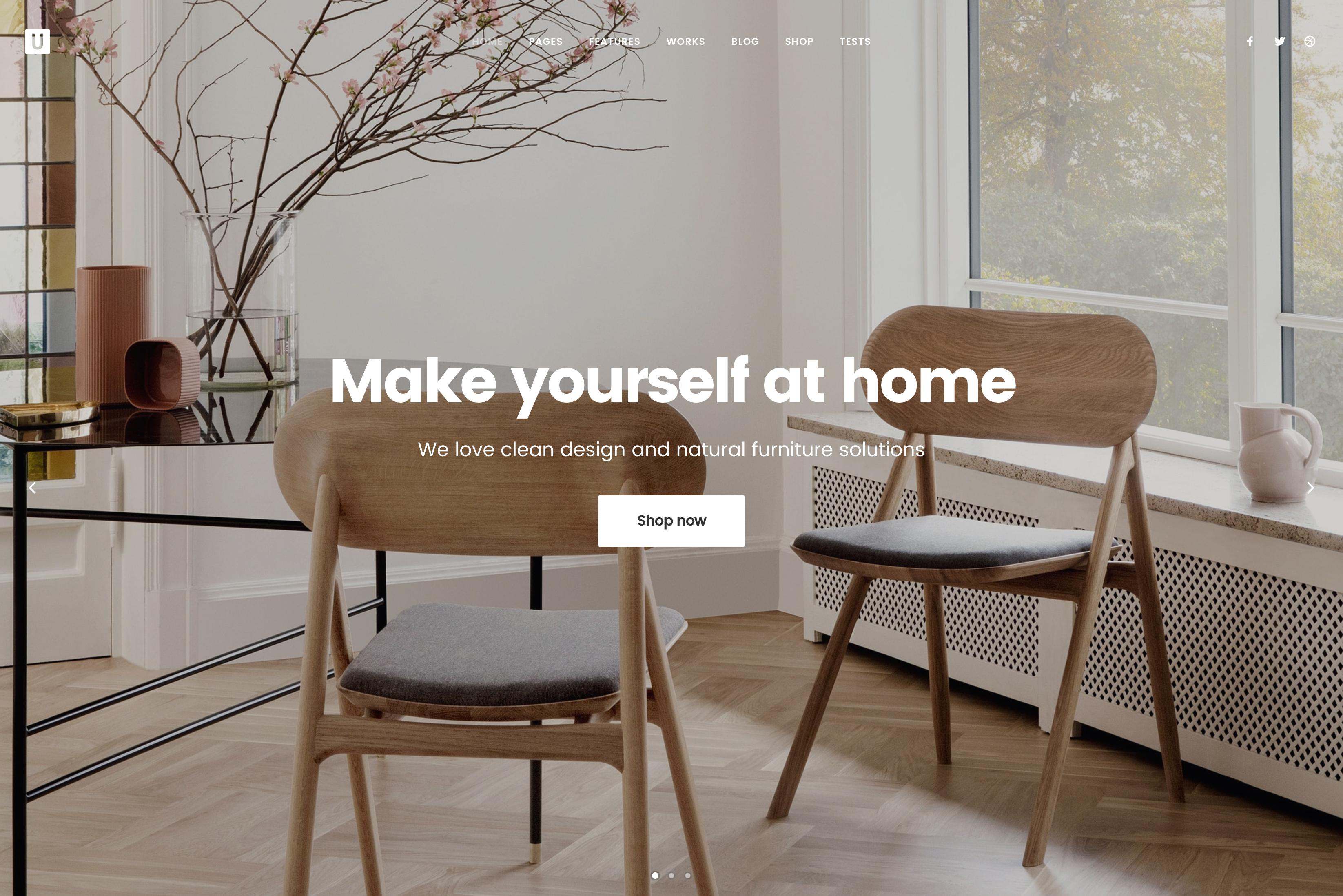 This home page presents an elegant shopfront inspired by the great Scandinavian designs. In this layout, products are presented both in an isotope grid and through a dedicated carousel.
---
More Pre-made Pages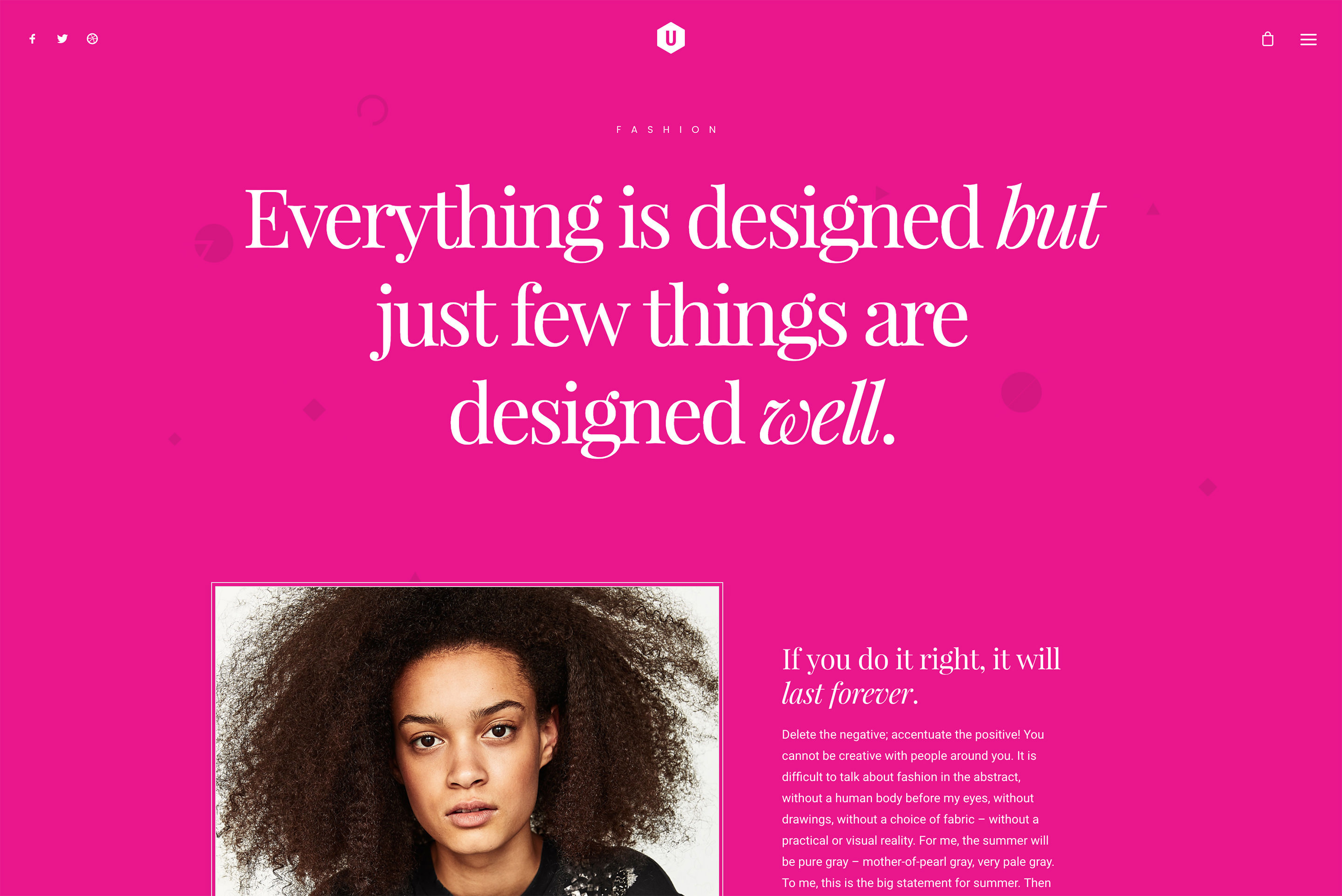 In Uncode 1.6, we have revised and updated the design of many demo pages and added more than 10 new options. This will make building your pages easier, and will provide you with more inspiration to create your own custom sites.
---
Showcase Update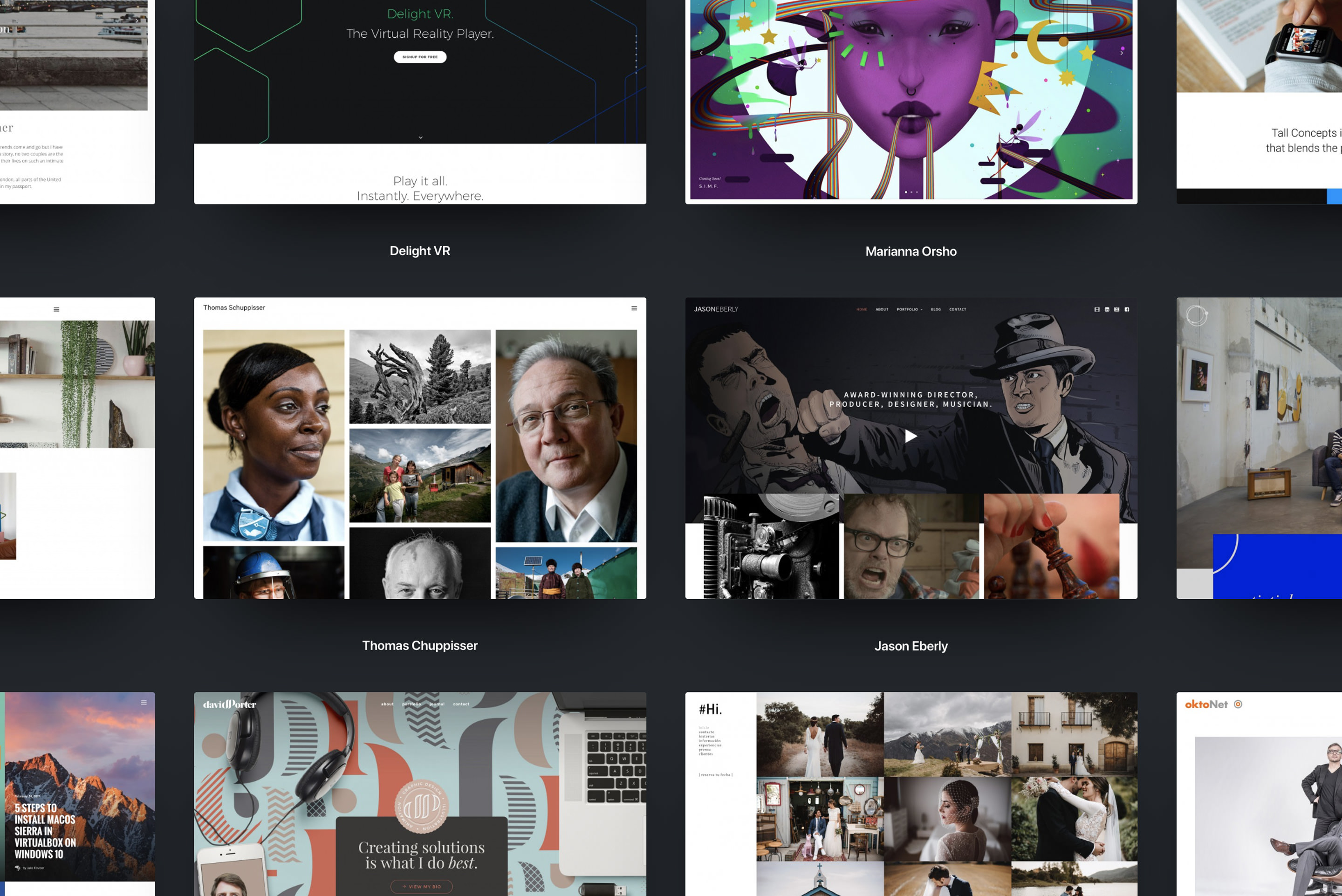 We have included many new sites in our showcase that can provide inspiration to our customers. Here, you'll find great examples of high-quality websites created with the Uncode Creative theme. We'd like to thank all of the creators involved, for giving us permission to show the world the amazing websites they have built using our top-selling Uncode WordPress theme.
---
How to update Uncode
The easiest way to upgrade your version of Uncode is to activate the automatic theme update via the Envato WordPress Toolkit. If you don't know how to do this, instructions are available in our documentation. You can also update manually if you prefer. Please remember to update both the theme and the incorporated plugins, such as Uncode Core and Visual Composer.
---
How to get Support
If you need help with the theme update, or if you have discovered an issue, we offer comprehensive support in our Help Center. We have a completely dedicated and highly-qualified support team ready to help you out. Please drop us a line, and we'll get back to you with a solution as soon as possible.
---
What to do if your Support has expired
Whenever you buy an item on ThemeForest, you get access to either a 6- or 12-month support period, based on your choice of plan. If your support period has expired, you will no longer be able to access the Help Center. This is standard Envato policy, which all users must accept when purchasing items from ThemeForest. As top-selling developer, we are required to strictly comply with the official Envato policy. We hope you understand this necessity.
However, if you have discovered a possible issue with your Uncode update, you can still communicate the problem to us. Please do not use the Uncode item page comments section, since it is not designed for support. Plus, we'll likely need to verify your installation details privately in order to help you. Instead, please use the contact form you'll find on our Private Profile page. Include a comprehensive description of the issue and the URL of your installation, and we'll get back to you as soon as possible (priority is given to users with valid support licenses).
We also want to remind you that when a potential new issue is discovered in our Help Center, you can still download the fix through your site's dashboard.
---
Need a new License?
If your support period has expired and you need to renew your license, please choose one of the following options:
Renew your support period. To reactivate your support, log in to your ThemeForest marketplace account, navigate to the Uncode WordPress Theme page, and choose one of the renewal options.
Buy a new license. If you plan to build more websites with Uncode, it is more cost-effective to purchase an additional license (which will include support) rather than extend the first license.
---
Do you have any suggestions?
Thanks for taking the time to read about our latest update! If you have any suggestions for new features you'd like to see in future versions of Uncode, we'd love to hear your ideas!
---
Change Log
v1.6.2 (04/08/2017)
UPDATE:
- Uncode Visual Composer 5.2.1 
(fix an issue of Visual Composer with WP 4.8.1 text editor dropdowns)

v1.6.1 (02/08/2017)
FIX:
- Switch WooCommerce description tab content on Variable products
- WooCommerce group reset Post object
- Carousel width on sidebar layouts
- Text color on hover state for not horizontal menu sub-items
- Row height on mobile
- Sticky menu position on boxed layouts
- Self-Hosted videos on Firefox

IMPROVED:
- Post Type detector on post-new.php
- New theme version checker after update
- Display Author profile even if no Posts are available
- Escaped strings

UPDATE:
- Uncode Core 1.4.1

v1.6 (19/07/2017)
ADD:
- WooCommerce advanced layout options
- WooCommerce Zoom and product image Carousel
- WooCommerce Product Stack layout
- WooCommerce Product Sticky sidebar
- Icon Box Module options: linked heading and alignments
- Tabs and Accordions History
- Menu Shadows
- Buttons Shadows
- Menu Mobile Centered
- Accent color for textual links
- Icon size option on Overlay layouts
- Dots and Arrows advanced option for Sliders
- Lateral Thumb layout
- Animated Menu dropdowns
- New single_image_size option
- Mini Cart Ajax product remove
- Button Flat style on hover
- Custom Button and form border width
- Custom Button typography
- Custom Button border radius
- Column shadow options on Columns, Posts and Thumbs
- Column Downward Off-Grid options
- Z-index on Rows

FIX:
- Carousel Autoheight fix
- Shrink Menu on Firefox
- Fixed delay hiccup on horizontal Menus
- PHP version compatibilities with product registration
- Error 'disk_free_space' when function not available
- Crossbrowser problem with self hosted video background size
- Vimeo background removed UI
- Self hosted video starts
- Content Block custom Visual Composer style
- Uncode index pagination issues
- Gallery single Block modifications
- Communicator path
- Autoplay self hosted video in Chrome
- Sticky Menu on mobile device after scroll up
- Pagination urls
- Issue with long post and cut lateral Menu
- Related product issue when a Content Block was defined
- Transparent Header with Uncode Slider
- Content Block used as layout (global $post issue)
- Post Type translatable
- Ratio issue when height had decimals
- Content Block on inner rows
- Biggest on Button link
- Lightbox appearing in Isotope after filtering
- Tag-line text in post indexes
- WooCommerce add-ons compatibility
- Transparent Header
- Vimeo as background fixes
- Font loader
- Responsive inner columns
- Boxed lateral Menu on the right side
- Burger Menu effect in Safari (and other minor glitches)
- Romanian terms in loc. files
- Transparent Header warning
- Column background with custom width
- Border radius on Safari for children element with background
- Carousel stage-padding
- Limit width with percentage in limited width row
- Fixed wp_upload_dir issue on https protocol for some servers
- Theme option image alignment
- Off-Grid margins

CHANGES:
- WooCommerce login page adjustments
- Contact Form loader
- Metro and Masonry layout on mobile
- WooCommerce hooks compatibility
- New default font (SanFrancisco instead of Hind)
- Single product image srcset
- Removed WooCommerce info-schema
- Multiple ajax calls on Visual Composer text modules
- WP embed inside 'uncode_the_content'
- Shiftable columns improved
- Top Secondary Menu extra padding

IMPROVED
- WooCommerce strings
- Max Input Vars better calculation on System Status

UPDATE:
- Uncode Core 1.4
- Uncode Visual Composer 5.2
- Slider Revolution 5.4.5.1
- Layer Slider 6.5.5
---
Beta Testers
As a final note, we'd like to thank all of the beta testers who actively participated in debugging and getting this new version of Uncode ready. If you want to become a beta tester for Uncode, please follow the link below.
Sign up to stay up to date with the latest news!
(You will be forwarded to our subscribe form hosted by Mailchimp)