We are pleased to bring you Uncode 1.5 – the newest and best version of our pixel-perfect, creative, multi-use WordPress theme. Get your copy of Uncode today to get access to all the latest features, or update your existing license(s) at no charge.
Uncode is designed to be a flexible, high-performance theme that offers all the functionality you need without requiring any coding. It's based on a specially tailored version of Visual Composer, and was built with strict attention to every details in order to provide the perfect user experience. This latest update expands and refines Uncode's features, while maintaining the utmost simplicity and taking advantage of the most up-to-date technology.
We'll be the first to admit that this update has faced some delays, since over the last few months we've been working hard at building a more efficient post-purchase support process, support Team and support Help Center. This was necessary before moving on. However, we feel confident that the results have made the wait worthwhile – and we hope you do too!
The time has given us the opportunity to add some advanced new options and make key changes to existing features. Major updates in this version include a transparent menu option for mobile, an amazing new Matrix option for the Posts module which is a complete revolution for many creative layouts, a brand-new image gallery layout, new layout customisation options, an author profile module and authors templates, support for WooCommerce 3.0, and new demo contents. Keep reading to learn more!
---
Contents Selection
---
Transparent Mobile Menu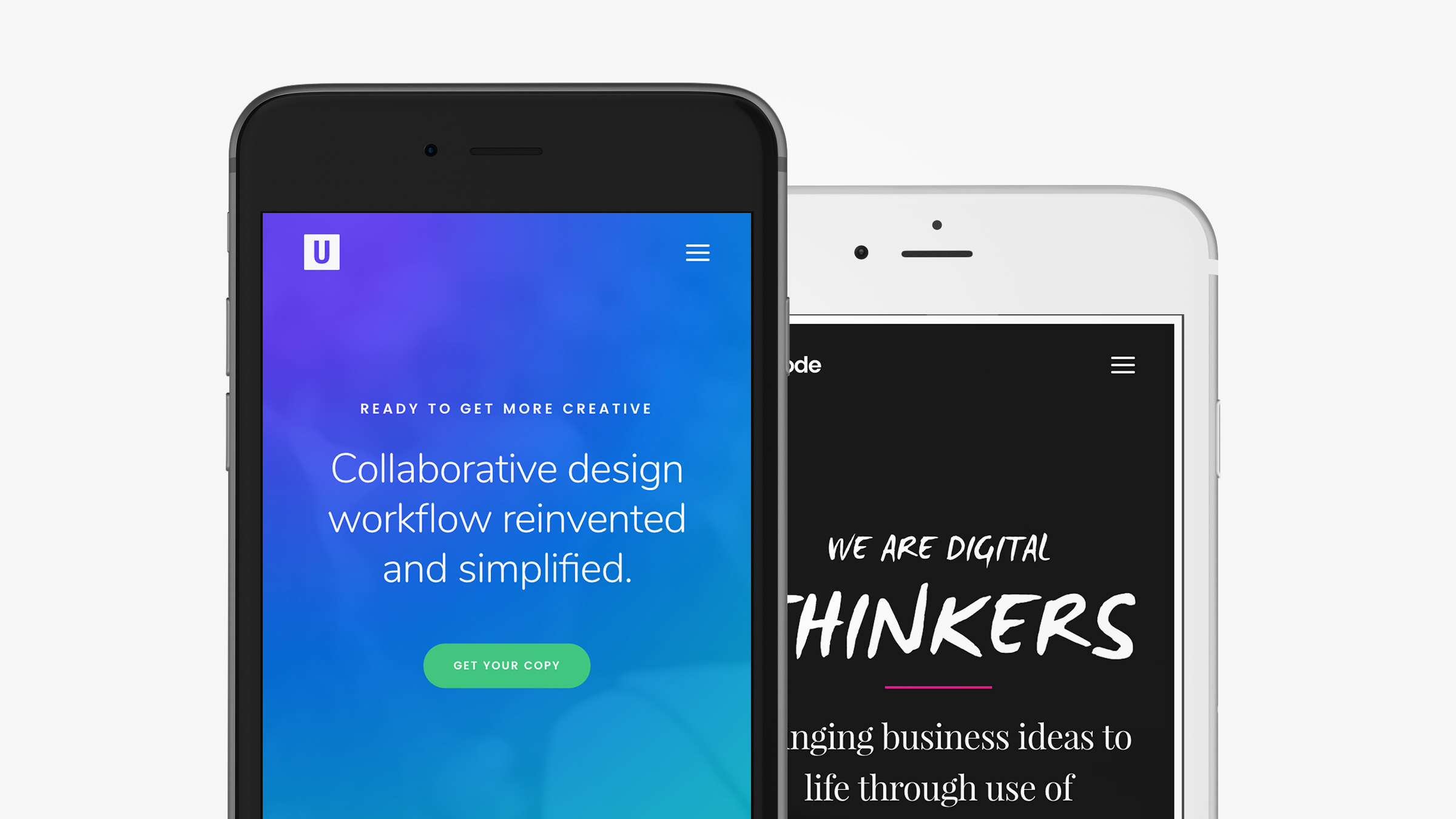 Uncode offers a new Transparent Mobile Menu option you can use to design an awesome modern layout. This feature was previously only available for traditionally-sized desktop screens, but now you can enable it on tablet and device screens as well.
This was the most requested feature for this update, and as promised, it has finally arrived. We are as committed as ever to keeping Uncode a fully responsive theme, and this change is a part of that process. Transparent menus are a creative and flexible design option, and you can now implement them for any device and screen size.
---
Posts Module 'By Matrix' Revolution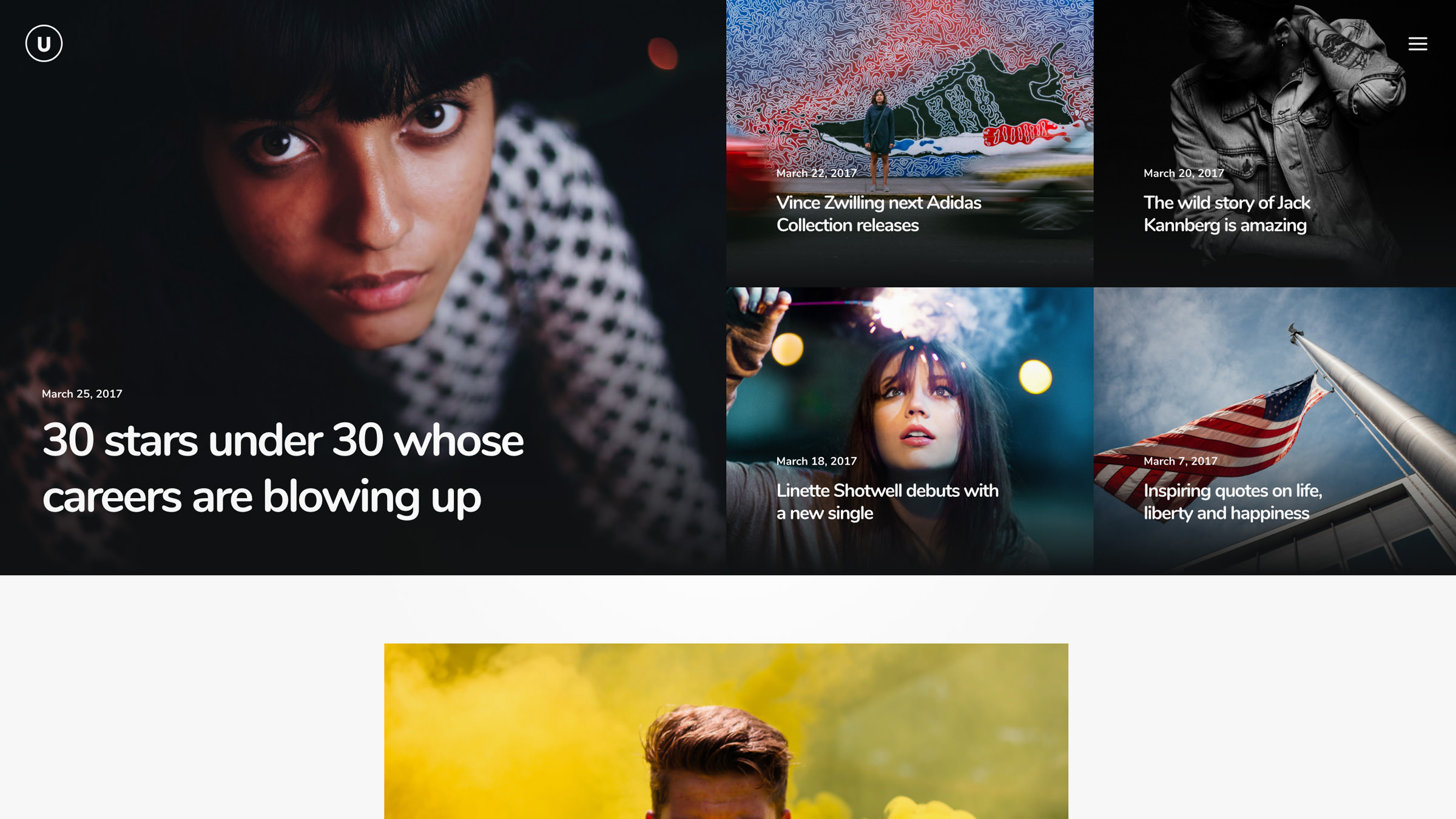 We've received a number of other requests from our users for updates to key Uncode features. For example, we've heard from many users who wanted a way to add variations within the Posts module to entire layouts, rather than just single elements. Uncode makes a number of variations possible – such as thumbnail size, overlay color, and typographic options – and you can currently use the Single Block tab to apply them to individual elements.
This new update introduces the option to define your grid 'By Matrix', which means that the variations you choose in the Single Block tab will apply to positions within the grid rather than to specific elements. This way, when you add a new element, all the existing elements will automatically shift to compensate without altering your current layout. You can apply this feature to blog posts, portfolio items, pages, and even products. We think you'll love this feature, since it makes just about any kind of site layout possible.
---
Justify Gallery Layout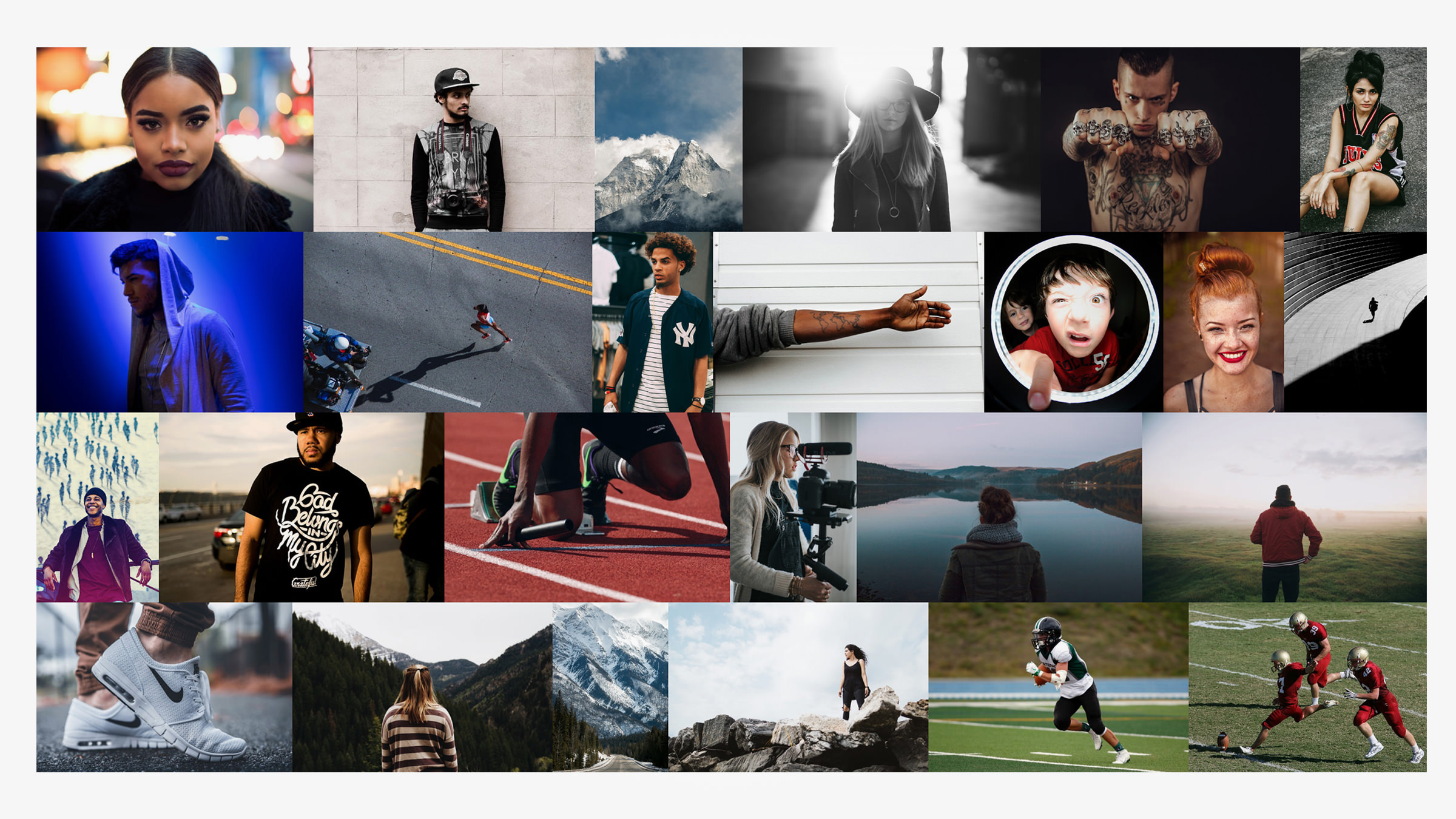 Of course, our users have asked for more than just updated features – we sometimes receive suggestions for entirely new layouts. In particular, photographers have requested a modern image gallery layout that fluidly manages thumbnails of various sizes .
We've responded with the Justify Gallery layout – an elegant solution that's perfect for professional photography sites inspired by Flickr and Google Images search layout. It's simple to use; all you have to do is set your desired row height, and your image thumbnails will be automatically resized to create a gallery that is justified on all sides.
---
Fluid Metro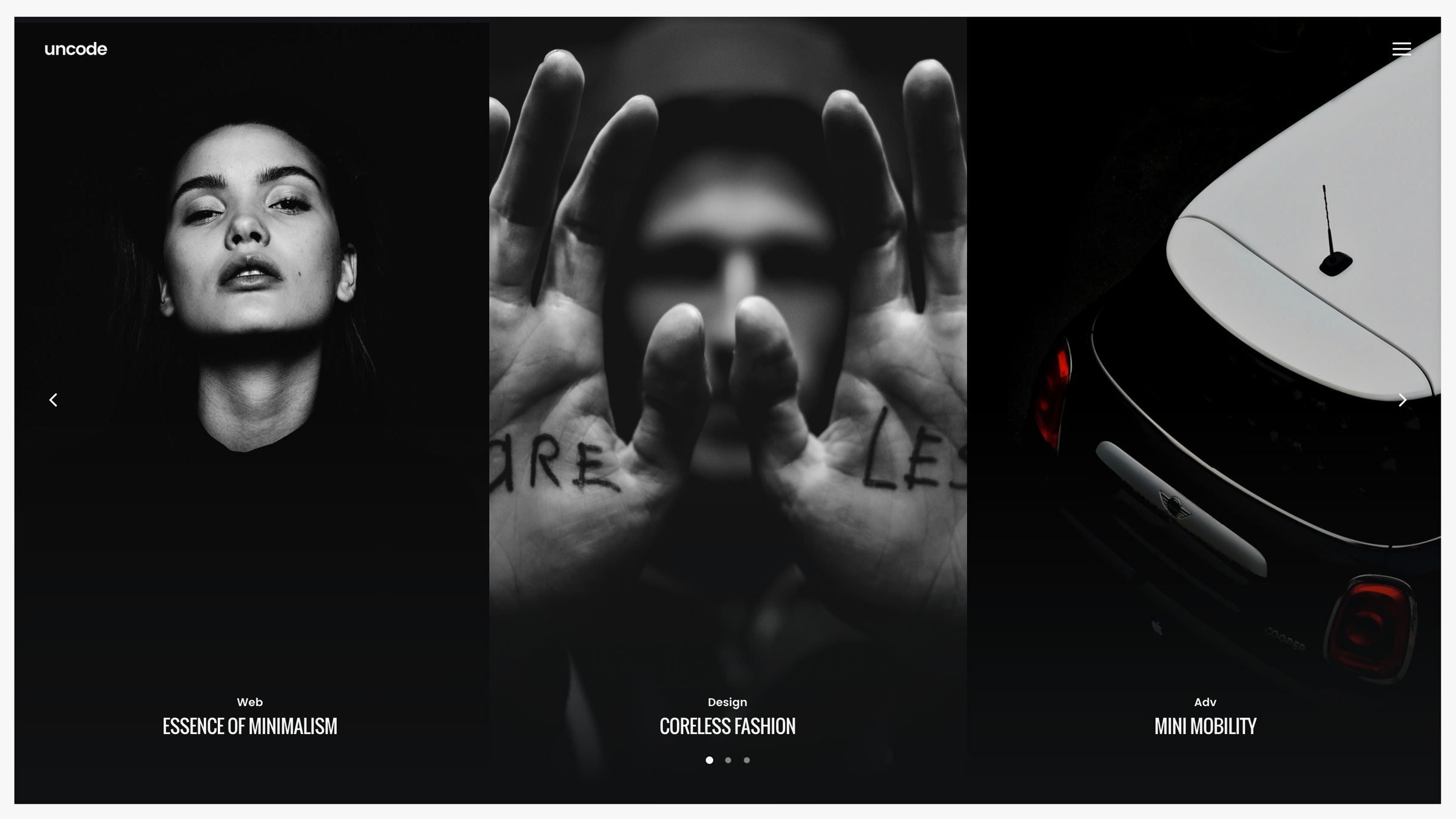 Our Metro layout already allows you to create a grid of posts or other media and have them align proportionally to the width of the page. With the new Fluid Metro variation, you can build a grid that fits the screen perfectly, since it will now align proportionally to the height of the screen as well. Setting your dimensions as percentages gives you an amazing full screen layout that adapts fluidly to whatever screen size it's viewed on.
---
Stage Padding Carousel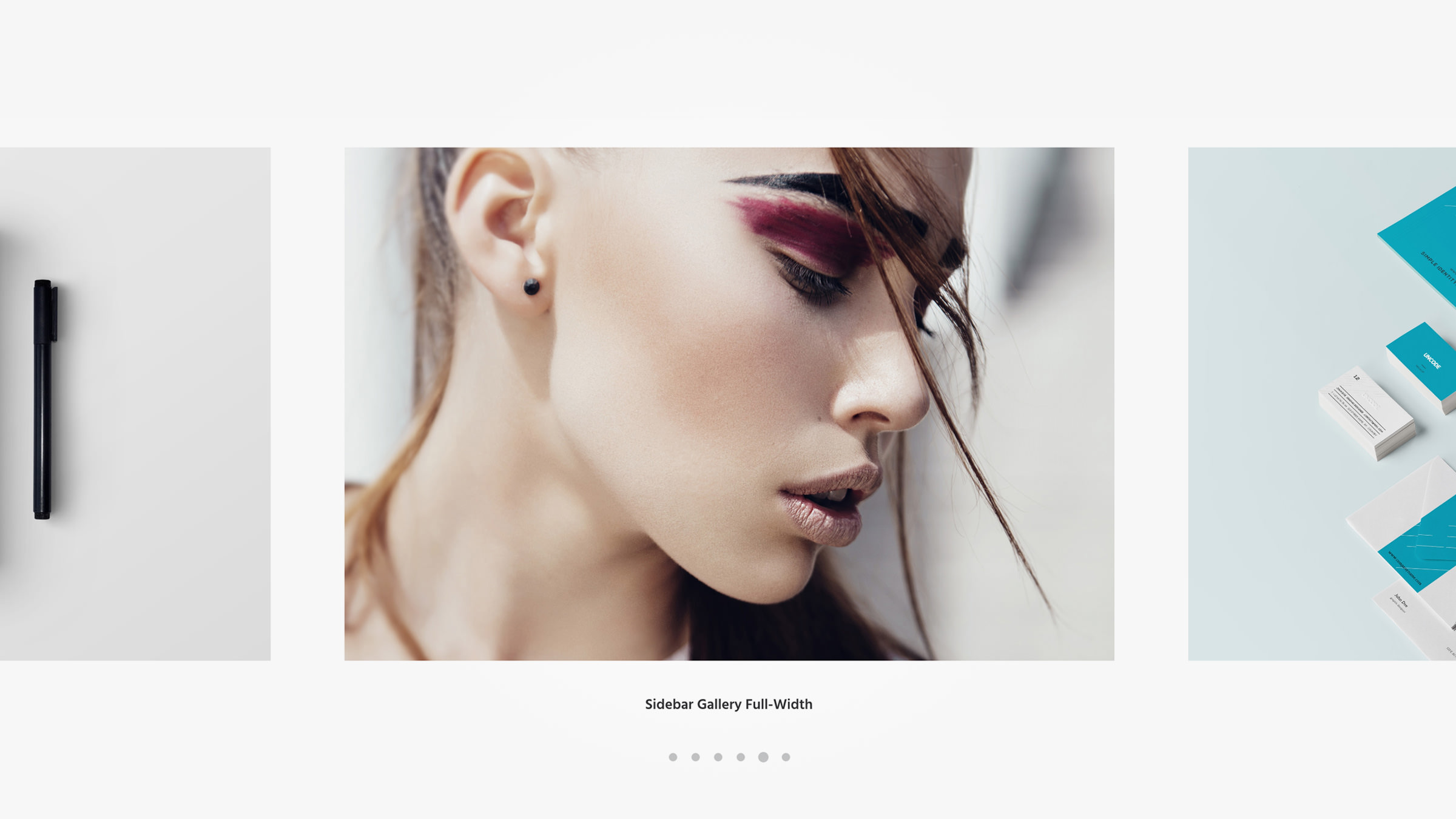 Uncode makes it possible to create a carousel of posts, images, or other media to feature stylishly on your site. Now you can make use of the stage padding option to add left and right padding between slides for a more modern look.
---
Author Archives and Author Profile Module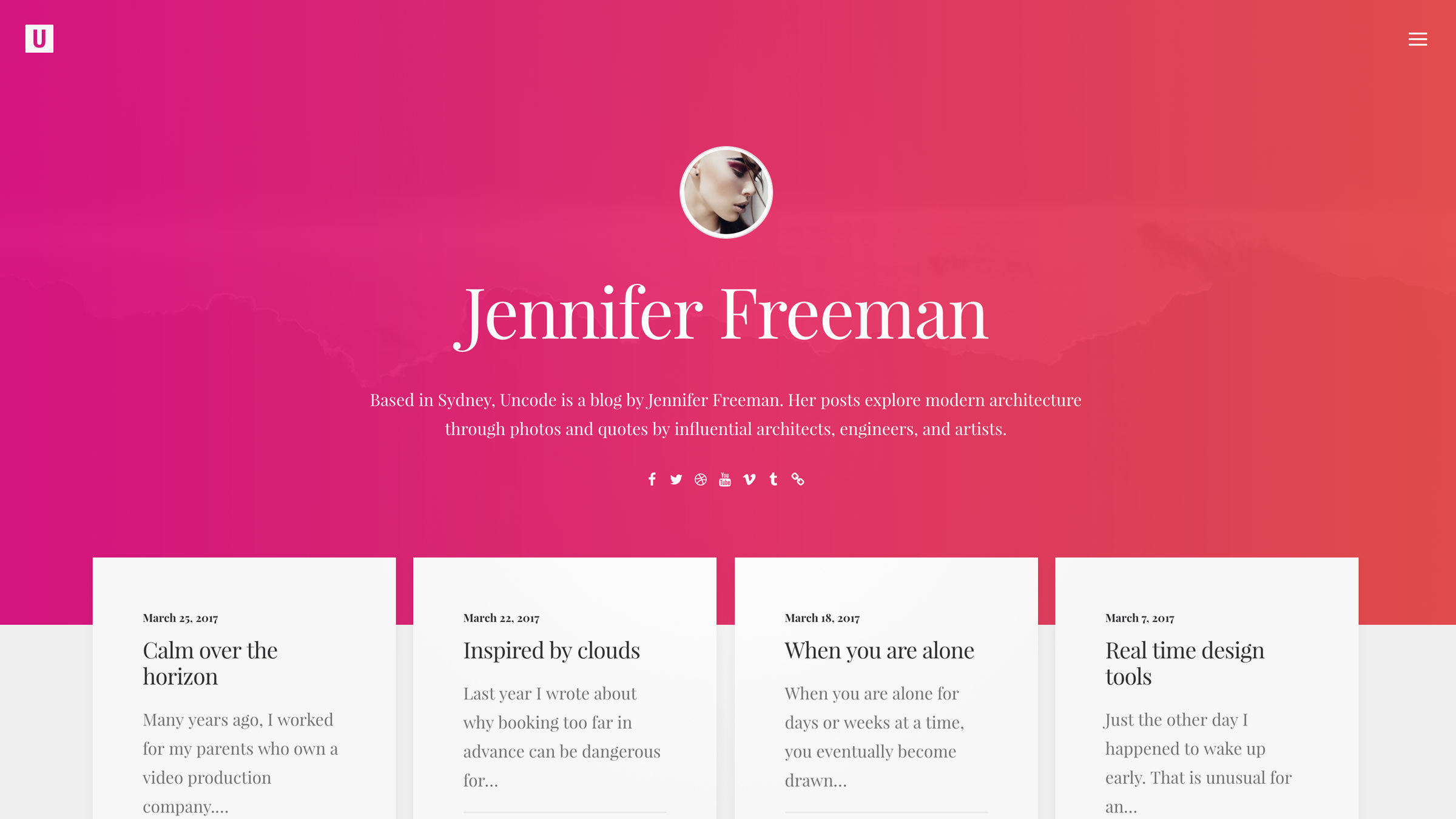 WordPress core offers some basic options for displaying author profiles, but users have asked us to include more comprehensive author features in Uncode. With that in mind, we've added several functions that give you more control over how you display and organise author information.
This begins with some new options we've added to the existing Authors template: customs fields for social profile URLs, and a featured image you can use as a background. We have introduced the new Author template in Theme Options so you can now also define custom layouts for your author pages, in order to create author-specific archives.
Finally – and most importantly – we've created a dedicated Visual Composer module called Author Profile that can be used either on a single page or a template to display profile information. This module is fully customizable, offering more than 20 options for personalizing its contents and layout.
---
WooCommerce 3.0 support
Uncode is already fully integrated with WooCommerce, the top e-commerce plugin for adding an online store to your website. Our update 1.5 comes packed with support for the WooCommerce 3.0 update, so Uncode will continue to work seamlessly with this crucial plugin. Please note that WooCommerce 3.0 introduced lots of changes, if you use extra WooCommerce extensions please verify that you are using a compatible version of the plugin with the new WooCommerce update.
---
Columns for Smartphones
We've also added a new columns option for mobile to further improve Uncode's overall responsiveness. When you create a grid with Visual Composer, you can now determine how many columns will appear on mobile as well as on desktop or tablet. This way you can ensure your grid looks perfect, whether it's viewed on a home computer or an iPhone.
---
License Registration
The new license registration tool validates your installation as outlined in the Envato policy. If you have validate your version, from next updates you'll be able to activate new reserved features, update Uncode, perform backups, install patches, and receive important notifications from our team – all without leaving your admin area.
---
How to Update
The easiest way to update your version of Uncode is to activate the automatic theme update via the Envato WordPress Toolkit. If you don't know how to do this, instructions are available in our documentation. You can also update manually if you prefer. Please remind to update both the theme both the required plugins like Uncode Core and Visual Composer as well.
---
Support Help Center
If you need help with the theme update, or you have discovered an issue, we offer comprehensive support in our Help Center, here we have a completely dedicated, qualified and beloved support team ready to help you. Please drop us a line, and will get back to you with a solution soon.
---
Support expired
Whenever you buy an item on ThemeForest, you get access to either a 6 or 12 month support period, based on your choice of plan. If your support period is expired you will not be able to access the Help Center. This is the Envato policy for support you have accepted when you have bought your item on ThemeForest. As top-author we are required to strictly comply the official Envato policy that is in the marketplace own interest. We hope you are smart to understand and not accuse authors.
If you have discovered a possible issue with the update you can anyway comunicate us the problem. Please not use the Uncode item page comments: that tiny comments wall is not design for support, we'll probably need to check your installation details privately that is in your own interest. Use the contact form you find in our Private Profile page, include a comprehensive description and the URL of your installation, we'll be back as soon as possible (priority is given to users with valid support).
We remind that when a possible new issue is discovered in our Help Center you can download the fix.
---
Need a New License?
If your support period has expired and you need to renew, choose one of the following options:
Renew your support period. To reactivate your support, log in to your ThemeForest marketplace account, navigate to the Uncode – WordPress Theme page and choose one of the renewal options.
Buy a new license. If you plan to build more websites with Uncode, it is more cost-effective to purchase an additional license (which will include support) rather than extend the first license.
---
Any Suggestions?
Thanks for taking the time to read about our latest update! If you have any suggestions for new features that you'd like to see in future versions of Uncode, we'd love to hear your ideas.
---
Change Log
v1.5.1 (27/04/2017)
FIX:

- WooCommerce 3.0.4 compatibility 
- WooCommerce Variable Product images
- Menu Shrink with solid not transparent header
- Manually entered fonts
- Possible extra padding with Content Block VC
- Possible error in the admin with PHP 5.4 and minors
- Single Media shadow
- Possible notices with additional fields
- Possible notices when not logged as admin

IMPROVED

- Envato Toolkit required notice for Product Registration

ADD:

- Revolution Slider 5.4.3.1
- Dave Live Search new version 1.0.1

v1.5.0 (20/04/2017)
ADD:
- Mobile menu transparency
- Matrix pattern for `Posts` module
- Justified Gallery layout for Media Galleries
- Carousel stage padding
- `Author Profile` module for Visual Composer
- Social contacts on user profile page
- Featured media on user profile page
- `Authors` tab in Theme Options > Layout
- A new after content block to display an `Author Profile` box
- Fluid layout for Metro and Carousels
- Mobile responsive options on Visual Composer
- Custom menu padding (desktop & mobile)
- Print Styles (Chrome Browser)
- License registration form
- `uncode_vc_gallery_thumb_id` filter hook to vc_templates/vc_gallery.php 
- `uncode_media_attribute_title` filter hook to partials/elements.php
- `uncode_media_attribute_excerpt` filter hook to partials/elements.php
- Automatic Heading also available in page/post content 
- Quad and Triple padding for Posts
- Featured Image used as Select Media substitute
- WC-marketplace plugin compatibility
- Option to remove menu padding also on mobile
- New gap measures for isotope and carousel
- Add new Google Fonts

FIX:
- Custom CSS after Install Demo process
- Backend style improvements
- Color dropdown in Visual Composer
- Carousel stage-padding on mobile devices
- Multiple animations for elements in sticky columns
- Excerpts truncation and UTF-8 issue
- WooCommerce compatibility with version 3.0 (and backward compatibility)
- Compatibility Visual Composer Section module
- Metabox styles for rtl users
- Contact Form 7 buttons style
- iLightbox with Infinite Scroll or AJAX pagination
- Comment date format
- Password protected products
- Removed VC Grid post type and sub menu page
- Single page carousel, media not found 
- WooCommerce single page broken when share deactivated
- Media items loosing saved options
- Wrong font face name in the dynamic CSS
- Offcanvas and vertical menu on Firefox
- Sticky mobile menu height calculation and scroll precision
- Offcanvas menu height
- Uncodefont CSS
- Posts module query in search pages
- Minor fixes

CHANGES:
- `Uncode Related Posts for WordPress` replaced by `Related Posts for WordPress`
- Capitalized any occurrence of `Content Block`
- New support links on backend

IMPROVED
- More precise image size for backrounds
- 'Rel' attribute on custom links
- Added all post images in Yoast SEO sitemap
- Implement support for Amazon S3 CDN
- fix print style
- Removed Uncode Related Posts plugin and replaced with the original

UPDATE:
- Uncode Core 1.3
- Uncode Visual Composer 5.1.1
- Revolution Slider 5.4.1
- Layer Slider 6.3.0

---
Beta Testers
As final notes we would like to thanks all the beta testers who actively participated in the phase of testing and debugging of this new version. If you want to become part follow the link.
Sign up to stay up to date with the latest news!
(You will be forwarded to our subscribe form hosted by Mailchimp)