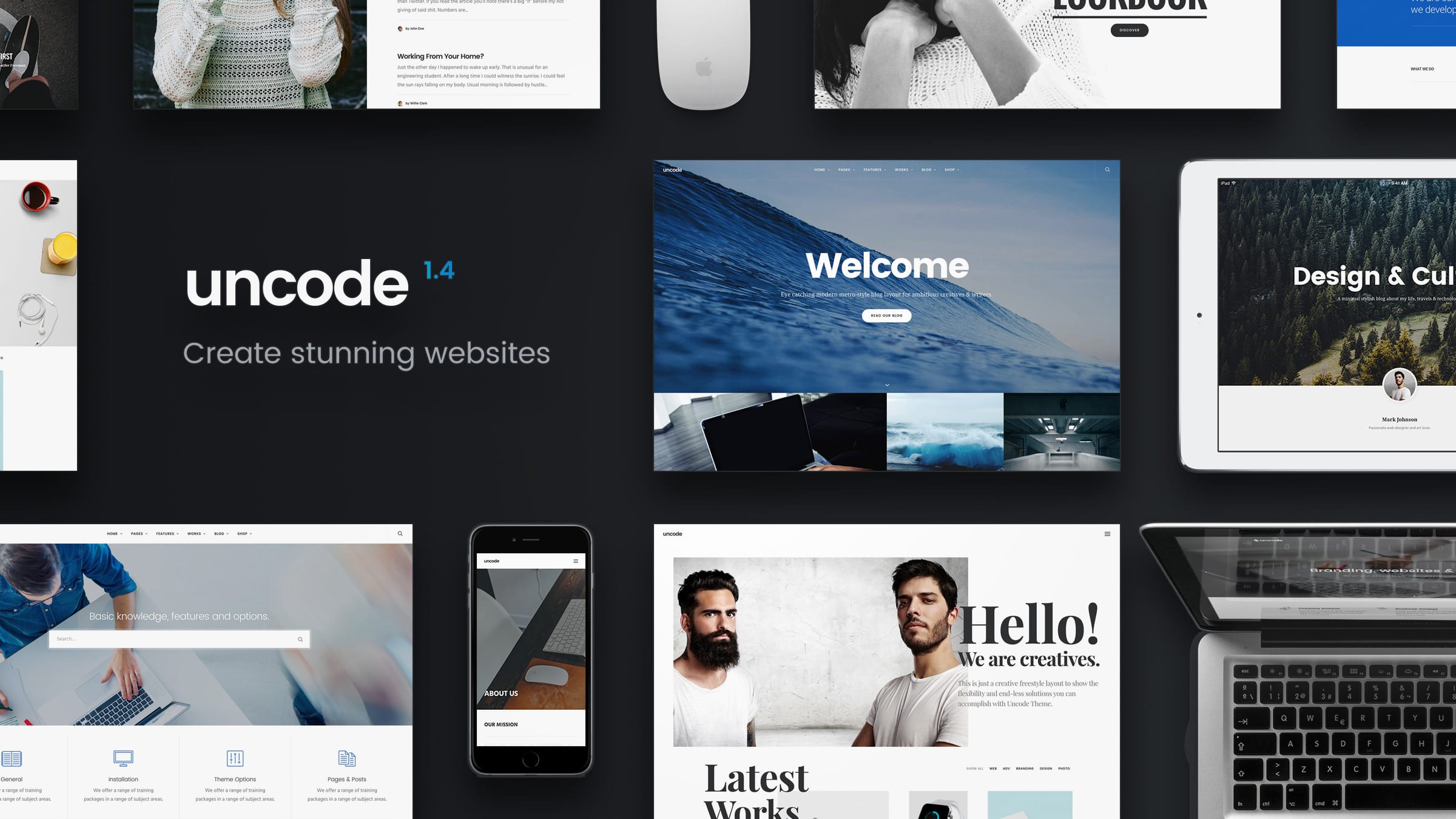 We are happy to announce the release of Uncode 1.4, the latest version of our pixel perfect, creative multiuse WordPress Theme. Uncode is based on Visual Composer, and designed with unparalleled flexibility, performance, and attention to details. As always our goal has been to deliver the utmost simplicity backed by the best technology available today. Get your copy of Uncode today to say goodbye to coding, or receive a free update on all your previously purchased licenses. Major updates in this version include support for related posts, sticky mobile menu, new menu layouts, body frame border, media filters, enhanced custom post type support, custom fields and new demo content.
Related posts
Related Posts are available for Uncode 1.4. Displaying related posts can improve your SEO ranking – further reading of your posts increases page views and reduces bounce rate.
Exposing users to related content has proven to be an effective way of getting more page views, thus keeping the visitor within your domain for a longer period of time.
Related posts can be displayed between the content and comment sections of the single post, portfolio or product pages.
The Related Posts option will not slow down your website. We have implemented a tailored version of the popular related posts for WordPress that creates its own cache, and does all the heavy lifting in the admin panel. Thereby offering you quality related posts, while keeping your website fast!
Sticky & hide menu on mobile devices
We received many requests for a sticky (fixed) mobile menu and we are happy to announce it in this Uncode update. This means you can choose to keep the menu fixed when scrolling on mobile view as well. As smartphone screens get higher resolution and bigger screens the option sticky menus provides new and attractive design opportunities.
New menu layouts
We are adding two new menu options to Uncode, in addition to the 7 menu layouts already available:
Overlay Centered
The off-canvas centered menu slides in the menu from outside of the viewport, pushing the viewed page sideways. Menu items are vertically centered.
Center Split
The center split menu displays the logo in the middle of the screen and aligns menu items on the left and right side of the logo.
Body frame border
Body frame border is a new feature, stacked with different options. We use the effect on our own site. The content is spaced from the edge of the browser with a border of any chosen color.
Media filters
In addition to being able to filter posts and portfolio items, it is now also possible to filter the media galleries. We have included a revolutionary system for categorizing individual media in the library, delivering unparalleled advanced media galleries.
Custom Post Type support
Ever felt the need for more native post types? You might want to create a special directory; a dedicated event section or a recipes segment. Uncode now offers you custom post type support.
WordPress can hold and display many different types of content. A single item of content is generally called a post, but a post is also a specific post type. Post type refers to the various structured data that is grouped together and maintained in the WordPress database posts table. A new post type that is created and registered to WordPress is referred to as a custom post type.
Custom field
WordPress allows assigning custom fields to a post, extra information referred to as meta-data. This is a feature usually demanding PHP coding or separate plugins. In Uncode 1.4 we have added an easy way of creating custom fields.
Custom fields can be used to personalize and customize blogs, extend the content and your control of it. It's the perfect solution for WordPress websites in need of more flexible data, and is a common feature in other content management systems (CMS).
Edit Content Blocks straight from edit page view
When working on a page in Visual Composer you can now edit a specific content block in the admin page view. No need to navigate to content blocks and find the correct block.
How to update
The easiest way is to activate the automatic theme updater via Envato WordPress Toolkit. If you have not activated this already, see how it is done on our documentation.
Manual update is also available.
Change Log
v1.4.1 (11/10/2016)

ADD:
- Twitter oEmbed to original style
- Team members automatic user link when an internal URL is inserted
- Support search with other plugins
- Logo alternative text
- Improved adaptive images system
- Admin warning if max_input_vars not high enough

FIX:
- Posts module 'Default meta'
- Related post index creation
- Error media location for older WP version
- Horizontal menu on FF
- Overlay menu opening and closing
- Overall optimisation menu animations
- Media disappear if language plugin installed
- Logo image quality
- Gif images used inside WooCommerce
- Removed extra 'p' tag in footer 
- Facebook oEmbed right language 
- WooCommerce images for variable product 
- WooCommerce icon cart link to the right cart page 
- Workaround for Lambda error on some server 
- Moved body frame higher on the DOM 
- Admin css style imperfections 
- String translation with spaces 

UPDATE: 
- Uncode Core 1.2.1

v1.4 (30/09/2016)

NEW:
- Related posts
- Menu layout 'Center Split'
- Menu layout 'Offcanvas Center'
- Menu items animation on mobile devices
- Media gallery categories
- Media gallery category filter
- Media gallery random order
- Posts module offset
- Sticky menu on mobile devices
- Hide menu on mobile devices
- Body frame around the window
- WooCommerce icon cart on mobile devices and overlay/offcanvas layout
- Alternative style for input and forms elements
- Support for CPT on theme options and post options
- Support for custom fields in the Posts module of Visual Composer
- Support for FaceBook posts in the media library
- Support for WP Smush and the adaptive image system
- Twenty Twenty (Before and After) module for Visual Composer

ADD:
- Team members automatic email link when email address is inserted
- Support for WooCommerce taxonomy index layouts
- Uncode icon font as WOFF2
- Admin, direct link to the relative Content Block
- Admin, notification when the menu transparency is misconfigured

FIX:
- Portfolio single page navigation bar disappear in big screens
- Lightbox when posts or gallery filtered
- Multiple accordions compatibility 
- Google Maps API Key activation on theme options 
- WooCommerce My Account layout
- WooCommerce sale badge on posts module for variable product
- WooCommerce iLightbox in when changing the variable product image
- WPML image title and alt text translatable
- Section scroller jumps to wrong dot
- Site parameters not defined with adaptive images OFF
- JetPack related posts
- HTTPS protocol for the media
- Custom CSS in Visual Composer for Content Blocks
- GForm shot code creation with Visual Composer
- Swipe to change page
- Youtube start time support
- Selfhosted video loop
- Automatic query on archive index
- Admin UI adjustments

UPDATE:
- Uncode Core 1.2
- Visual Composer 4.12.1
- Revslider 5.2.6
- LayerSlider 5.6.10
- Icon library

Support
If you need support with the theme update or you have found some issue support is offered in our forum, there we have a completely dedicated support team, please drop a few lines and we care to support the solution soon! Thank you!
Sign up to stay up to date with the latest and greatest news from Undsgn!
(You will be forwarded to our subscribe form hosted by Mailchimp)