Many WordPress blogs and websites make use of related posts sections. After all, this feature helps you encourage your visitors to experience more of your content, which is always a plus. With Uncode, our goal is to provide you with all the tools you need to create great websites – including related posts functionality.
To make sure our own version of this feature is as useful as possible, Uncode uses a third-party plugin called Related Posts for WordPress to power it. We even collaborated with the plugin's creators to help improve our users' experience. The result is that implementing related posts on your Uncode site is quick and effective.
In this article, we're going to talk about why we chose the plugin that powers Uncode's Related Posts feature, and how we ended up collaborating with its developers. Then we'll discuss how all of this benefits you. Let's take it from the top!
What Related Posts Sections Are (And Why They're Awesome)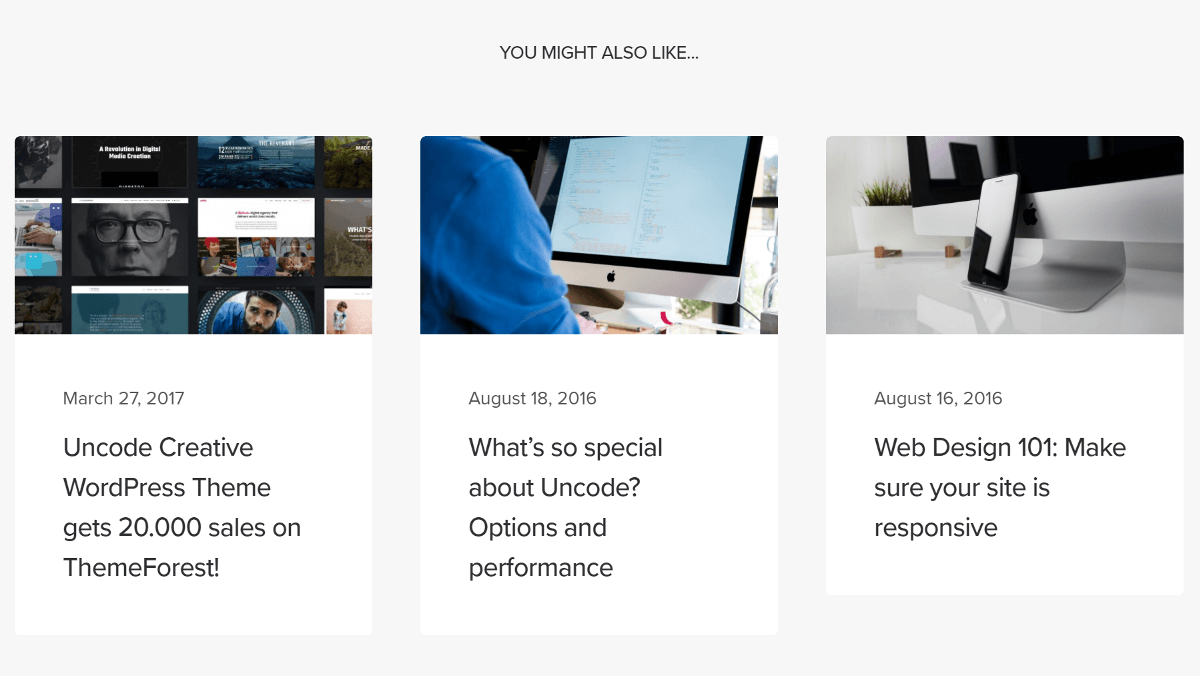 A related posts section does pretty much what its name implies – it shows readers on one post other, similar articles they might be interested in. The exact way this feature works depends on its implementation, but in most cases, it displays your most popular articles or posts in a specific category.
There are plenty of reasons you might want to add a related posts section to your site, such as to:
Encourage users to spend more time on your content. As much as we'd like to say otherwise, all visitors will eventually leave your site. Your goal is to make sure they spend as much time as possible on it before they go, by leading them to more content they might find interesting or useful.
Promote your old content. In some cases, it can be difficult for people to find your old content organically. A related posts section gives you the opportunity to revitalize those posts by promoting them in relevant scenarios.
Overall, these types of sections offer a lot of value with very little trade-off. If you're running a content-heavy WordPress blog, strategically displaying related posts is almost always a smart move.
If you've experimented with some of the most popular WordPress themes, you've probably noticed a trend – many of them ship with third-party plugins. The reasoning here is straightforward – if there's a tool that can already does something you need, it makes more sense to use it than to spend time re-inventing the wheel.
At least in our case, that's the conclusion we arrived at after we decided to add a related posts feature to Uncode. Our search took us far and wide, until we arrived at the Related Posts for WordPress plugin.

Here's why we chose it:
It packs a lot of features: For example, this plugin analyzes your posts to find links and set up 'relationships' between them.
You can edit your post relationships manually: If you want more control over your related posts sections, you can modify the relationships between your content.
The placement options are flexible: You can use either shortcodes or a widget to position your related posts section, depending on your needs.
The focus is on performance: We're firm believers in optimizing our products for high performance, and the developers behind this plugin share our ideals.
Therefore, deciding to include the Related Posts for WordPress plugin alongside Uncode was simple. That was only the beginning of the story, however – which brings us to our collaboration with Never5.
Why We Decided to Collaborate With Never5
At first, we decided to ship a slightly modified version of Related Posts for WordPress with Uncode. At this stage, everything was going well. Uncode users were enjoying a powerful new feature, and our modifications enabled the plugin to work almost seamlessly with Uncode.
However, over time we began to receive a few user requests for new related posts features, as well as the occasional bug report. We decided the smart move was to stop modifying the plugin on our own and go directly to Never5 for help. Never5 is the team behind Related Posts for WordPress, as well as other excellent plugins such as Download Monitor and Post Connector.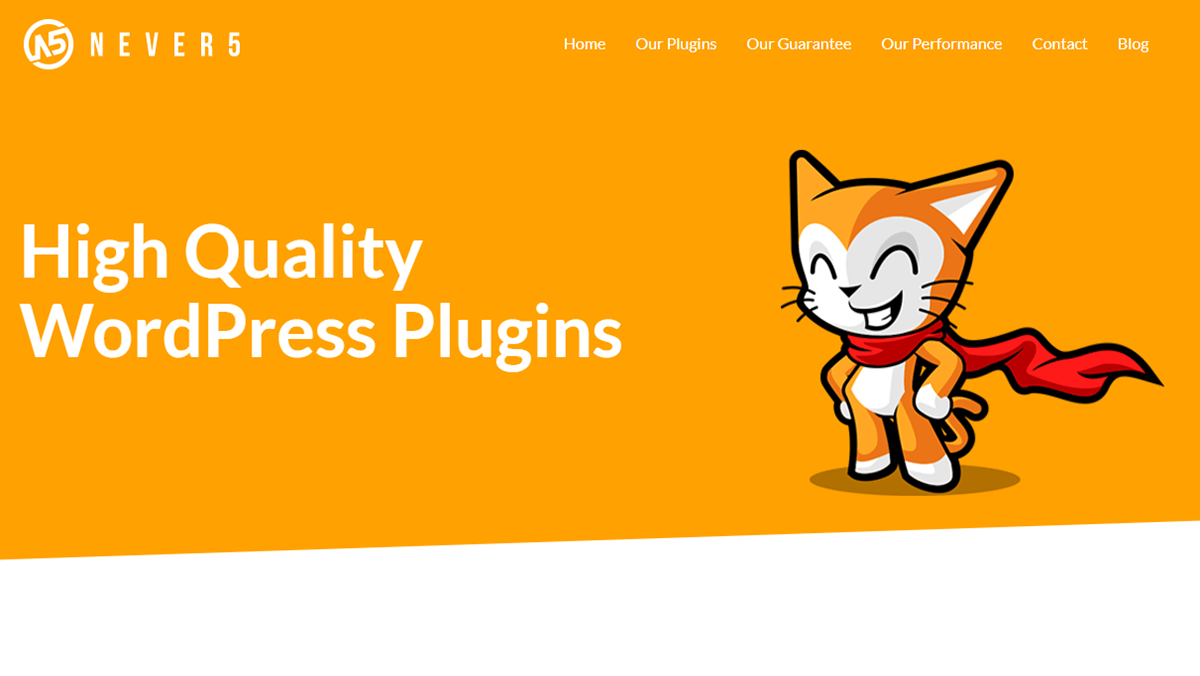 We reached out to the developers and explained our situation, and they were happy to assist. In fact, we ultimately decided to collaborate to make their plugin work as smoothly as possible with Uncode, since we all stood to gain from it.
Here's a simple breakdown of our thought process:
Uncode got a powerful feature without having to develop it from scratch. The benefit here is obvious, but what's not so evident is that we also gained access to the minds of the team behind Related Posts for WordPress. That alone saved us a ton of time when it came to troubleshooting and customization.
Never5 got more exposure for their plugin. The more downloads and installs a plugin has, the better exposure it gets on WordPress.org. Plus, every new user could potentially upgrade to the plugin's premium version.
All in all, this was (and still is) a win-win situation for everyone involved. That includes you, as an Uncode user!
How Our Collaboration With Never5 Benefits You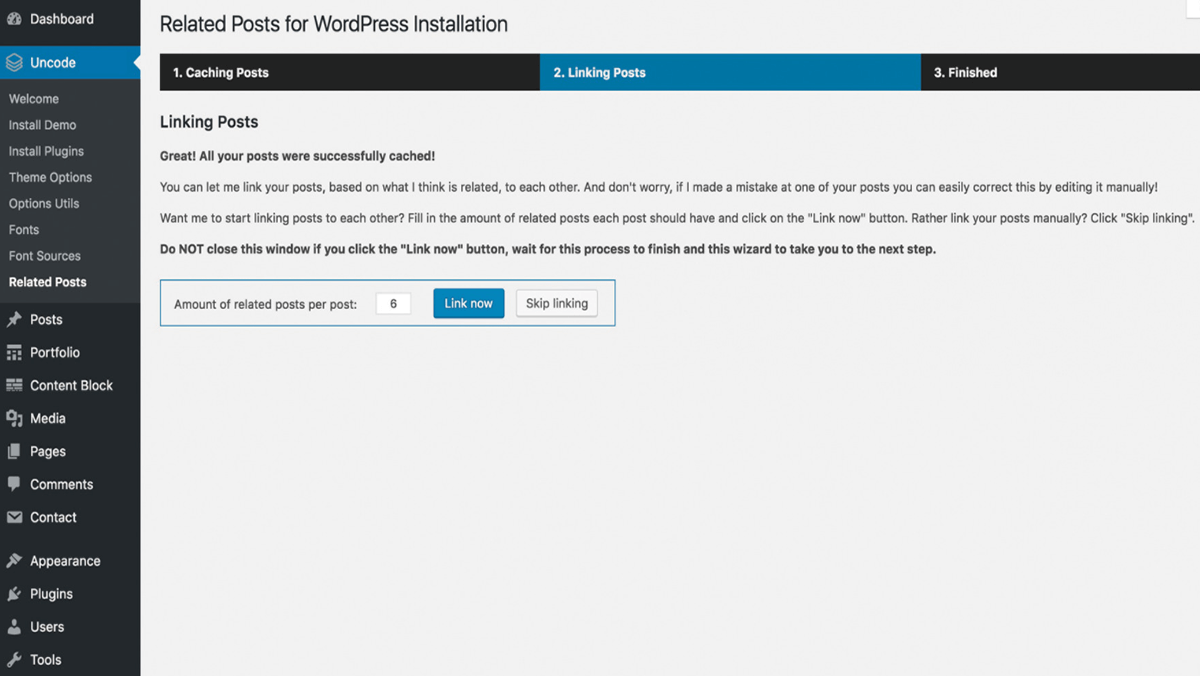 So far, we've talked a lot about how this unlikely collaboration worked out for us. The real question is, how does it benefit Uncode users?
To start with, you get access to an excellent related posts feature. If we'd gone with a different plugin, this functionality probably wouldn't have been as easy to use or flexible. Plus:
You get to enjoy an optimized version of the Related Posts for WordPress plugin. The version that ships with Uncode is configured to work seamlessly with the theme, which makes for a better experience and saves you time.
We have direct access to the plugin's developers. If you run across a bug while using the Related Posts feature, we can get in touch with Never5 and figure out a quick solution to keep everyone happy.
As you can probably tell, we're pretty excited about this collaboration, and we think you'll be too once you try out the updated related posts feature. If you're wondering how to get started, check out our documentation for full instructions.
Conclusion
A related posts section is a great addition to most blogs and news sites, and it's the kind of functionality you should be able to implement easily. If you're an Uncode user, you can rest assured that we chose the best plugin to help you integrate this feature – Related Posts for WordPress.
Plus, our collaboration with Never5 enables us to provide a better experience for you by making sure the plugin works as it should alongside our theme. Not only do you get access to a feature that can increase the amount of time users spend on your site, you also get direct support from its creators.
Do you have any questions about Uncode's Related Posts feature? Ask us in the comments section below!
Image credit: Startup Stock Photos.
Sign up to stay up to date with the latest and greatest news from Undsgn!
(You will be forwarded to our subscribe form hosted by Mailchimp)