These days, just about every website needs a social media presence. Most people have accounts on at least one or two social platforms, which provides you with a built-in way to engage your audience. The problem is that managing a social media presence on top of your WordPress website can be a lot of work.
Fortunately, WordPress offers plenty of plugins that can help you integrate your website with social media sites. Depending on the plugin, you can do anything from adding sharing buttons to your pages, to publishing your content on social media automatically.
In this article, we're going to talk about why your Uncode website needs a social media presence. Then we'll introduce you to six useful WordPress plugins, and talk about how Uncode's features can help you out as well. Let's get to work!
Why Your Uncode Website Needs a Social Media Presence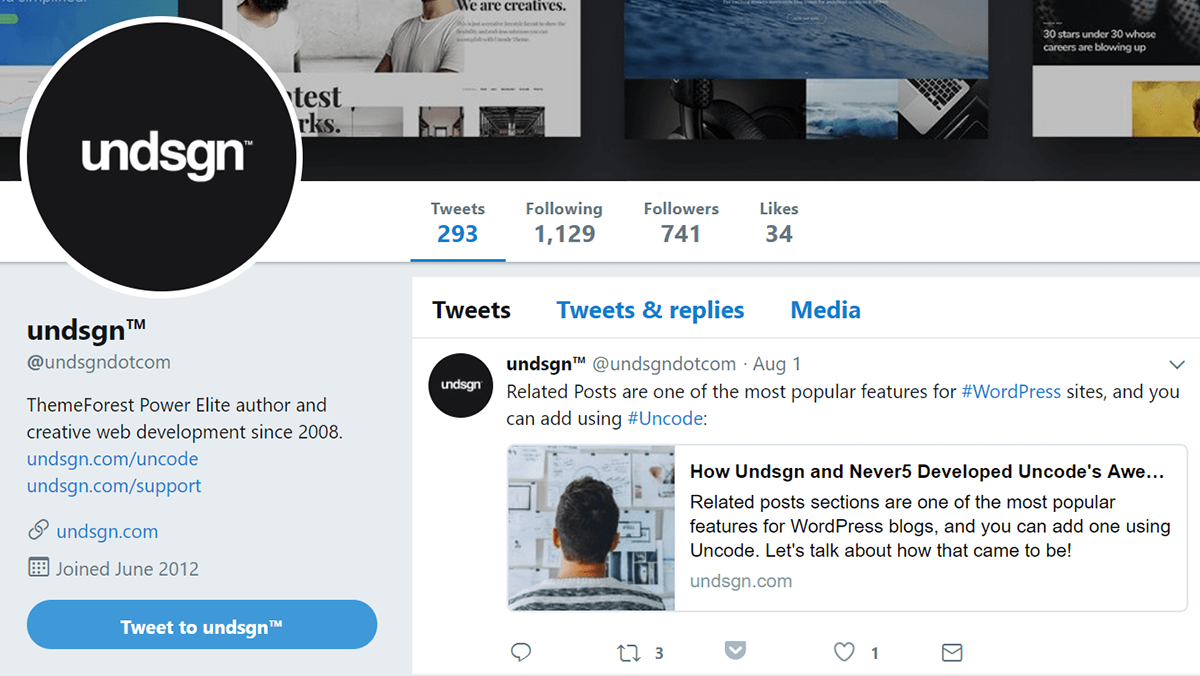 Billions of people have accounts on one social media platform or another. Aside from helping you keep up with your friends, social media platforms are a fantastic vehicle for promoting your website. If you log into Facebook right now, chances are you'll see at least a handful of posts with thousands of likes and shares on your timeline. Those are views that article might not have gotten if someone didn't share it on social media to start with.
To put it another way, social media platforms offer you additional channels to promote your content. Let's break down why it makes sense to focus some effort on using them:
They provide users with a way to share your content. Most social media platforms these days include some sharing mechanism. This enables viewers to promote your website, and usually costs you nothing to implement.
You can reach new audiences. When someone shares your content, they're opening up entire new audiences for you. Plus, the act of sharing tells people that your article or website is worth checking out.
Of course, not every website needs an account on every single social media platform. Sites that focus on written content have better chances of finding a following using Twitter or Facebook, for example. On the other hand, if you're running a photography website, focusing your efforts on Instagram is the clear choice. Once you narrow down the best platforms for you to use, you can set up accounts for your website, then get to work on building up your following.
6 Tools to Integrate WordPress With Your Social Media Accounts
Social media accounts require effort to manage. You need to post new content often, interact with your followers, and figure out ways to keep your audience engaged. Those are essentially the same tasks it takes to build a successful website, but applied to a different medium.
With that in mind, it makes sense to automate those management tasks as much as possible, so you have time to focus on real interactions. That's where WordPress plugins come to the rescue.
Plus, you'll be glad to know all the picks below work great alongside Uncode.

Revive Old Post is a simple plugin that enables you to share old content through your social media accounts. For example, you can configure it to share a different post every day, and you can even specify the message you want it to include.
The plugin works for both Facebook and Twitter, and offers you a perfect way to extend the shelf life of your posts. Plus, it will help you keep your social media accounts active with little effort, since you can schedule new publications well in advance.
Key Features:
Automatically share posts from your library to Twitter and/or Facebook.
Include custom messages and hashtags to increase the visibility of your posts.
Track your publication's performance thanks to Google Analytics integration.
Exclude specific categories or posts from being shared.
Supports multiple URL shortening services.
If you're running an Uncode blog, then this plugin is a no-brainer. It works best if you already have a broad library of past posts, however. If your blog is still recent, you may want to wait until you have at least a few dozen articles under your belt, so you're not constantly recommending the same ones.
Also, there's a premium version of the plugin available, which supports custom post types, featured images, and sharing content to LinkedIn. Including featured images can really help to improve click-through rates, so consider that if you want to boost your conversions.

Nelio Content is a full-blown content management suite that supports multiple social media platforms. It enables you to create and manage an editorial calendar, optimize your content, and promote it through Twitter, Facebook, LinkedIn, Google+, and Instagram.
The editorial calendar is the heart of this plugin. It provides you with a quick way to oversee and schedule your content, as well as to manage multiple authors. Plus, the plugin borrows a page from Yoast SEO when it comes to content optimization. It analyzes each article and provides you with quick tips on how to improve its shareability, which is a nice perk.
Key Features:
Create and manage an editorial calendar.
Share your content automatically to Twitter, Facebook,  LinkedIn, Google+, and Instagram.
 Schedule custom social media messages using a timeline feature.
Optimize your content using quick lists of tips for each post.
The only downside to using Nelio Content is that it requires you to create an account with its own platform in order to integrate it with WordPress. Its free plan supports a single account for each social media platform we mentioned earlier, and is definitely not lacking in features. If you're running a multi-author WordPress blog, this plugin is a fantastic tool to help you keep everything organized. However, it may be overkill for smaller websites.

So far, we've talked about plugins that offer extensive functionalities. However, you may be looking for a more straightforward, less complex solution. Social Media Auto Publish, for example, focuses solely on doing what its title implies. It enables you to automate publications to multiple social media platforms, right from your dashboard.
Out of the box, the plugin simplifies sharing content to Facebook, Twitter, and LinkedIn. It also enables you to filter articles depending on their category, and supports custom-post types.
Key Features:
Automatically share new posts to Facebook, Twitter, and LinkedIn.
Attach featured images to your publications on social media.
Customize different types of formats depending on the social media platforms you're targeting.
Unlike Revive Old Post, Social Media Auto Publish focuses on your latest content. That makes it ideal for new blogs, or websites that don't want to share outdated posts. Plus, this plugin provides you with all the options you need to configure the way your content appears on each social media platform. There's no premium version to worry about, so everyone gets access to the plugin's full set of features from the get-go.

These days, people place a lot of emphasis on how many followers your accounts have on social media. The higher those numbers are, the larger your influence is considered to be. That means it can pay to show off your follower count as often as possible (if it's high enough to be impressive).
Social Count Plus can help you do that, by enabling you to set up widgets on your site displaying how many followers you have. It supports Facebook, Google+, Instagram, LinkedIn, Pinterest, and even GitHub (among other platforms). If you want to go the extra mile, it also provides you with the tools required to show off your comments count for specific fan pages.
Key Features:
Show off your follower count on Facebook, Google+, Instagram, LinkedIn, Pinterest, GitHub, SoundCloud, Steam, Tumblr,  Twitch, Twitter, and Vimeo.
Display your follower count using either widgets or shortcodes.
As far as plugins go, this one is very straightforward. It supports oven ten social media platforms, so it's a solid fit for basically any website. Plus, your follower widgets provide you with a quick way to link users to those respective accounts, and encourage them to subscribe while they're there.

OnePress Social Locker is by far the most unique plugin on this list. Instead of providing you with a way to share your content, it helps you 'lock' that content behind a paywall of sorts. For example, if you want to share an e-book with your audience, you can ask them to re-tweet a post or 'like' a page before they can get access to it.
This is an efficient way to get more followers or shares for your content. However, it's the kind of method you need to be very careful about when to use. People often don't like being forced to take action, so you should reserve this strategy for offering content that is truly valuable and desirable.
Key Features:
Lock specific content using a social media paywall.
Integrate your social media lockers with Facebook, Twitter, and Google+.
If your website offers downloads or any type of content that visitors would find especially interesting, it can make sense to implement a social media locker. For better results, you'll want to make it crystal clear what you're offering in exchange for your visitors' likes and shares, so they don't walk away disappointed!

Sometimes, you won't know what social media platforms are the best for your site until you've tested how well your posts perform there. Even then, you'll need to figure out a way to gather analytics for each one. Social Media Metrics solves this problem by adding a new Social Metrics tab to your dashboard.
Inside, you'll find information about how many views and comments your shares have on Facebook, Reddit, LinkedIn, Pinterest, and Google+ (among others). Aside from that, the plugin includes its own social metric score that helps you identify your best performing posts. With this information, you can choose which social media platforms to double down on, and identify topics that perform well on each site.
Key Features:
Track the performance of your posts on Facebook, Reddit, LinkedIn, Pinterest, and Google+ (among other platforms).
Use unique metrics to find out what social media posts are most effective.
This plugin is a perfect fit if you're using another tool to help you automate social media posting. For example, it's a fantastic complement to Uncode's social media sharing buttons. Plus, it's very beginner-friendly and easy to set up.
How Uncode Can Help You Boost Your Social Media Presence
As you may have noticed, we didn't include any sharing button plugins on our list. That's because Uncode includes that feature out of the box. We call it Social Connections.
To enable these buttons, you just need to head into the Uncode > Theme Options tab, and choose what social platforms you want to display: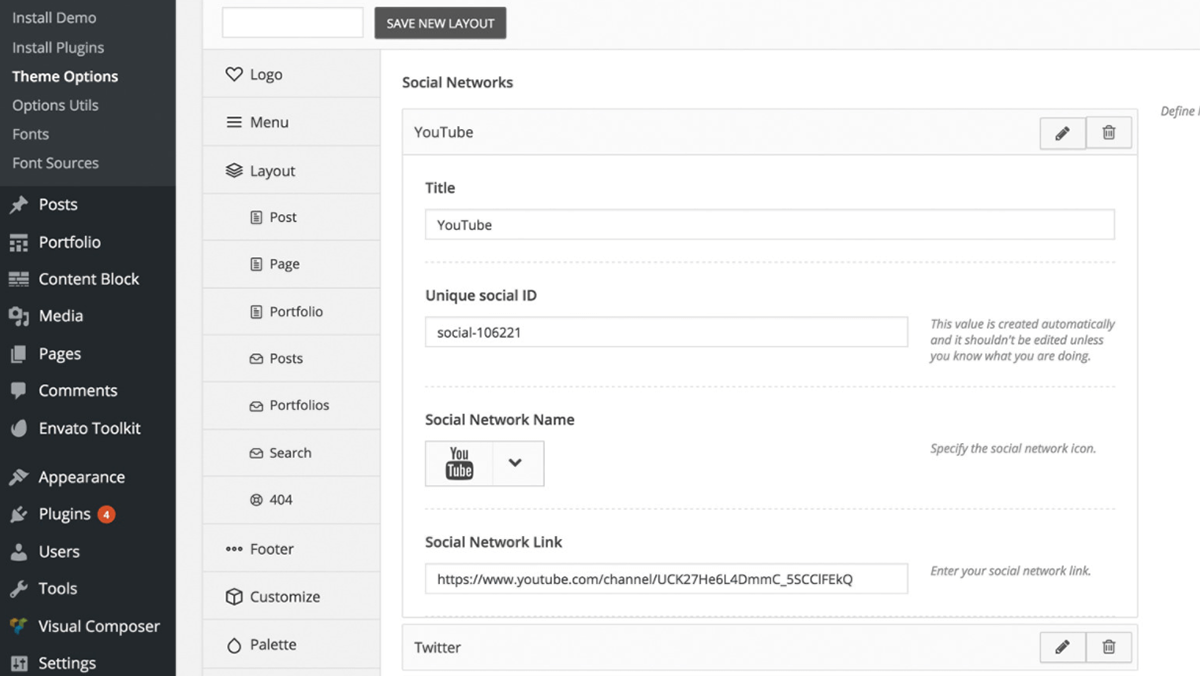 Afterward, you'll be able to display your sharing buttons using regular widgets, anywhere you want on your site: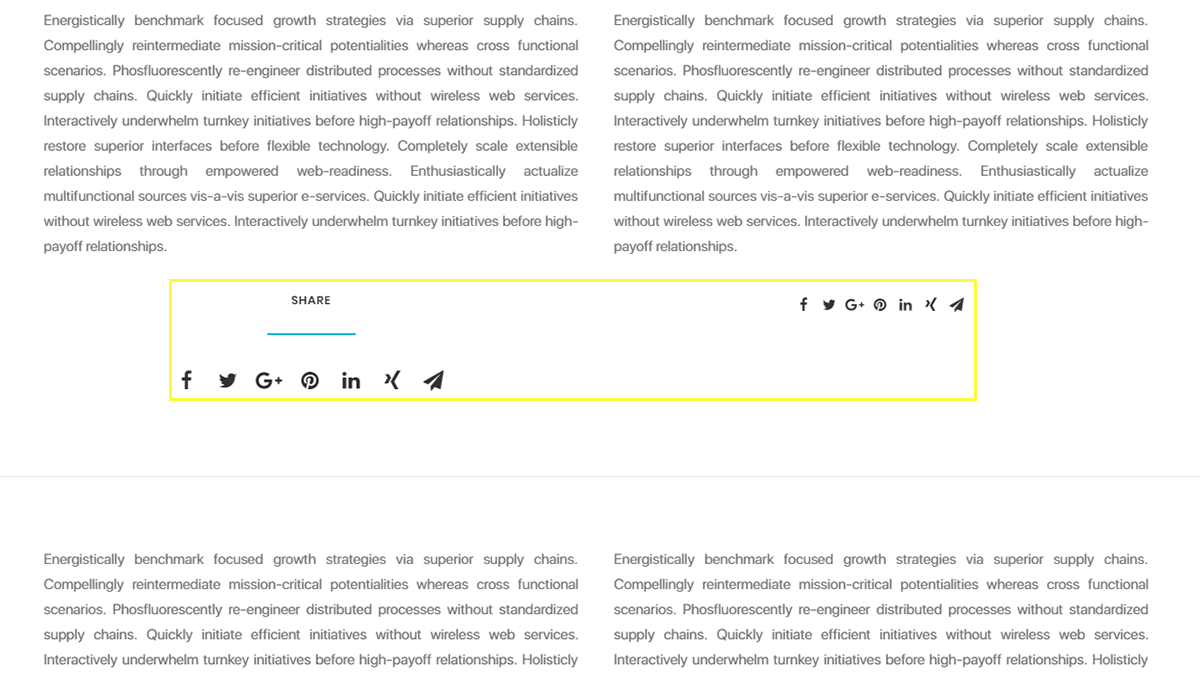 Setting this up should only take a couple of minutes, and the buttons themselves are simple but stylish. Each platform has its own mouseover effect, and the widgets look right at home on any page. We highly recommend using this feature, since it provides your website visitors with a simple way to engage with your content through social media.
Conclusion
Some people treat social media as an afterthought, and focus mainly on their websites. That's a valid approach, but in today's world it means you're leaving a lot of opportunities on the table. Social media platforms are incredibly influential, and if you put some effort into your presence, they can help your website become more popular.
Fortunately, Uncode can help you easily improve your social media presence, thanks to its built-in social sharing buttons. However, you'll also want to try out a few extra tools to get more of an edge. For example, you can use Revive Old Posts to get new eyes on old content, or go with Nelio Content if you want a fully-fledged organization tool.
Do you have any questions about how to integrate WordPress with your social media accounts? Let's talk about them in the comments section below!
Sign up to stay up to date with the latest news!
(You will be forwarded to our subscribe form hosted by Mailchimp)