If you're running a business – or looking to start one – chances are you're interested in building an e-commerce site. Most businesses now go beyond providing information on their company site, and enable visitors to purchase products and services directly online. Customers and owners alike love the convenience and accessibility of an online marketplace.
There are many ways to set up an e-commerce store, but WordPress is easily one of the best solutions. It may be best known as a blogging platform, but it possesses applications far beyond the blogosphere. WordPress is a dynamic, flexible, and powerful piece of software that can be modified with plugins and themes to create the perfect e-commerce website. Its vast community and ubiquity throughout the market also mean that it isn't hard to find inspiration and support during the design process.
In this article, we'll go over the primary features that make WordPress an excellent e-commerce solution. We'll discuss the tools you can use to customize your storefront, and the resources available to help you along the way. Let's begin!
1. WordPress Has a Wealth of Plugin Solutions

On its own, WordPress is an elaborate piece of software that comes ready with most of what you'll need to build a great website. However, many people find they want to add specific features that aren't available in the core product. That's where plugins come in – smaller bits of software that can be uploaded to WordPress to expand its functionality.
Plugins are invaluable to an e-commerce site, and you'll need at least one. Some plugins will enable you to build and run an online store, while others will help with managing inventory, communicating with customers, providing support, and ensuring security. Fortunately, many popular e-commerce plugins perform several or all of these functions, so you don't need to install individual tools for each element of functionality you want to add to your store.
There are a ton of e-commerce plugins to choose from, but here's a selection of the best:
Our plugin of choice is WooCommerce – it is compatible with most WordPress themes, is stable and well-supported, and offers a lot of options. Best of all, getting started with WooCommerce is easy, and due to its wide adoptability, you can choose from almost any WordPress theme out there to accompany it.
2. Many WordPress Themes Provide E-Commerce Options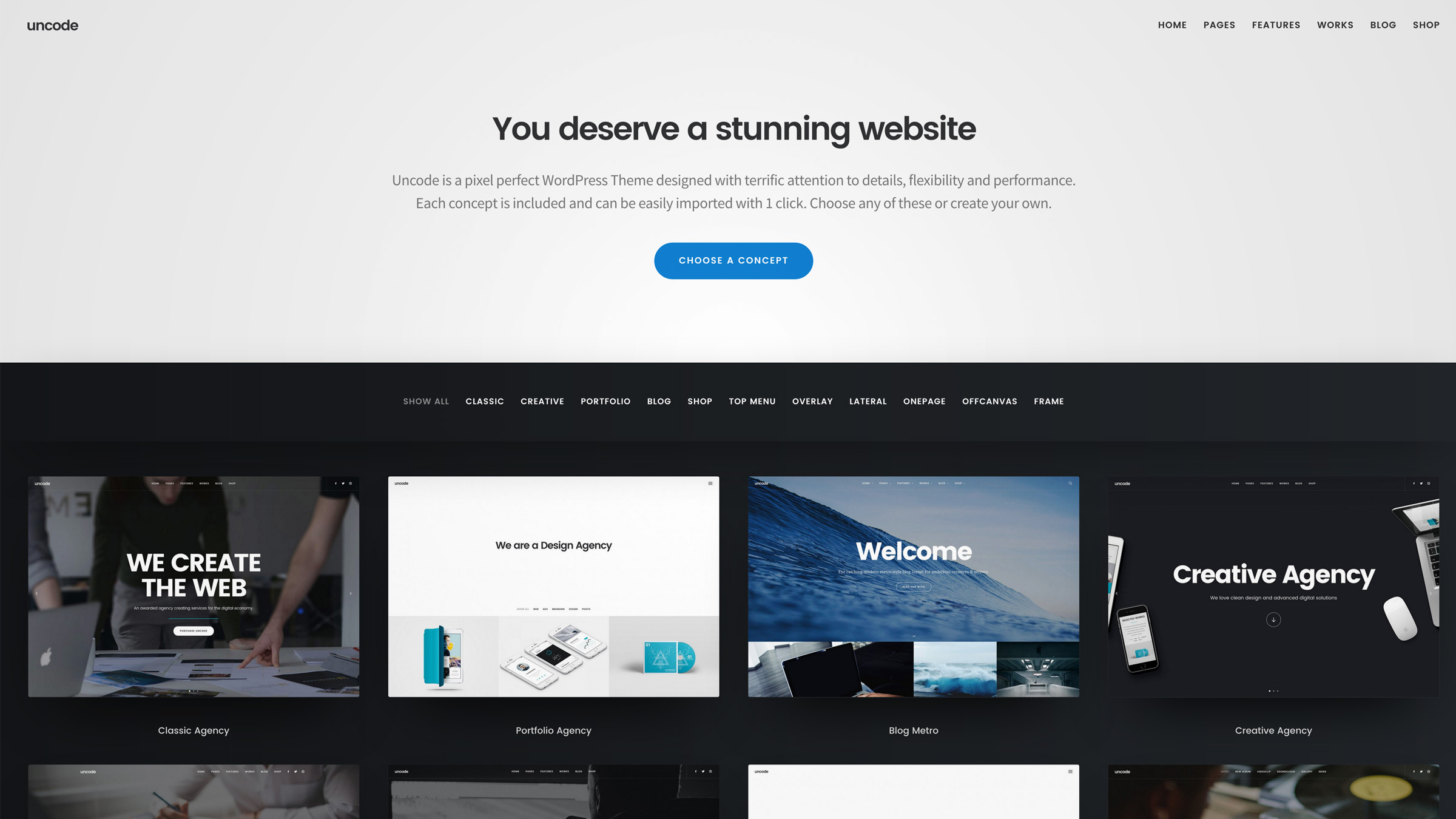 Next to choosing your plugins, selecting a theme will be the biggest decision you make about your site.
A theme is a software package that determines your site's styling – what it looks like, how it's laid out, and how features like menus and sidebars work. Your theme is crucial because it controls how your site appears to users. It also affects how easily they are able to find information and make purchases.
It's important to choose a theme that is either designed specifically for e-commerce, or at least has all the design features you'll need for your store. You'll want to look for a theme that provides a lot of customization options, a fully responsive design, and a user-friendly interface. We also suggest going with a theme that comes bundled with helpful e-commerce plugins.
Just as with plugins, there are many options available. We would (naturally!) recommend you try Uncode – a multipurpose theme that has everything you need for an e-commerce site. The key features of Uncode that will benefit your site include:
Layout options that are perfectly designed for online stores, and come in a variety of styles. Check out Shop Metro, Shop Landing, Shop Creative, Shop Classic, and Shop Parallax.
A fully responsive layout and adaptive images that make the customer experience a pleasure.
Lots of customization options for the site's layout, appearance, settings, and so on. You'll be able to create something unique that stands out from the crowd.
Support for many e-commerce plugins, including WooCommerce.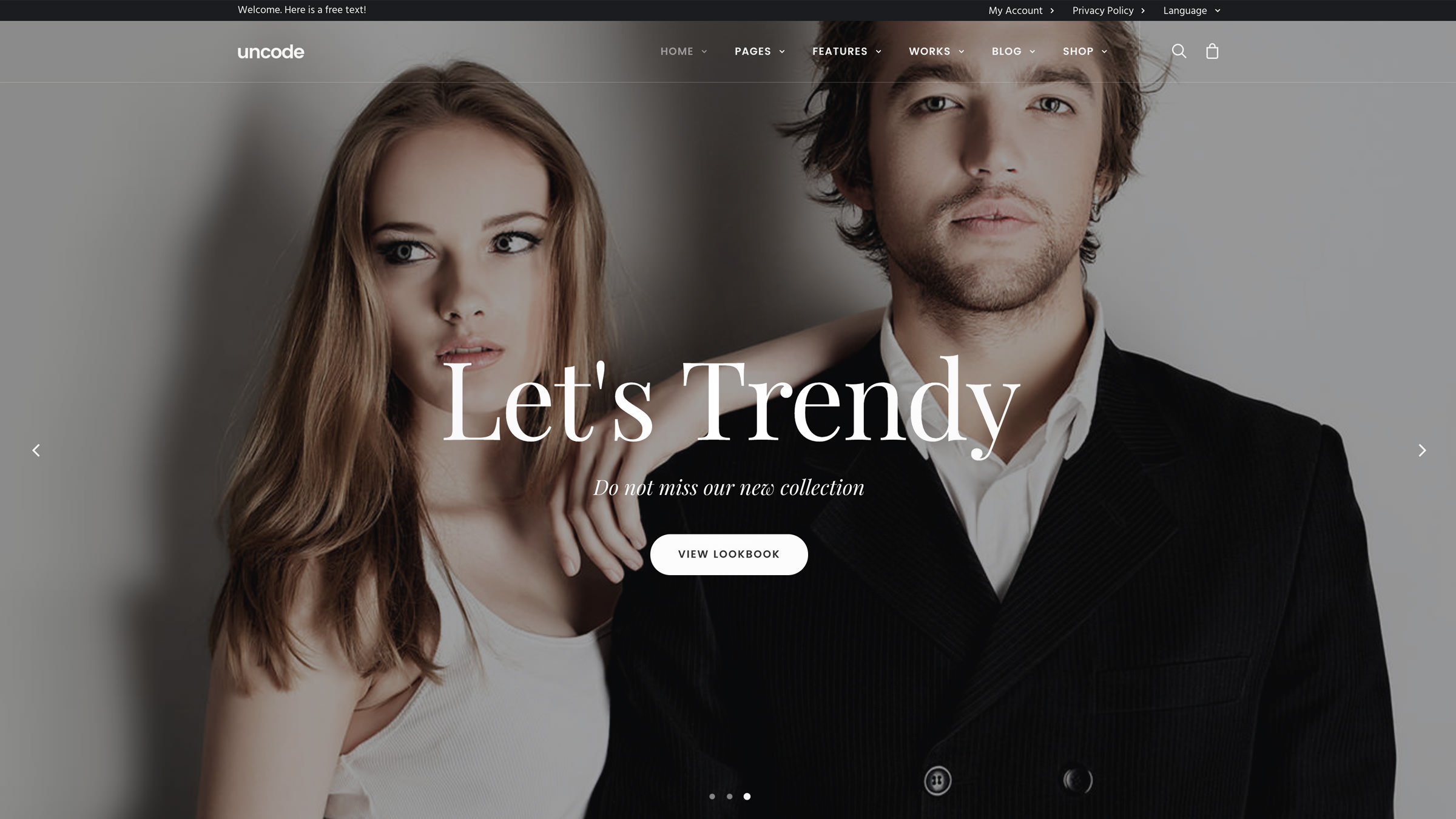 If you're looking for a more basic, free theme that's still well built for e-commerce, you could also try out Shop Isle, Make, or EightStore Lite. Whatever you choose, first make a list of features you know your store will need to have and plugins it has to support. Then check each potential theme against that list before making a decision.
3. Security Options for WordPress Are Easy to Find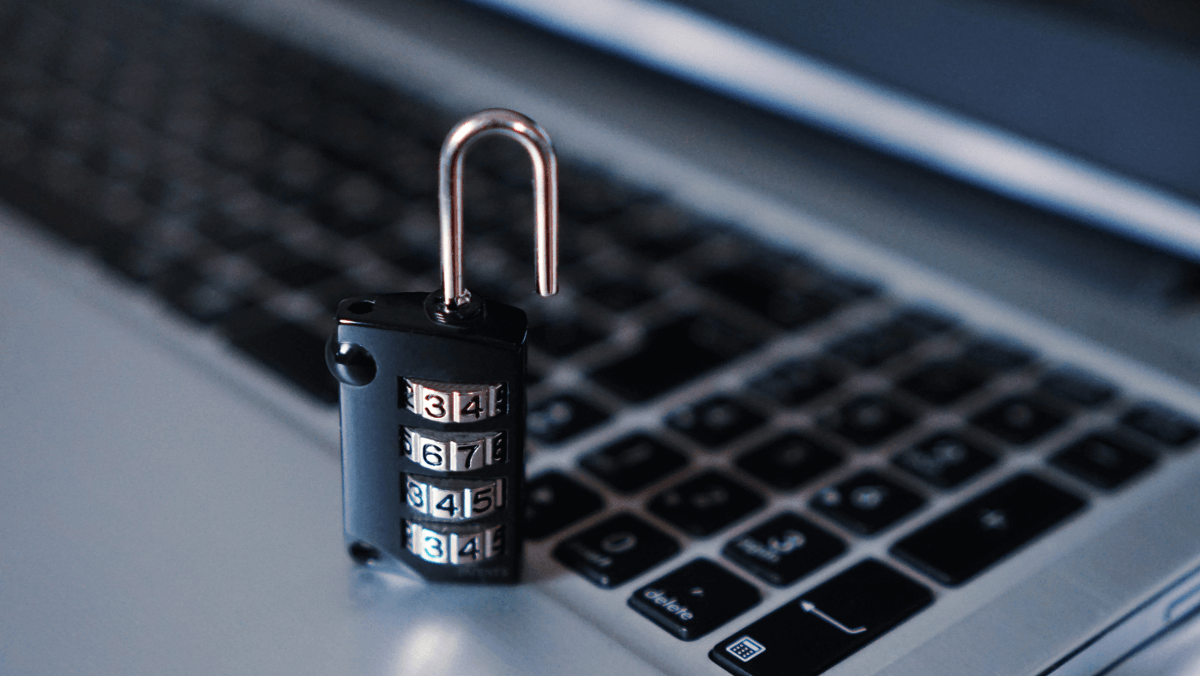 Once you've chosen your theme and plugins, it's time to start setting up your site. While you do that, you'll want to keep one requirement in mind: security. Any website can benefit from some basic security measures, but for an e-commerce site you'll want a more extensive solution. An online store contains personal user data and the records of financial transactions – that information must be well-protected.
WordPress has been around since 2003. It's gone through many versions, and has a large and dedicated community devoted to perfecting it. So it's no surprise that the core software is now incredibly secure. Furthermore, the development team continues to focus on finding new ways to improve WordPress' security features, to ensure that it's in safe hands for the future too.
While WordPress core is highly secure, there is certainly more you should do to boost security. Fortunately, the WordPress community has created just about everything you could desire in terms of ensuring the safety of your site and your customers' personal information:
When you use WordPress and keep in mind these simple tips, you can be confident that your site is as secure as possible. If disaster does strike, though, you'll have the tools you need to deal with it.
4. WordPress Community Support Is at Your Fingertips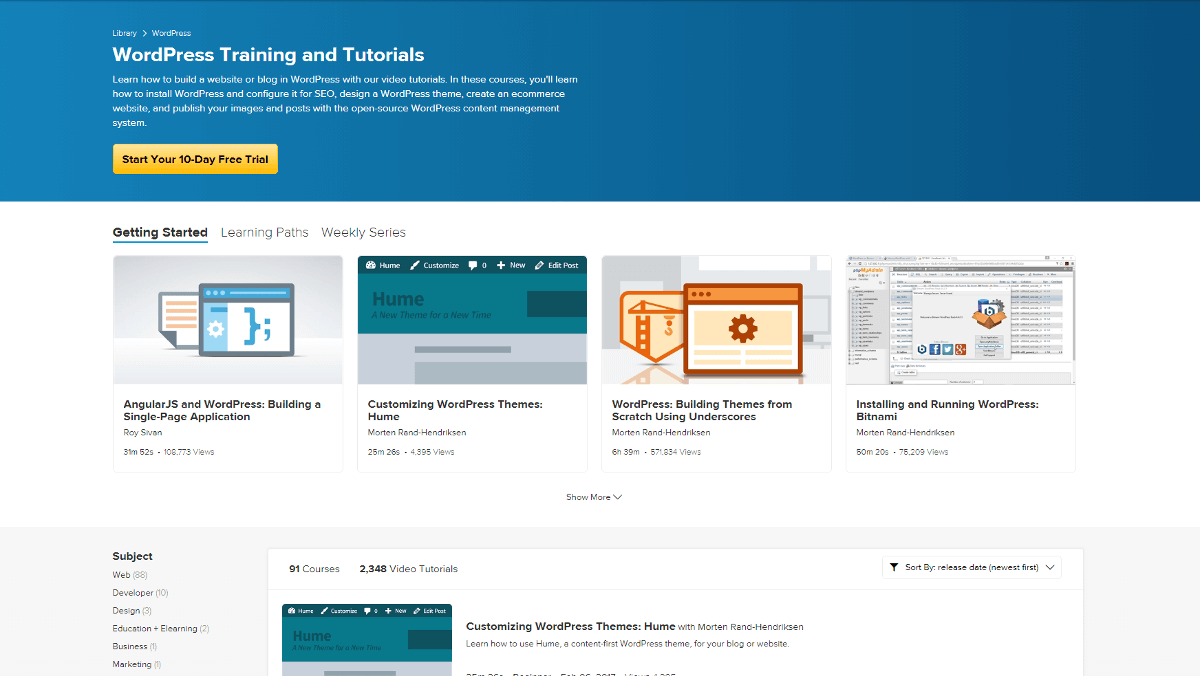 By now it should be clear that WordPress is a powerful tool that gives you access to all the options you could want when building a website. However, with all that power comes a certain level of complexity. Setting up a basic blog on WordPress isn't hard, but running a successful e-commerce site takes some work. There are a lot of options and possibilities to sort through, and you might run into some technical or conceptual information you're unfamiliar with.
However, if that happens it will never be difficult to find help. As we mentioned previously, WordPress has a big community that is always evolving and learning together. There are many people out there willing to help newcomers.
Here are some options for learning the ropes and getting advice if you're new to WordPress:
Community support for WordPress is readily available. When in doubt, if you're having a problem or want to know the answer to a question, google it. Someone is likely to have an answer or a helpful tutorial.
5. Existing WordPress Sites Provide Much-Needed Inspiration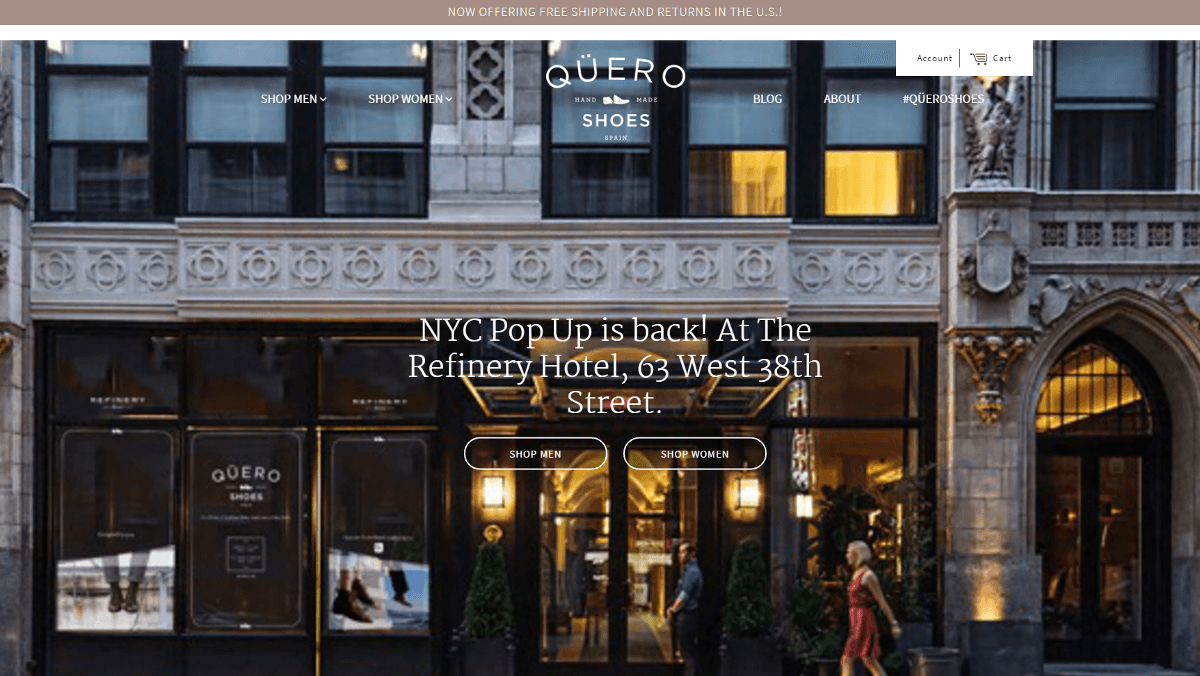 Besides the items we've discussed above, one of the biggest advantages to choosing a platform as popular as WordPress is that so many online stores are already using it. You won't want to copy what's already been done, of course – you'll want to create something that's unique and tailored to your own business – but it's a good idea to learn from what's already working. Existing sites can serve as inspiration and models for your own development.
To get you started, here are some successful e-commerce sites that run on WordPress:
As you might notice from that last example, many sites that sell themes and plugins run on WordPress. If you ever want to check to see if a given site is using WordPress, you can use a tool like BuiltWith. Simply enter a URL and hit the Lookup button. Then, scroll down to the section labeled Content Management Systems. You can even search through the rest of the list to see what plugins and other tools the website is using, to give you some ideas for your own site.
Conclusion
Building an e-commerce website for your business is a crucial first step into the vast online marketplace. You'll want a storefront that is attractive and professional, gives customers what they want, and runs itself as much as possible. That's where WordPress comes in. You'd be hard-pressed to find a more more flexible, customizable, and well-supported platform.
By this point, you should have a solid understanding of why WordPress is such a fantastic solution for e-commerce. Let's recap what we've discussed above:
It has a wealth of plugin solutions (such as WooCommerce).
Many themes (such as Uncode) provide e-commerce options.
Security options are easy to find.
Community support is at your fingertips.
Existing sites provide needed inspiration.
Can you think of any other reasons why WordPress is such a fantastic e-commerce solution? We'd love to read your suggestions in the comments section below!
Image credit: Pixabay.
Sign up to stay up to date with the latest news!
(You will be forwarded to our subscribe form hosted by Mailchimp)