When you're building a new website, you have a choice to make when it comes to themes. First and foremost, you need to decide whether to choose a multipurpose or a niche option. Whichever route you go will significantly impact your site's design and functionality, so it's essential to make a decision that doesn't limit its growth in any way.
The truth is that both multipurpose and niche themes are useful for certain types of projects. For example, if you want to set up a specific type of niche site, starting with a theme designed for that purpose can be helpful. However, for larger projects and most common types of websites, it often makes more sense to go with a multipurpose theme like Uncode.
In this article, we're going to dig deeper into what separates multipurpose themes from their niche counterparts. Then we'll break down five reasons why it's usually smart to go for a multipurpose option. Let's talk themes!
The Difference Between Multipurpose and Niche WordPress Themes
WordPress themes are collections of files that alter your site's appearance, layout, and sometimes functionality. There are thousands of WordPress themes available, and they each have a unique style. By choosing the right one, you'll be able to implement just about any look you want on your site, without needing to touch HTML or CSS: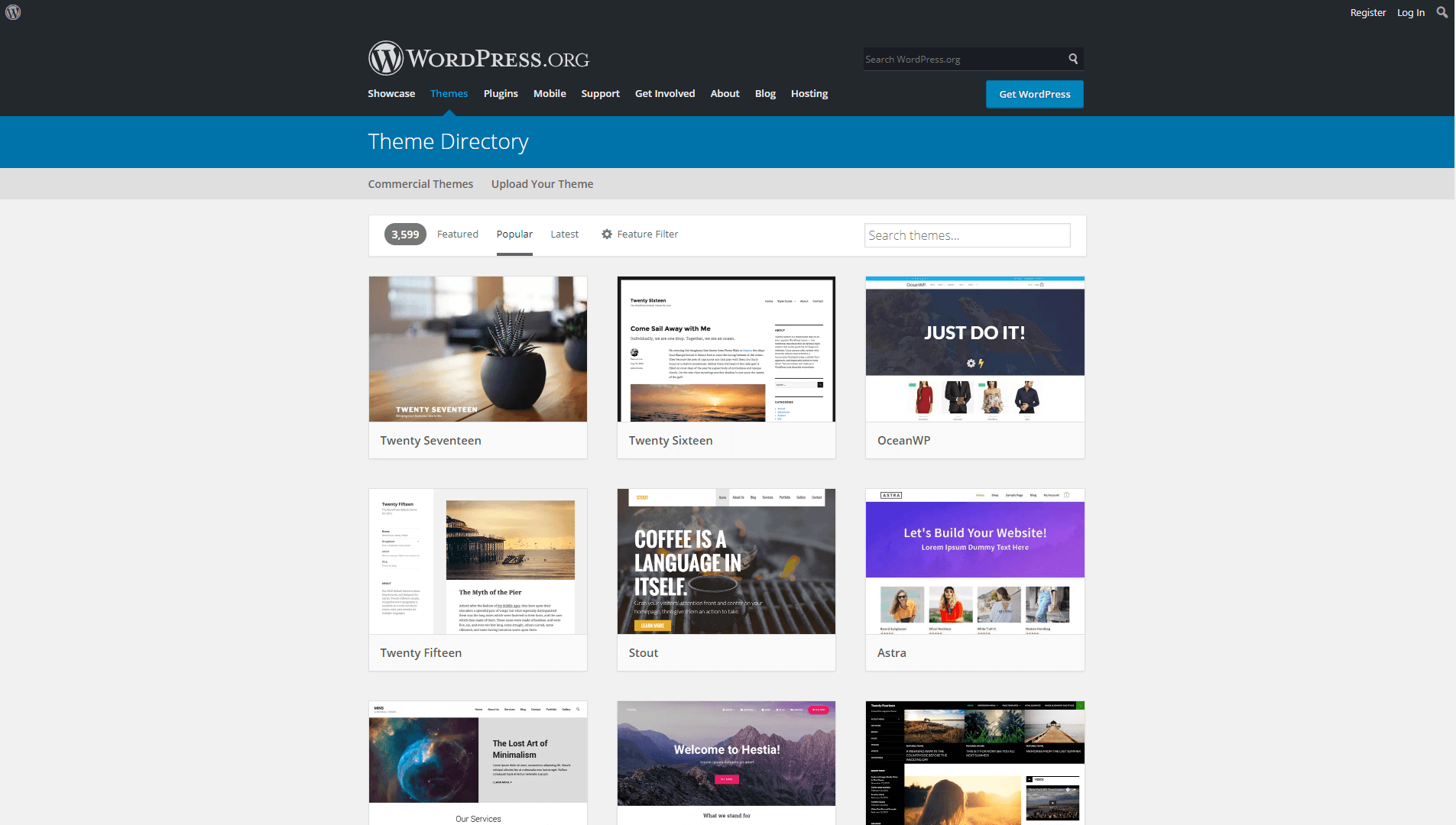 Since there are so many themes to choose from, it also makes sense that they fall into lots of different categories. However, we can break down most WordPress themes into two broad taxonomies:
Niche themes. These are templates designed for particular types of websites. For example, you can find themes for blogs and online stores, as well as for more specific niches such as podcasting and real estate sites.
Multipurpose themes. With this type of theme, you usually get a broad range of options to play with. This enables you to use a single theme across multiple types of projects, and to customize it more fully to suit a specific site's needs.
Generally speaking, niche themes can be solid options if you're working on a website that requires very specific functionality. Just to give you an example, here's a WordPress theme called Nexos that targets real estate agencies: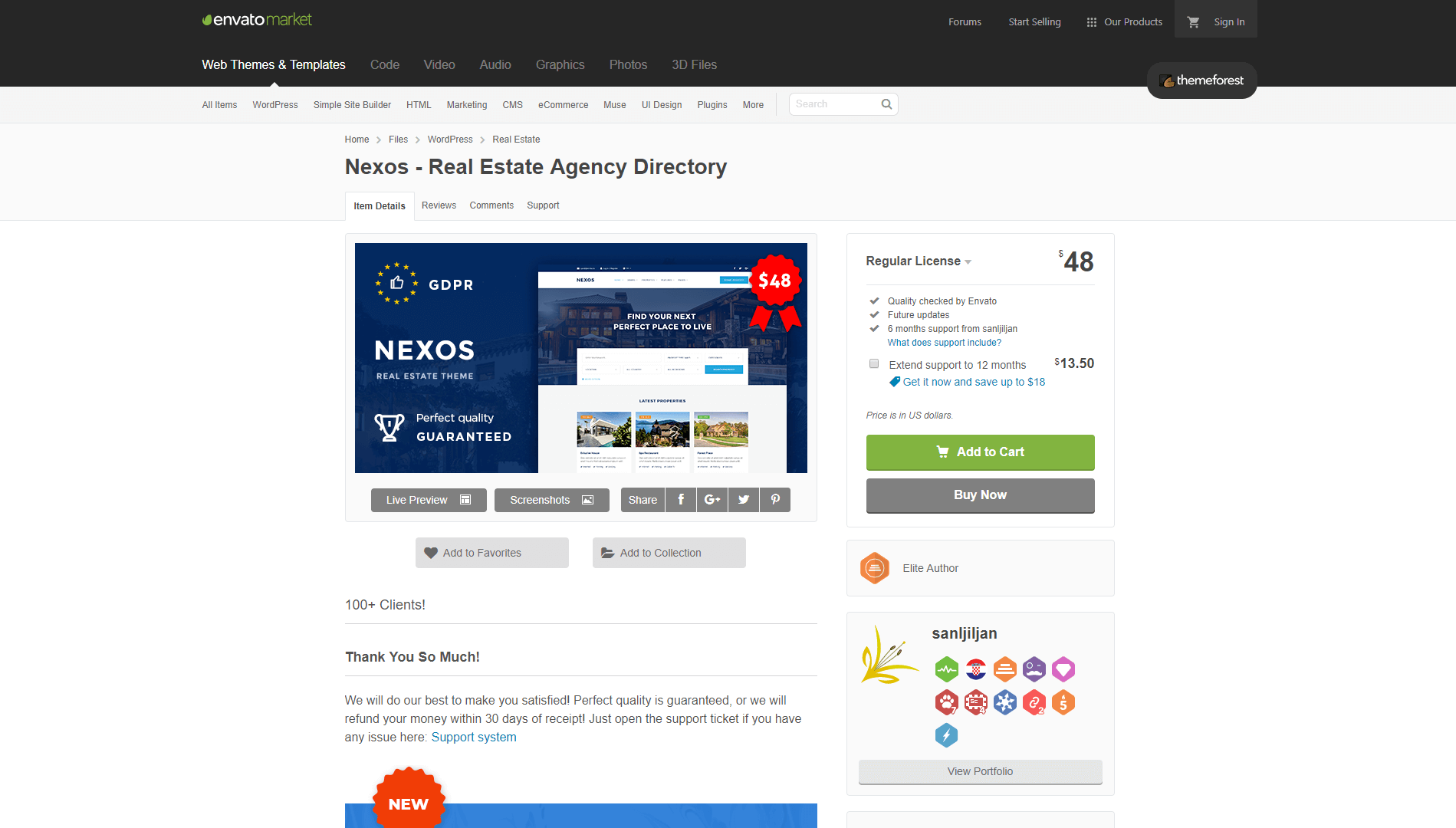 This theme includes property listing functionality out of the box, which is very helpful to any real estate agent. However, such a specific feature wouldn't come in handy on most other types of sites. That means you'll need a new theme for each project.
To be clear, there are plenty of situations where using niche themes makes sense. They also tend to be easier to get started with, since they often don't include as many features, and it can be easier to find solid free options. However, in the majority of situations a multipurpose theme will suit your site's needs more effectively. Let's talk about why!
5 Reasons You Should Consider Using a Multipurpose WordPress Theme
If you're looking for the quick answer to why we like multipurpose themes, we can sum it up in one word: flexibility. Of course, there's a lot more to the story than that. Over the next few sections, we'll explain why this type of theme is often the best choice for your site.
1. You Usually Get Access to More Features
One of the main draws to multipurpose themes is that they tend to pack in as many features as possible. Take Uncode, for example. Our signature theme enables you to add contact forms, buttons, galleries, shape dividers, and much more to any of your pages or posts: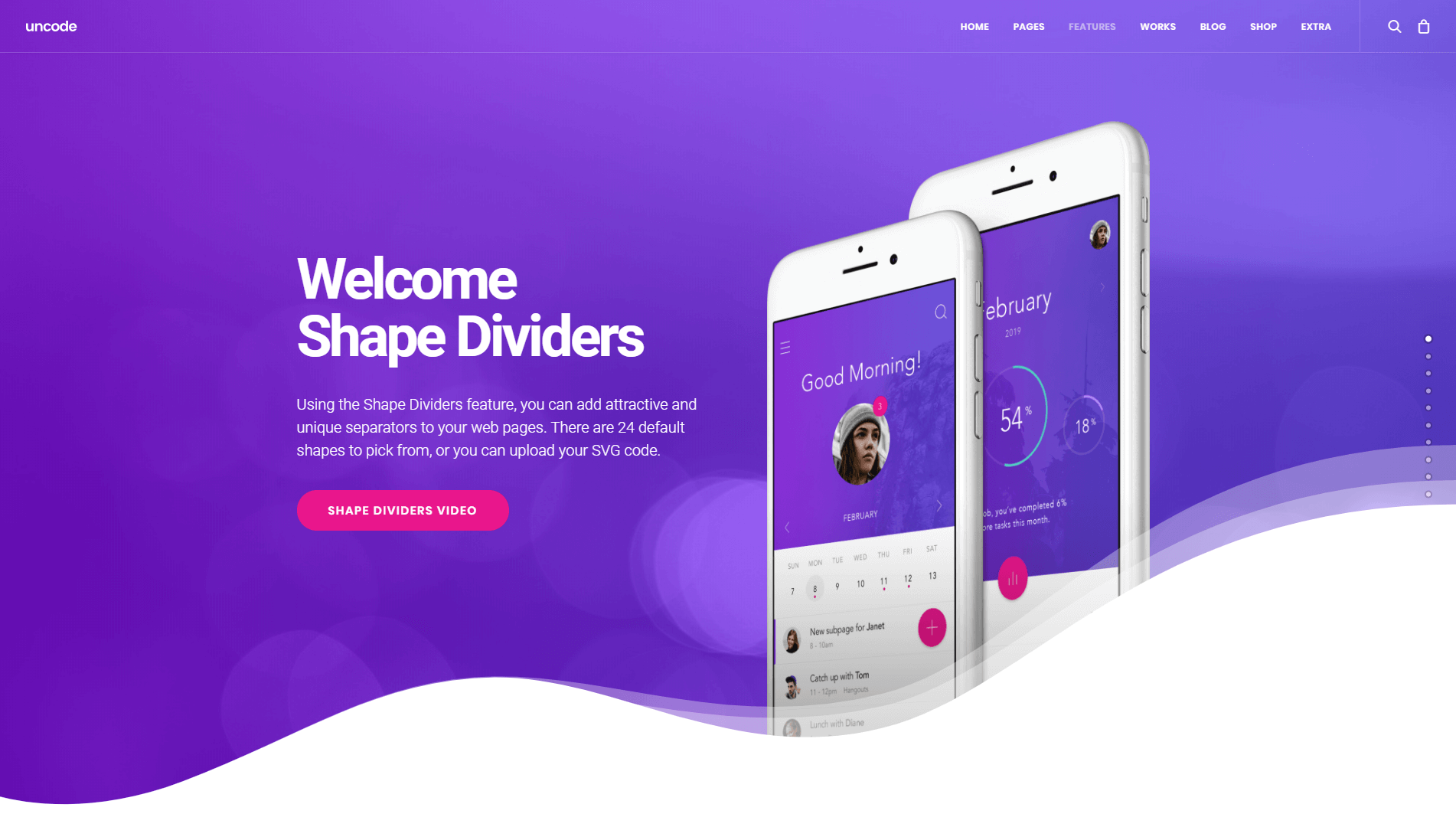 With Uncode, you also get access to more advanced functionality, such as pricing tables, team member sections, carousels, social sharing options, and more: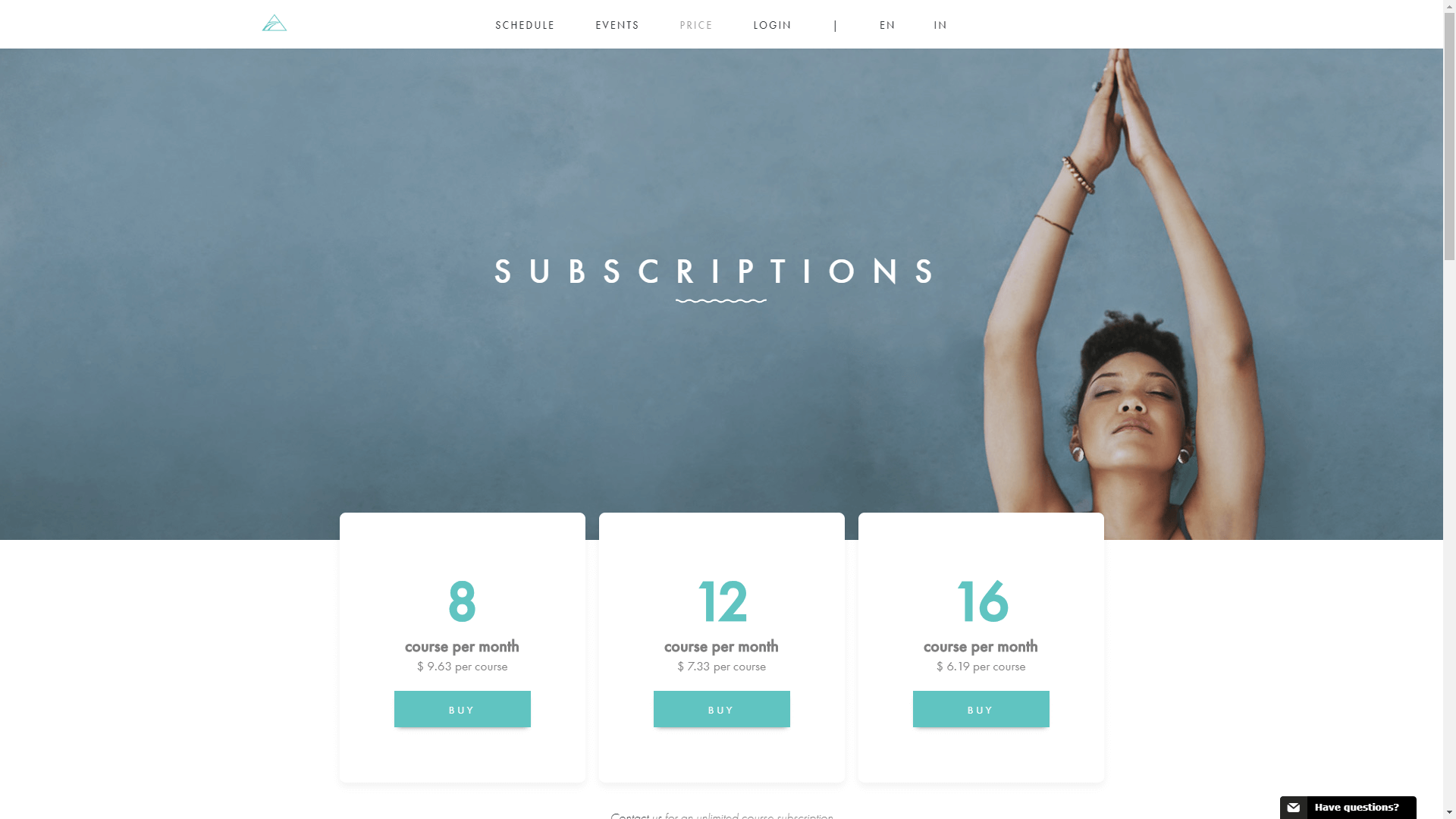 At first glance, multipurpose themes can seem unfocused. However, the goal is to offer you the utmost in flexibility, so you aren't tied to one style or set of features. The top WordPress themes on the market are mainly multipurpose options, because users love having access to as many features as possible.
Of course, this also means that most multipurpose themes are premium. They provide a lot more perks than your average free theme, so the price tag starts to make sense once you take a look at all the options you're getting. After all, the more features you have at your disposal, the more choices you get when it comes to creating and designing new websites.
2. Some Multipurpose Themes Include Page Builder Tools
Years ago, it would have been an uphill battle to build a professional-looking site without a background in web development. However, these days almost anyone can create a stylish and functional website thanks to page builders.
Page builders are tools that enable you to put together website content by selecting from a library of pre-built elements, which you can then customize. Uncode, for example, includes its own website builder. This feature uses a module system that provides you with dozens of elements you can choose from: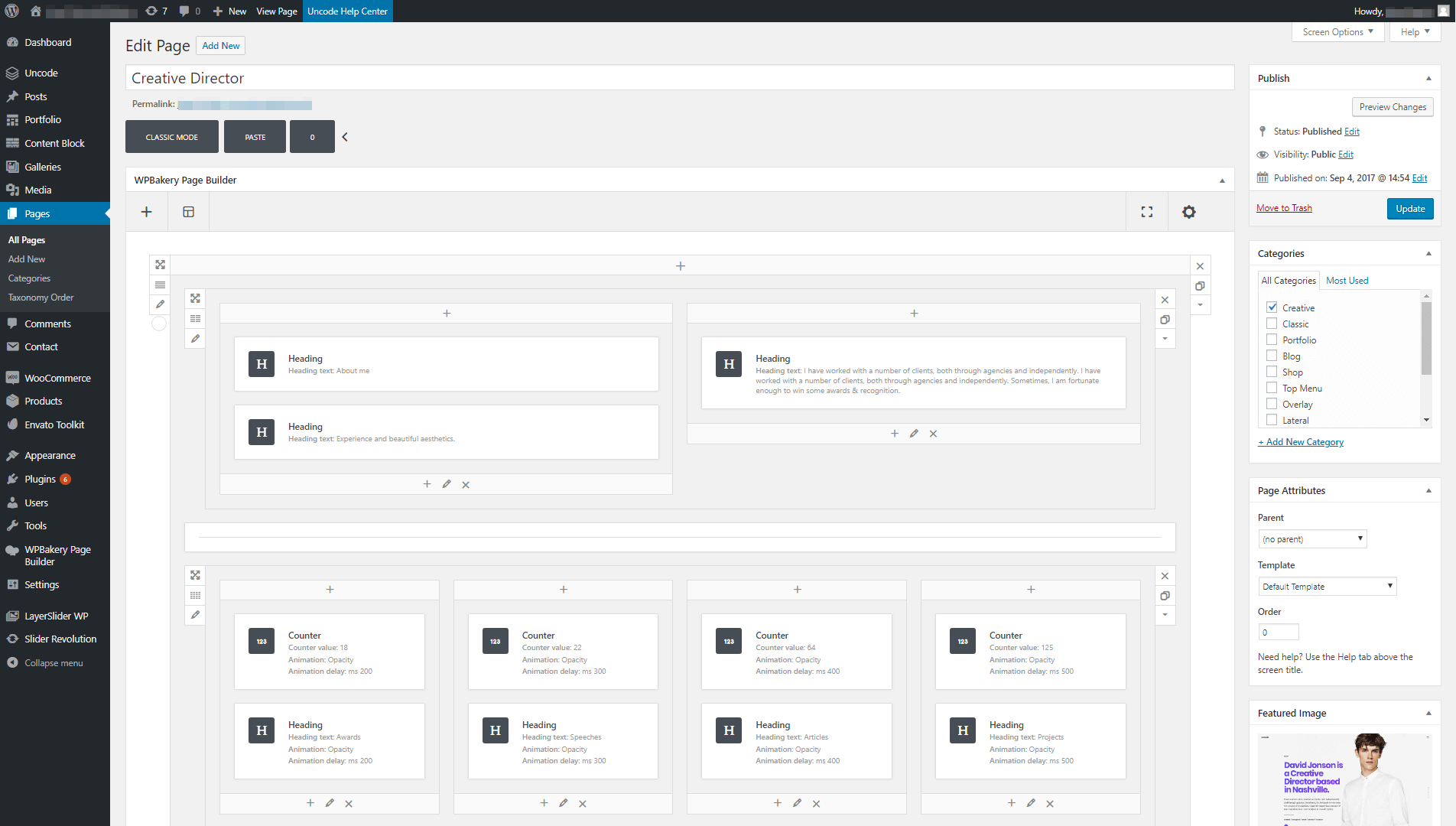 When you combine those modules with a flexible row and column system, you have a tool that enables you to create almost any type of layout you want.
When it comes to WordPress, there are plenty of plugins you can use to add page builder functionality to your website. However, one upside of using multipurpose themes is that a lot of them tend to include these tools out of the box. That makes them a fantastic option if you don't have any experience in web development. Plus, it ensures that you won't see any conflicts between your theme and page builder solution.
Of course, while many page builders use a similar approach, the website-building experience varies a lot depending on which tool you use. With that in mind, we recommend that you keep an eye out for theme demos and previews, which often enable you to see these features in action before making a purchase.
3. You Can Reuse a Single Theme for Multiple Projects
If you're looking to build more than one website, or even get involved in web development, using a single flexible WordPress theme for all your projects can save you a lot of time. By not switching themes, you skip the inevitable learning period where you need to get acquainted with how each one works, what options it offers, and so on.
However, this only works if you choose a multipurpose theme that enables you to build very different types of sites. With Uncode, for example, you can easily design a stylish blog…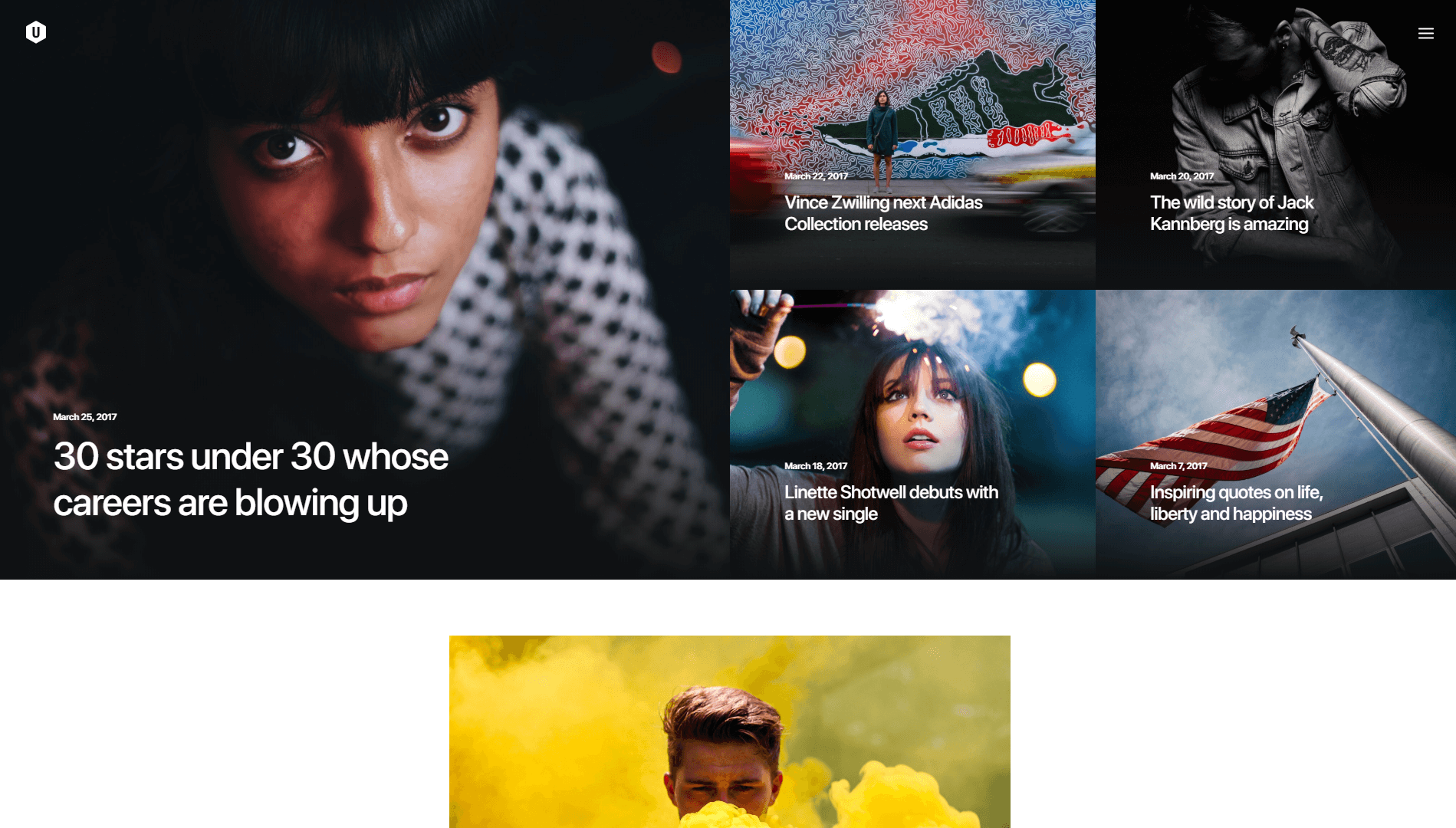 …or an online store that looks just as modern and practical as anything else online: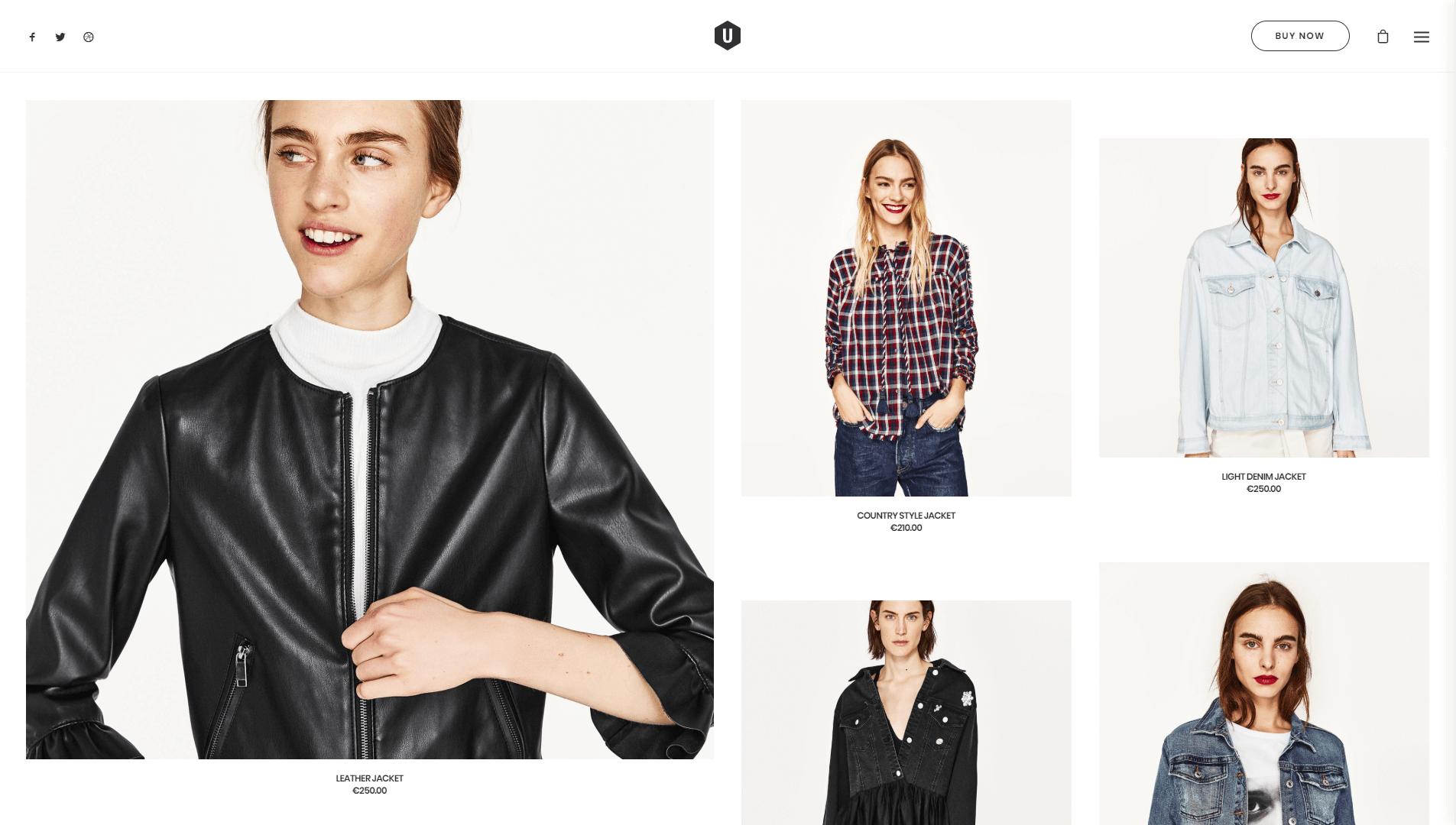 At first glance, you wouldn't think that both of these websites use the same theme. In a nutshell, that is one of the primary selling points of multipurpose themes. If you pick an option that comes with plenty of features and a page builder, you can create almost any type of website you want with it.
Of course, the key word in that phrase is almost. For websites that require very specific functionality – such as our earlier real estate example – a multipurpose theme might not be the best option. If you're looking to build sites in multiple niches or industries, on the other hand, a quality multipurpose theme will usually do the trick.
4. Multipurpose Themes Tend to Offer Better Support and Documentation
In our experience, multipurpose themes often provide you with better support and documentation than niche themes do. At least, that's true if you choose a WordPress theme with a large user base and excellent ratings, which is always the way to go. You're also more likely to find reliable support in a popular premium theme than a small-scale free one.
Your mileage may vary, of course. However, WordPress theme development is such a competitive field that a lot of the top options have to go the extra mile to make enough sales. Here's a quick look at some of the best sellers when it comes to premium WordPress themes: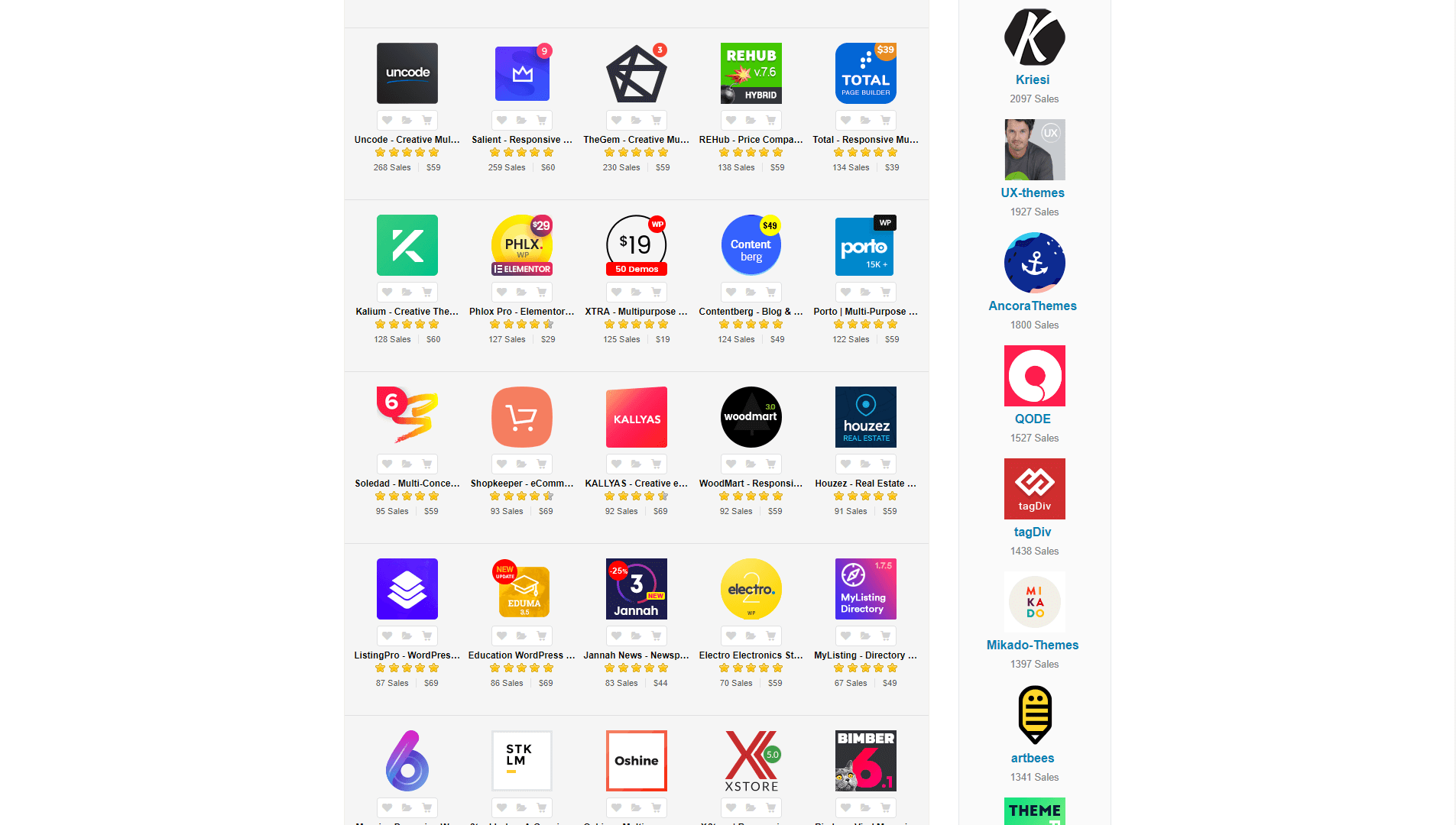 Most of those themes are multipurpose in nature. If you take a closer look at their individual pages, you'll notice that they're all trying to outdo each other when it comes to user experience and breadth of features. This means a theme that doesn't offer top-notch support and documentation will quickly fall through the rankings.
As a WordPress user, that's excellent news for you. It means you can buy a top multipurpose theme, and be confident that you'll continue to receive access to updates and support for a long time to come.
The more niche a theme is, on the other hand, the more narrow its user base will be. In those cases, getting in touch with the developers can be trickier. Of course, there are certainly niche theme developers that are amazing when it comes to providing support and documentation. However, you're taking more of a risk than you would be by opting for a premium multipurpose theme.
5. Multipurpose Themes Make It Easier to Expand Your Site's Scope
We've made reference to the needs you'll have when creating blogs, online stores, and other common types of websites. However, one often-overlooked point is that your website doesn't need to do only one thing. For example, if you run a blog, nothing is stopping you from also adding an online store to your website, promoting your own products: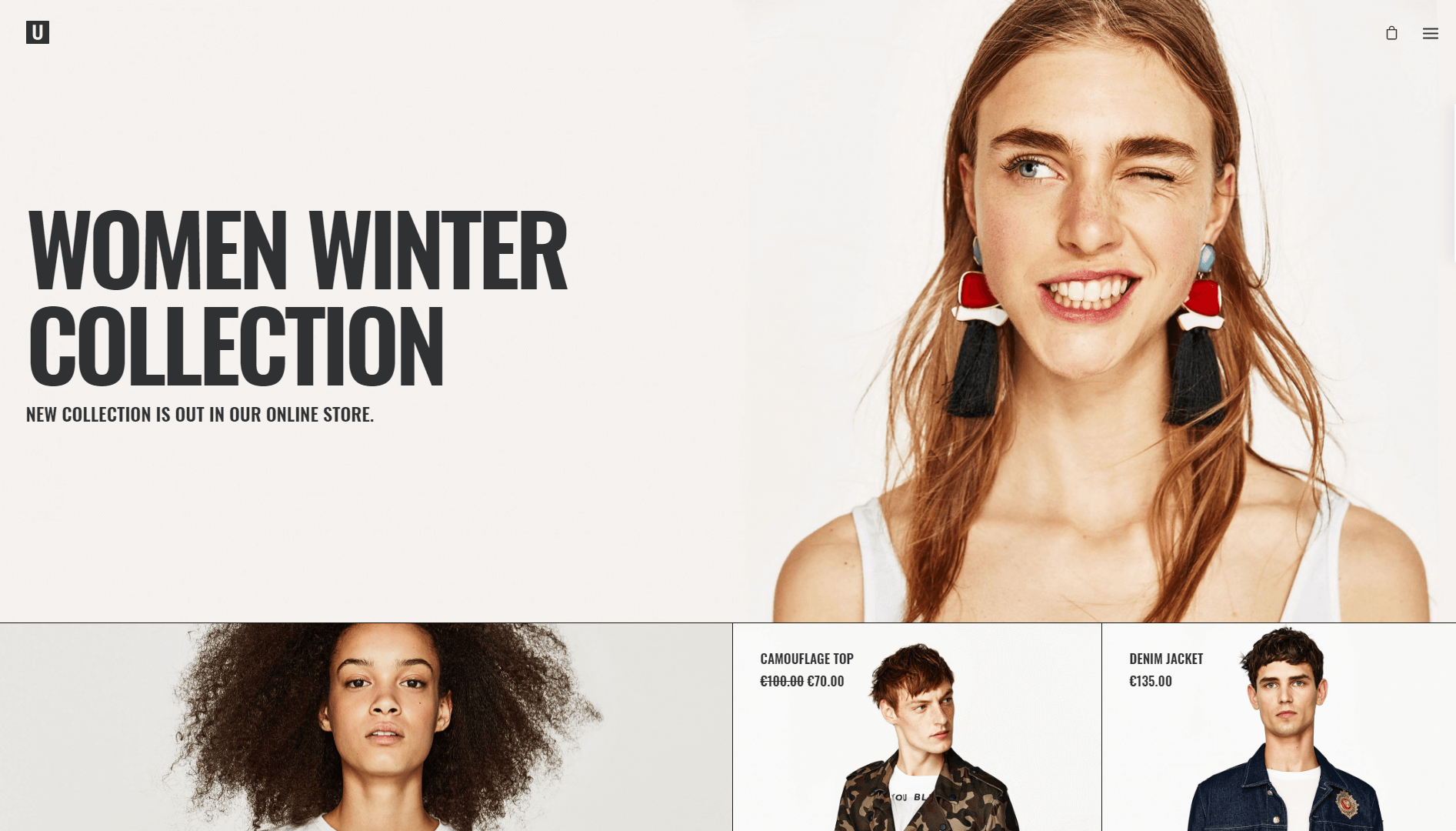 The same applies if you use your theme to create a portfolio. Depending on what services you offer, you could add a page with pricing tables, and even collect payments online: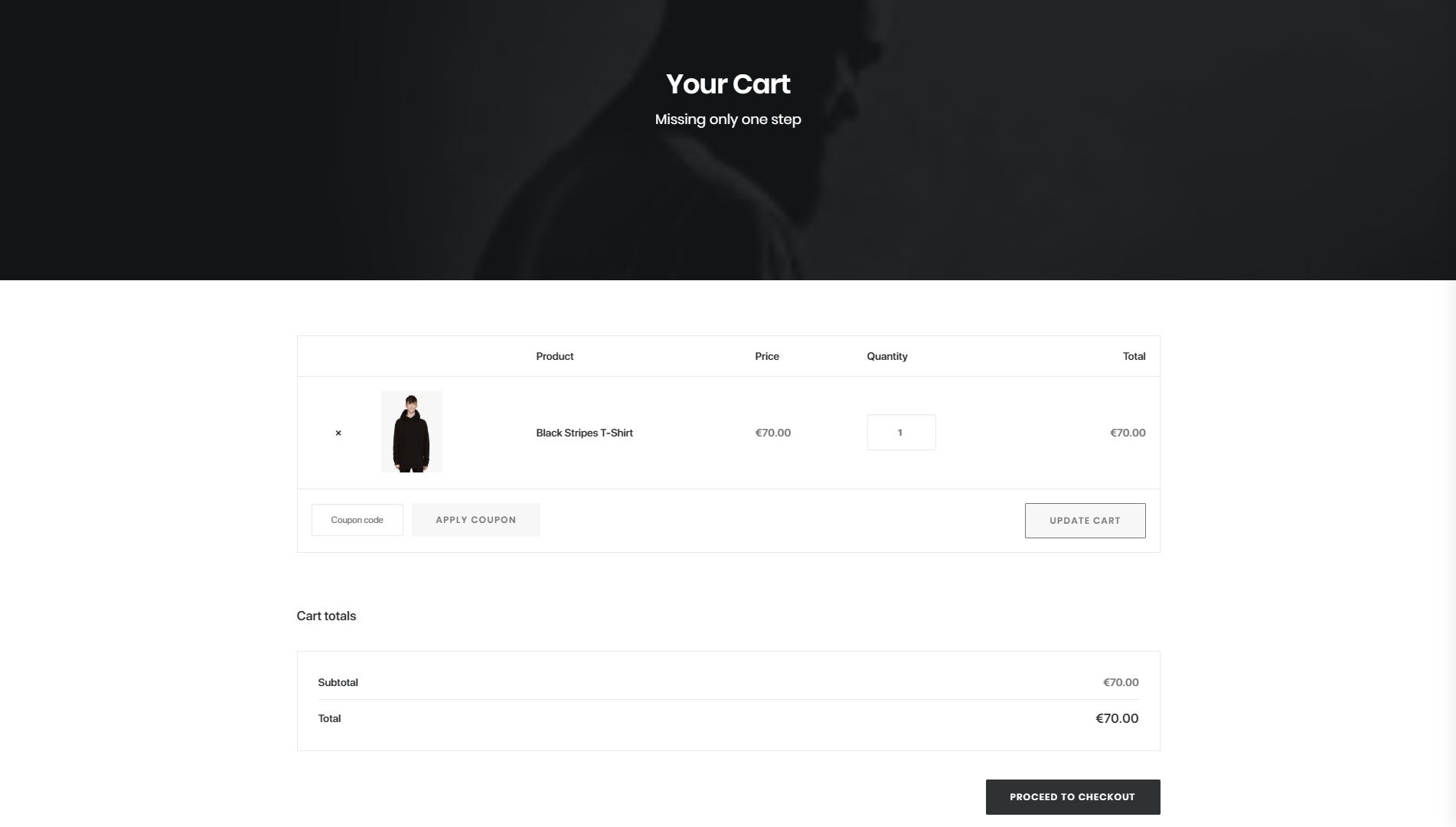 One of the best things about WordPress is that it enables you to create almost any type of website you want. This includes a site with multiple goals or very distinct sections. However, for that to work, you need to use a theme that's flexible in terms of both features and designs. For that reason, multipurpose themes are perfect if you think you may want to expand your website's scope at some point.
Conclusion
Ultimately, the type of WordPress theme you use should depend on the kind of site(s) you want to build. More focused, niche themes are handy for sites that require particular functionality you won't be able to find elsewhere.
However, putting aside those specific cases, multipurpose themes such as Uncode are an excellent fit for most sites. Among other reasons, this is because:
You usually get access to more features.
Some multipurpose themes include page builder tools.
You can reuse the same theme for multiple projects.
Multipurpose themes tend to offer better support and documentation.
You can easily expand your site's scope.
Do you have any questions about what type of theme would be the best fit for your site? Let's talk it out in the comments section below!
Sign up to stay up to date with the latest news!
(You will be forwarded to our subscribe form hosted by Mailchimp)