As you may know, you need a web hosting service to set up a public website. A lot of people just pick the cheapest hosting they can find, without knowing if it's any good. That's a mistake, because not all hosting services are made the same and you don't want to be stuck with one that's subpar.
You can switch hosting services anytime you want, but it's a hassle to do so. On the other hand, if you do a little research before settling down, you can save yourself from some potential trouble down the road. Plus, running a WordPress website is a lot simpler if you choose a host that knows the platform well.
In this article, we're going to talk about what you should look for in a strong WordPress web host. Then we'll introduce you to our three favorite options that perform well alongside our Uncode theme. Let's get to it!
What You Should Look for in a Quality WordPress Web Host
Web hosting is an incredibly competitive field, and providers put a lot of effort into fighting to be your top choice. However, just as with any other type of service, there are some options that are clearly better than others.
For example, if you plan on using WordPress, your best bet is to look for a web host that offers plans tailored for the platform. These work just the same as regular hosting plans, but they come with a few extra WordPress-specific features, such as better optimization and expert support. In general, these options make for a better experience when running your WordPress site.
There are a few basic criteria you want your web host to meet, whether you're running a WordPress website or using any other platform. They are:
Excellent performance. You've probably noticed that some websites take longer to load than others. In some cases, your internet connection may be the problem, while other sites are just poorly optimized. However, your web host's quality also plays a role in your site's performance, and some are faster than others.
A strong support team. Sooner or later, you'll encounter an issue while running your website. When that happens, your web host's support team should be able to help you fix things up promptly.
High security standards. Even small websites are targets for attacks these days. This means you want to use a web host that's proactive when it comes to security, so you won't have to worry about it.
Decent prices. Above all, you want to ensure that your hosting price fits comfortably into your budget.
Fortunately for all of us, the competition in the field of web hosting is so fierce that you can find amazing services at very low prices. Just to give you an idea, it's not uncommon to find top-notch shared hosting plans at below $5 per month.
Of course, the more features you want, the higher the price of your hosting will climb. If you're a WordPress user, you'll want access to features such as automatic updates for the platform, safer login pages, and more. However, it is possible to find WordPress-friendly options that don't break the bank, and still offer plenty of extra options.
3 Uncode-Approved WordPress Web Hosts
Our Uncode theme has a lot of features, so it comes with a specific set of minimum requirements. This means it won't run to its full potential on just any web host. The upside is that if a provider meets these requirements, you can be pretty sure that they offer quality service.
Before we talk about our top three picks, we want to give you a quick warning to avoid very low-budget hosts. While they may work well for some people, those hosts don't have the best reputation when it comes to WordPress websites. They also don't perform well alongside Uncode. With that in mind, let's move on to talking about some more viable options.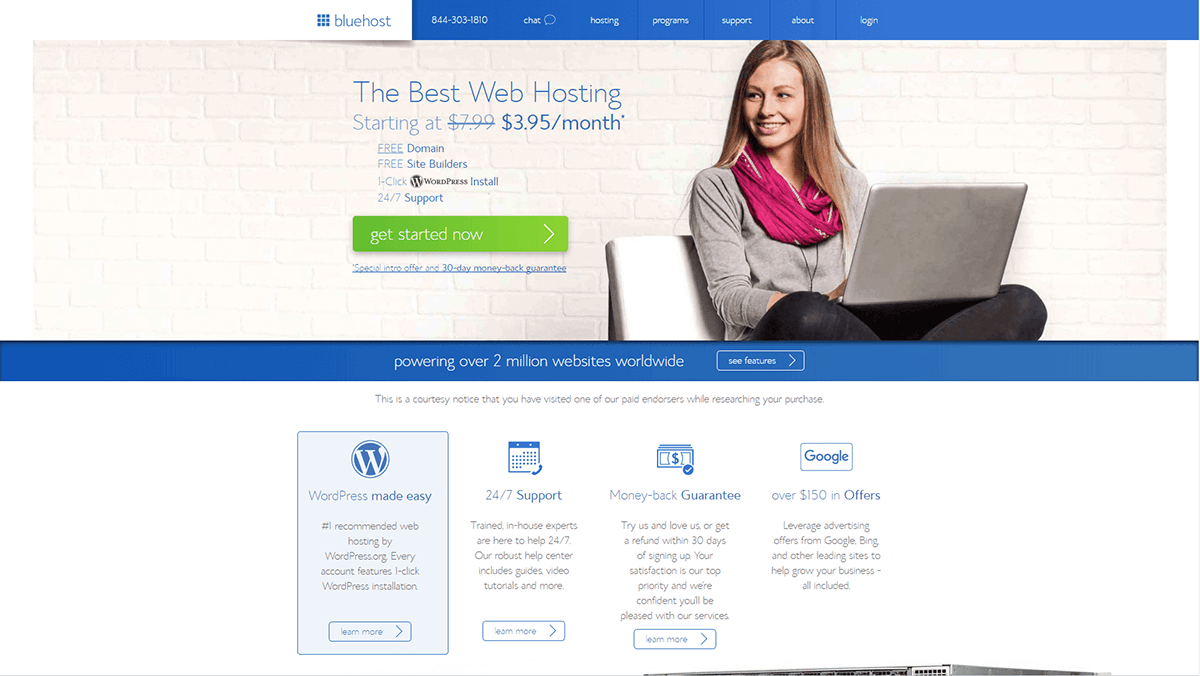 BlueHost is one of the most popular hosting services available. It offers a broad range of plans starting at reasonable prices, and they all come with an excellent set of features. Moreover, this provider also offers WordPress-specific hosting plans, and around-the-clock support for every client.
If you're building a new website, we recommend that you start off using a shared hosting plan, since that's the most price-conscious option. Plus, you can always upgrade to something bigger whenever you need to.
Here's what BlueHost has to offer when it comes to shared hosting:
Basic ($3.95 per month). BlueHost's basic plan supports a single website and unlimited traffic, and it includes 50 GB of storage. This is the right pick if you're creating your first site.
Plus ($5.95 per month). For a couple of extra dollars per month, the Plus plan supports unlimited websites, as well as unmetered traffic and storage. This is still in the same league as the Basic plan, so it only makes sense to get this if you need to host multiple websites.
Prime ($5.95 per month). With this plan, you get all the same perks as with the Plus option, as well as a built-in backup service and more privacy for your domain's information.
Keep in mind that this particular set of plans isn't WordPress-specific. BlueHost does offer WordPress-only plans, although they start at $19.99 per month. The sharp increase in price is because these plans run on Virtual Private Servers (VPSs), which provide your website with better performance than regular shared servers do.
If you're willing to pay around $20 each month for hosting, however, there are better options out there (we'll discuss one of them shortly). Still, BlueHost is a perfect option if you're looking for a cheap plan that still offers high quality service.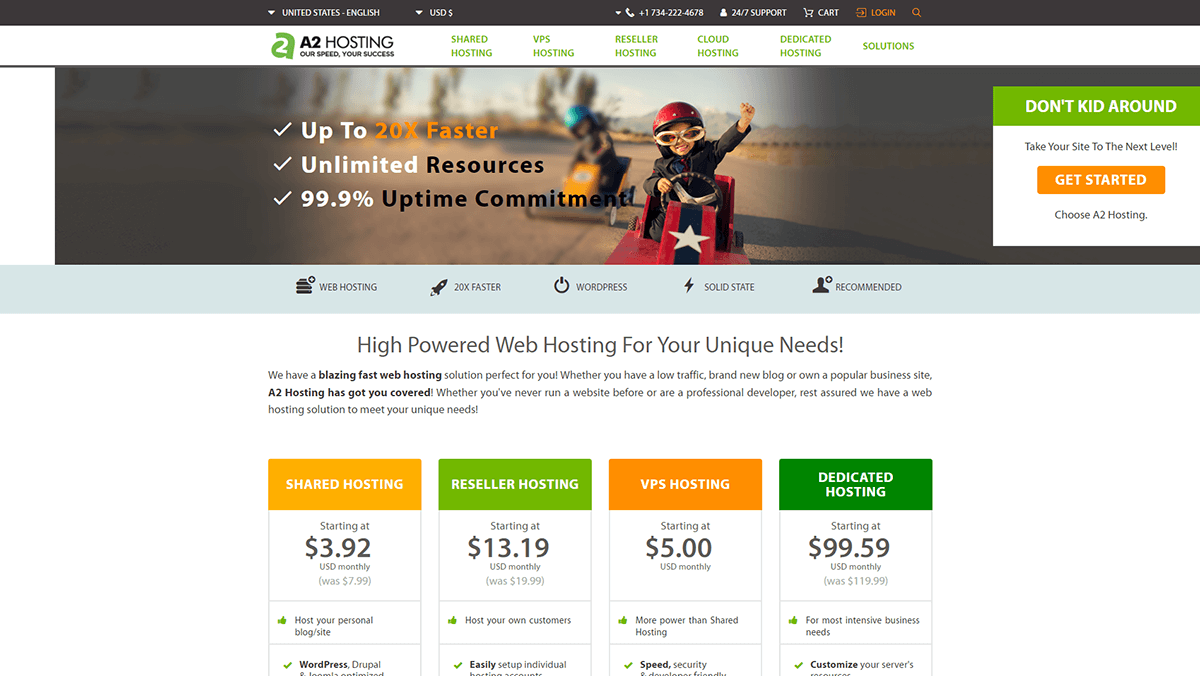 A2 Hosting isn't as well-known as BlueHost, but has still made a name for itself thanks to its budget-conscious approach to hosting. It offers some of the cheapest plans you can find, and has an excellent reputation when it comes to performance.
Finding web hosting services that deliver high performance on budget plans can be challenging. After all, there's only so much you can expect for less than five dollars a month. However, A2 Hosting stands out as an exception. Here's what you need to know about its selection of WordPress hosting plans:
Lite ($3.92 per month). The Lite plan supports a single website and five databases, and offers unlimited storage and traffic. It's a perfect option for starter sites, personal blogs, and similar projects.
Swift ($4.90 per month). This plan kicks things up a notch by supporting unlimited websites, along with the perks its smaller brother (the Lite plan) offers.
Turbo ($9.31 per month). For this price, you receive all the features included in the Lite and Swift plans. Plus, you get access to A2 Hosting's Turbo technology, which guarantees top-notch performance for your website. This makes it an ideal choice if you want a faster site without making the jump to a VPS.
In our experience, A2 Hosting delivers excellent service for its WordPress users. Its main draw lies in its budget hosting plans, as well as its WordPress-specific optimization and support. If you're looking to spend the least amount of money possible while getting the most performance out of your investment, this service is the way to go.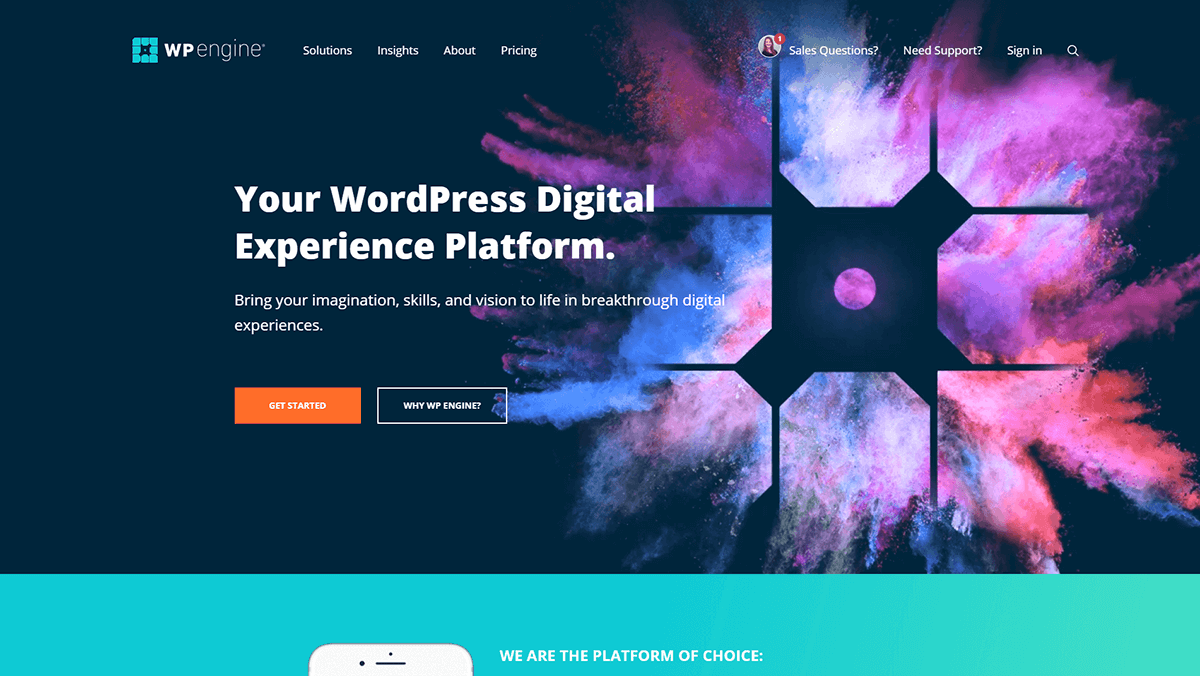 So far, we've discussed a couple of low-cost hosting options. However, there will come a time (hopefully!) when your website requires something more than shared hosting to keep up with a higher level of traffic. When that happens, you'll want to either upgrade to a VPS, or move to a host that doesn't skimp when it comes to performance or features.
WP Engine is one such option, offering what's known as managed hosting services. Managed plans are all about making your life easier, by providing you with a more tailored hosting experience. They're the equivalent of valet parking when it comes to hosting. They cost a little more, but they guarantee high quality and take care of a lot of routine tasks for you.
With that in mind, let's take a look at WP Engine's plans:
Personal ($29 per month). This is a big increase in cost from the other plans we've talked about so far. However, for this price WP Engine guarantees top performance for a single website that receives up to 25,000 visits per month. Plus, you get 10 GB of storage to play with.
Professional ($99 per month). If you sign up for this plan, your website will be able to handle up to 100,000 visitors each month without buckling, and you'll get 20 GB of storage for up to 10 sites.
Business ($249 per month). As you might expect at this price point, this is the Ferrari of WordPress hosting plans. It supports up to 400,000 visitors per month, and it provides 40 GB of storage for up to 25 websites.
If you're only familiar with regular hosting services, these prices might seem outrageous. However, it's important to note that websites using the Professional and Business plans are usually making enough money to justify the cost. If you're receiving hundreds of thousands of visitors per month, then you're already at the top of your game, and you need a hosting service to match. These plans are also perfect for developers, who may run multiple client websites on a single hosting service.
With that in mind, you'll probably want to start off using the Personal plan if you decide to opt for managed hosting. As long as you have the budget for it, WP Engine will provide you with a near worry-free hosting experience. You won't have to troubleshoot issues on your own or stay on top of management duties such as creating backups and updating WordPress. Managed hosting usually isn't necessary for very small sites, but it's often an excellent deal for larger operations.
Conclusion
It can be tempting to go with the first web host you find, but that's often a mistake. With a little effort, you can find plenty of hosting providers with competitive prices and outstanding service. If you take the time to find the perfect service for your needs, you'll save yourself a lot of headaches down the line.
If you plan on using Uncode, you should also look for a web host that meets our theme's criteria. We've tested the three options below personally, and they're some of the best WordPress hosts around:
BlueHost: This very popular web host is a great place to find reliable plans at reasonable prices.
A2 Hosting: This budget provider offers excellent performance for a low cost, which makes it a strong choice.
WP Engine: This managed web host is a more expensive option, but offers a worry-free experience.
Do you have any questions about how to choose the perfect WordPress web host for your site? Let's talk about them in the comments section below!
Sign up to stay up to date with the latest news!
(You will be forwarded to our subscribe form hosted by Mailchimp)