Are you excited to start a WordPress blog but not entirely sure how to approach the task? Starting anything new can be a little bit of a daunting task at times, but luckily, WordPress is just about the easiest blogging platform that you can get your hands on.
Not only is it easy to install, you can also customize your new blog to use a beautiful design and the latest tools to help promote your content. All without needing to know things like programming or web design.
This post is aimed towards anyone having their first-time experience with WordPress. We will look at website hosting options, where to buy a domain name, how to pick a theme (your design), and explore which plugins are essential to your immediate blogging success.
Are you ready to get going? Let's do it!
Get Yourself a Domain Name
You won't be getting far unless you have a domain name; a website address. Your domain name is how other people can access your blog, so you must be thoughtful when deciding on one specific name. The reason being is that, in general, it's not a common practice to change a domain name, ever.

NameCheap is a wonderful, and affordable, domain registrar platform that provides many domain-related services. You can register a new domain, add WHOIS protection, purchase SSL certificates, and more.
And if you find it hard to come up with a unique name (we don't blame you, many of the best names have been long taken!) then check out the following sites to generate some inspiration:
The main objective of the domain name is to be easily recognizable and also easy to type. Very few brands can pull off gibberish domains, and we don't recommend taking a blind risk.
Next Up: Decide on a Hosting Provider
If you are going to use the WordPress self-hosted version, you are going to need to get yourself a web hosting provider. A web host is what provides the means for your website to exist. Think of it as a home for your blog.
Rest assured that there are an abundant amount of hosting providers, many of which provide WordPress services specifically. If you are just starting out, it's best to go with a service that can do most of the work for you, up to the installation process of WordPress itself. And once you get a hang of it, you can move on to alternative solutions such as VPS.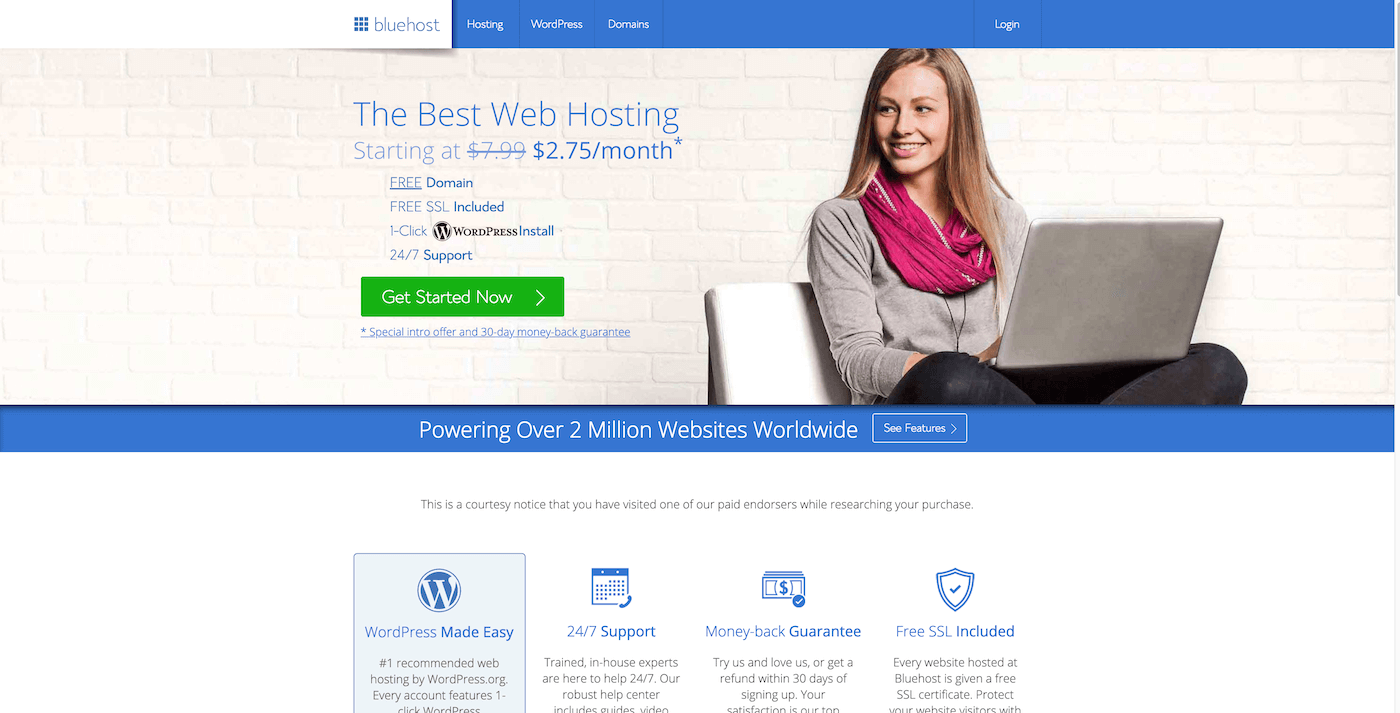 Most beginners will want to start out with Bluehost. They provide a simple shared hosting solution which starts out at just $2.75 per month.
You get a free domain name on the house, free SSL protection, a single-click WordPress installation, and a dedicated support team to assist you at any time. This is just about the easiest way to get started.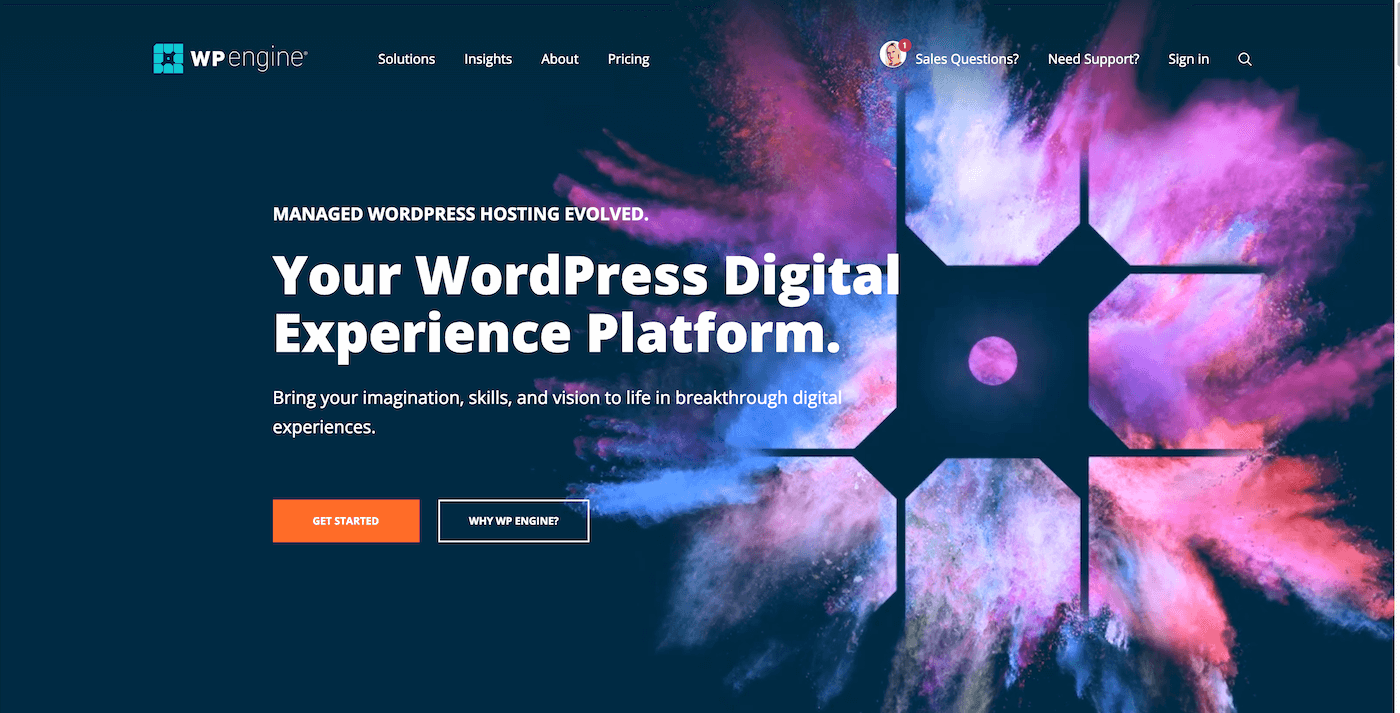 If you have an allocated budget in the $500-per-year range (plans start at $35 per month), you might want to consider WPEngine, a renowned hosting company that specializes in managed WordPress solutions.
Here is what you can expect from a managed hosting service:
Constant monitoring. You will never have to worry about technical issues or potential website downtime.
Security. In this day and age, having a secure website is more important than ever. Managed hosting provides 24/7 security protection for your files and data.
Automated backups. In the unlikely event that something bad happens to your blog, a managed hosting provider will have a ready-made backup available to reinstate your site quickly.
Support. Whether you need a question answered or can't figure out a technical task, there is nothing more satisfying than having a person to talk to whenever you need help with your website.
WPEngine also provides services such as a CDN network, performance optimization, and free SSL certificate at no additional cost to you.
Best of all, you can upgrade your hosting account whenever your blog is starting to get more traffic and exposure. The upgrade process requires no downtime and takes immediate effect.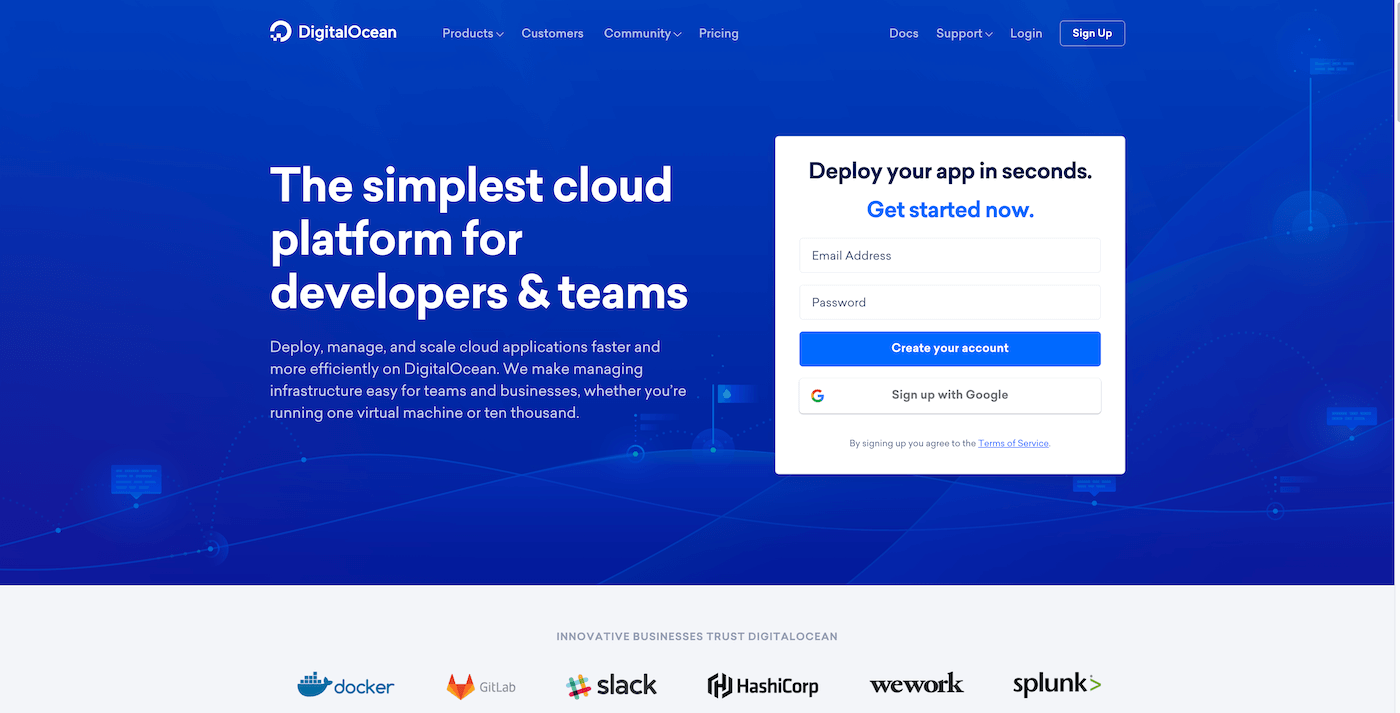 And lastly, you can go for a cloud hosting solution such as DigitalOcean. One of the reasons why DigitalOcean is so great is because you can install WordPress in a single-click. Also, you can increase or decrease your server size depending on your needs.
The only thing different from the other two hosting providers is that DigitalOcean requires you to self-manage everything.
This means that if you want to make any 'serious' changes, you are going to have to learn a few things about the Unix Shell. And truth to be told, it's not that hard to learn!
DigitalOcean plans start at $5 per month and you can increase your server size at any time. Check out the official guide on how to get WordPress installed.
Your New Site Needs a Design (Theme)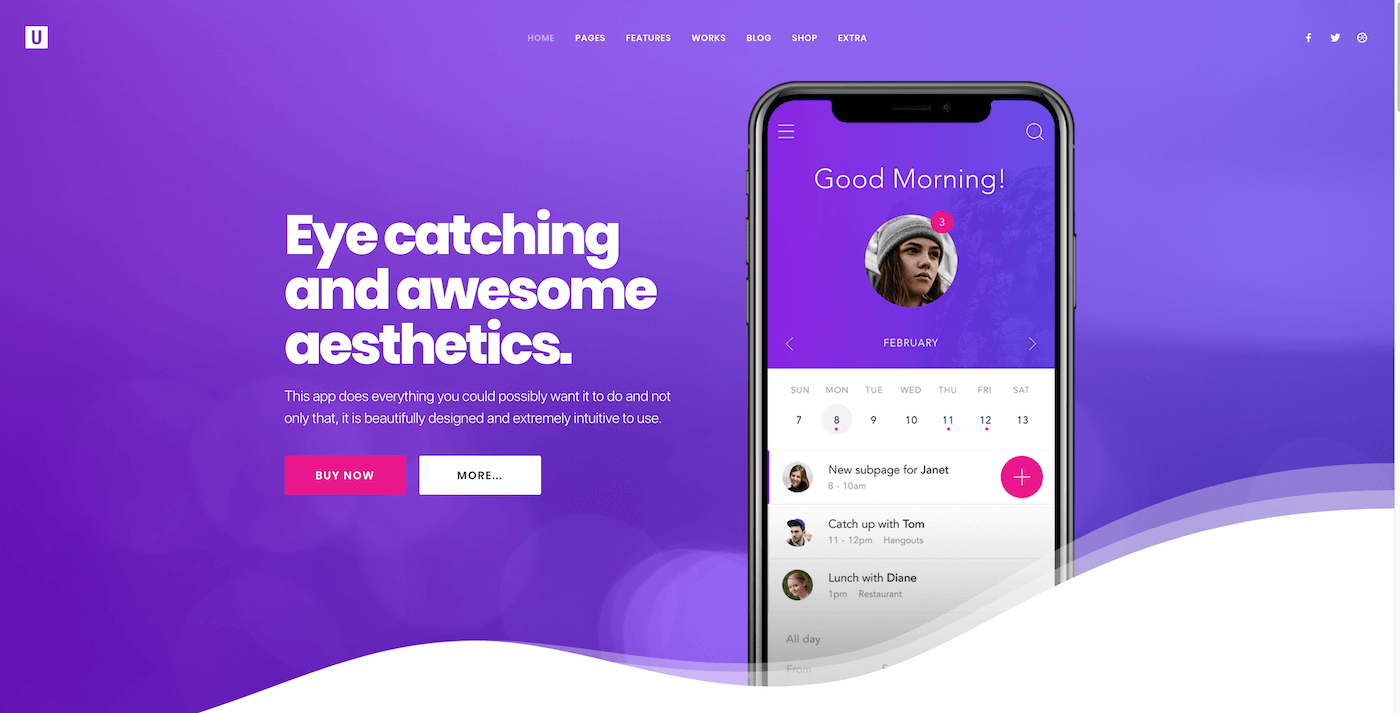 Every year, the WordPress team releases a new default theme — this year it's Twenty Nineteen — which is applied to all new websites created with WordPress. And while the default theme doesn't have any specific issues, it's not the most exciting theme so to speak.
You can preview plenty of WordPress themes in the official directory, to date there are more than 7,000 free themes available for instant download.
And if you want to apply a new design to your blog, simply log-in inside your admin dashboard, and navigate to Appearance → Themes → Add New.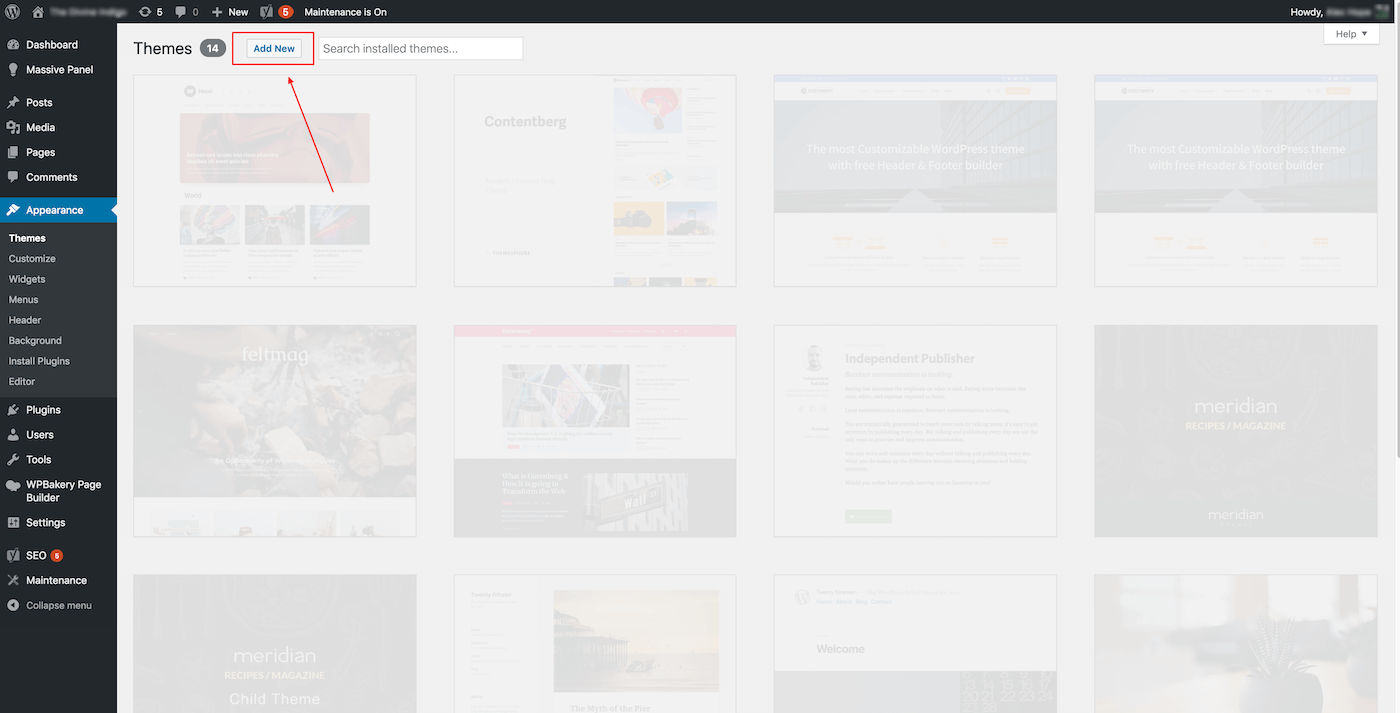 If you want to make your website stand out from day one, we recommend looking into premium themes. And here are the reasons why:
Premium themes provide high-end customization tools.
You get access to many pre-built demo designs that you can activate instantly.
Access to a support team that can help you solve design-related issues.
Unique features that you won't find in free themes.
And a lot more…
Here at Undsgn, we love to create unique and exciting WordPress themes. And our flagship theme Uncode can help to transform your entire WordPress experience on day one.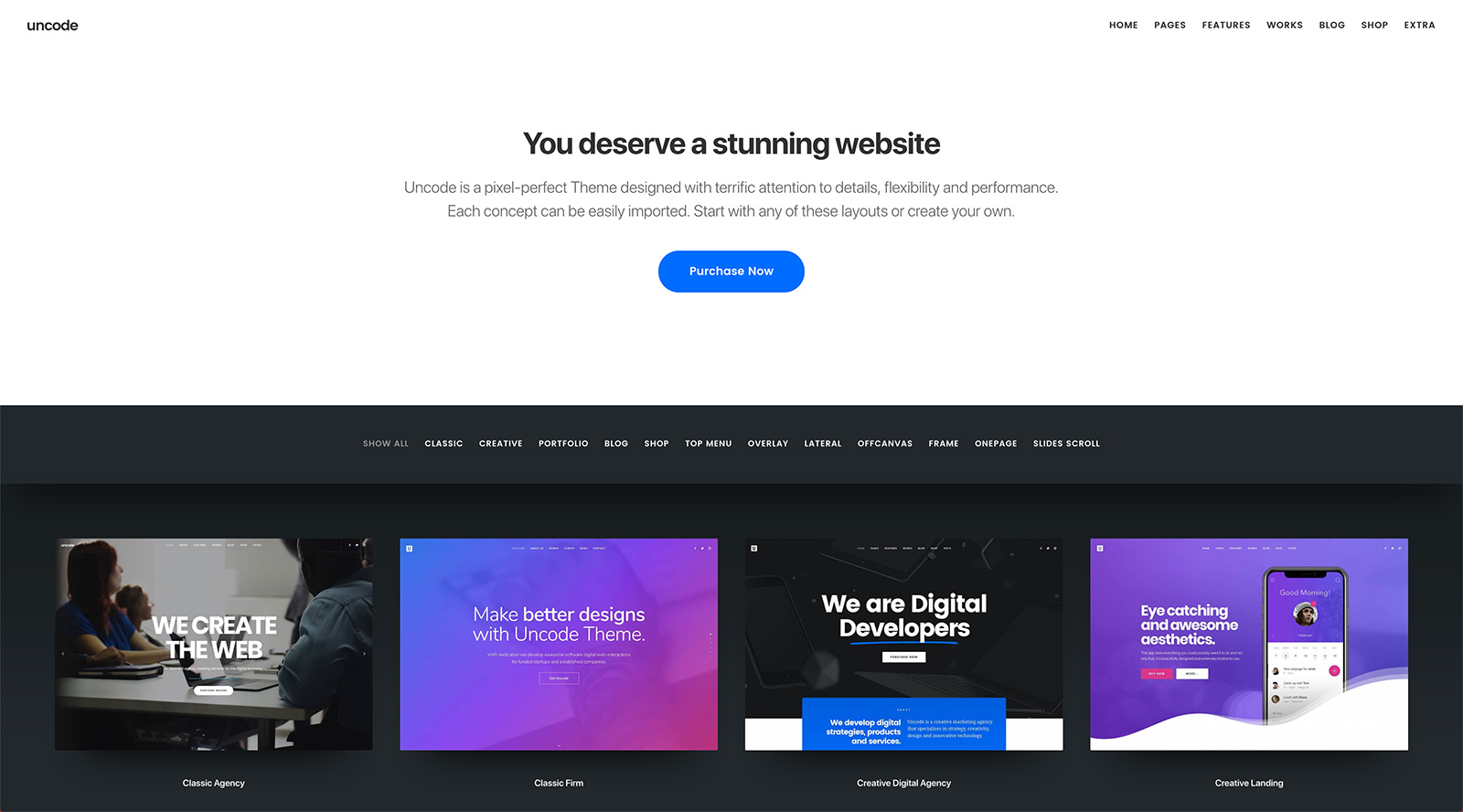 Uncode is a beautifully organized theme that integrates with the WPBakery Page Builder plugin. The theme is notoriously famous for providing more than 40 unique homepage concepts at no extra cost. You can start a beautiful blog, an online store, or a travel website in only a few minutes.
But that's not the only thing making Uncode a special theme. Apart from pre-built demo websites, this theme gives you immense flexibility for adding and editing content. An in-built Posts Module allows you to specify more than 100 options for every new post you publish.
Further, you can activate a digital store using WooCommerce in a matter of minutes. This is not just a theme for bloggers, but anyone looking to kickstart their digital venture with a truly phenomenal design.
See the full list of features here.
Plugins You Can't Live Without
Apart from themes which make WordPress so popular you also have Plugins. A plugin can be used to add unique functionality to your site.
E.g. You can add a plugin to prevent spammers, or you can add a plugin that lets you build beautiful WordPress galleries.
See the full list of plugins here. You can also view and add new plugins from your admin dashboard, simply go to the Plugins section.
Here is a list of plugins you ought to install on day one because of their invaluable benefit to your site.
Yoast SEO

Search engine optimization (SEO) is vital to the success of your website. And because WordPress is not optimized for SEO best-practices, you need to get yourself a plugin such as Yoast to make your website SEO-friendly.
It's easy to use, has many step-by-step instructions, and provides tools to help you write SEO-optimized content.
WP-Rocket
It's important that your website loads fast. Not only because Google encourages it, but also because website performance is directly linked with the increase of conversion rates. Further, a site that loads fast provides a reliable user experience. Visitors rarely remember sites that loaded fast, but rest assured that visitors will remember if your site loads painfully slow.
We at Undsgn have teamed up with WP-Rocket because we believe it's the fastest and best WordPress caching plugin on the market. In just a few minutes, you can improve your website's performance by up to 100%.
WPML Multi-language
The question is not whether you need to translate your site. The question is whether you have the right tools at your disposal when you do translate your site into a new language.
We have teamed up with WPML to promote the best WordPress multilingual plugin on the market. As a partner, our Uncode theme has been certified by WPML to ensure 100% compatibility.
Weglot
For those looking to write for an international audience (and who doesn't want to get their blog seen by thousands of potential new readers), adding additional languages is a must.
Luckily for WordPress users, creating a multilingual blog is made simple by installing translation plugin Weglot. As the highest-rated translation solution on the WordPress directory, Weglot makes your blog multilingual in minutes.
All In One WP Security

WordPress isn't the only platform being affected by security breaches, and nobody can say that they are 100% safe from having their website and/or taken over by people with malicious intentions.
It helps immensely, and gives you a peace of mind, to have a plugin that can ensure that your website is always protected. All In One WP Security provides a multitude of techniques for ensuring maximum site security. Rest assured that this plugin will put hard brakes on any hackers that are trying to get inside your data unannounced.
Take a Crash Course in Digital Marketing
Everyone starts a blog for their own reasons. But the majority do so because the idea of earning money online is so enticing. And there's no reason not to see it that way, blogging can indeed be a lucrative career choice.
But, long before you can start thinking about your first paycheck, you need to shape up some digital marketing skills.
You see, most of what you interact with online — all of it can be traced back to some form of marketing or promotion. That's how the Web works, so to speak.
Google's Digital Garage offers a free course on the Fundamentals of Digital Marketing. The course is based on 26 modules and includes more than 40 hours of content. This is an ideal course to study a few hours each week, but you can also pick and choose the topics you want to learn about.
The best part about this course is that it is provided by Google. As a result, a lot of what you learn will be direct advice from Google on how to perform things like search optimization.
Modules included:
How to build a strong web presence for your blog
How to create a successful business strategy
What are Search Engines and how they work
What is SEO and how it works
How to use SEO to promote your content
… and many sub-category modules!
All modules includes videos (usually around 3-5 min long) and provide knowledge tests at the end of each one.
Upon successful completion you will be awarded a certificate that you can add to your resume.
Closing words: one day at a time
Blogging is a vast and diverse field of interest. There are bloggers in just about any niche imaginable. You can learn more about blogging by seeing what other bloggers are doing on their blogs. You can also practice experimenting with your own blog. Try adding new pages, write creative posts, or simply play around with your site design.
Whatever you do, don't forget to have fun and if you want to create a stunning blog have a look at Uncode. Blogging brings people together, people who share similar interests and ideas about life. As for all the technicalities, that's just something you have to learn once.
Sign up to stay up to date with the latest news!
(You will be forwarded to our subscribe form hosted by Mailchimp)