WordCamp Europe 2018 is now over. This event offered thousands of WordPress industry fanatics the chance to learn more about the platform and where it's headed over the next year. However, not everyone managed to make the trip. If that includes you, then you could be missing out on important information that's likely to impact your website or business.
Fortunately, we've had our spies report back to give you the full story on what happened at this WordCamp Europe. Plus, we'll be offering our own opinion on how WordPress is moving forward. Armed with this knowledge, you can safely plan ahead – and even get ahead of the pack – when it comes to your own designs and strategies.
Without further ado, let's discuss the key talking points from WordCamp Europe 2018. Before we do that, however, it's worth delving a bit into WordCamp Europe itself. Let's talk!
A Brief Introduction to WordCamp Europe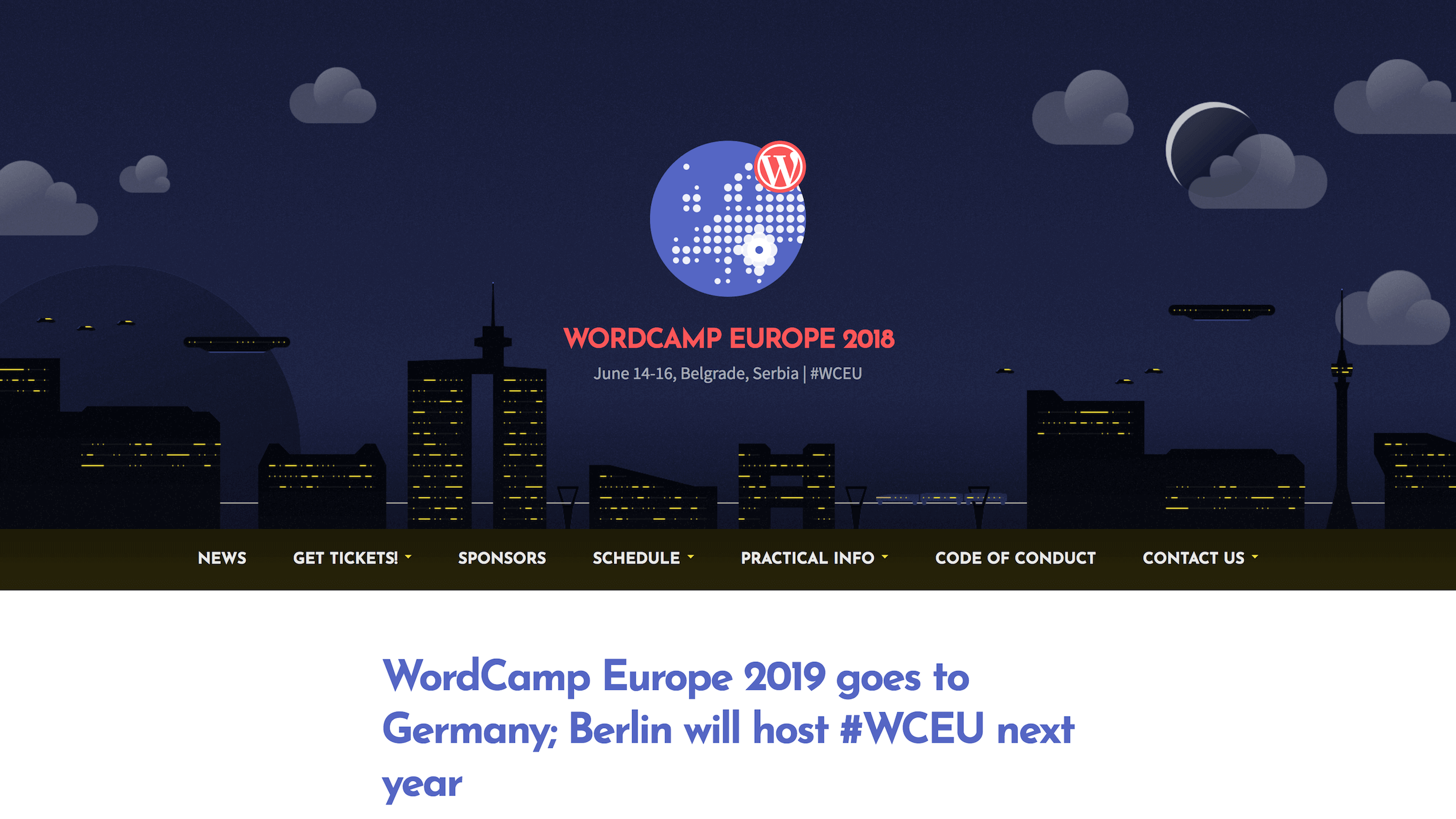 WordCamps are held all over the world, and you can consider them a kind of 'trade conference' for WordPress users. You'll often find many of the major players within WordPress in attendance. Some are located in the sponsor's hall, although there are typically also booths dotted all over the event.
Many WordPress enthusiasts go to WordCamps in order to network. Others enjoy attending the talks that take place along the various 'tracks'. At WordCamp Europe, for example, there were five different tracks (not including the informal 'Hallway Track'), each holding a full two days of talks and workshops. That's a lot of content on offer, and few attendees are able to see all or even most of it.
The 2018 edition of WordCamp Europe was held at the Sava Centar in Belgrade, Serbia. A dedicated Contributor Day also took place right across town at the Belexpocentar (which was also the location of the WordCamp after party). Contributor Day is all about getting users together to help evolve WordPress, by contributing their skills to writing documentation, making code commits, and much more. All-in-all, this massive WordCamp had something to offer for just about everyone.
A Recap of the 4 Main Talking Points at WordCamp Europe 2018
Now that we're on the same page, let's discuss some of the most important discussions that were held at WordCamp Europe. We'll focus on the 'connecting' elements that came up most often throughout the weekend, and are most likely to affect you over the coming year. Let's start with the biggest development of them all!
1. The Introduction of Gutenberg Is Imminent
Matt Mullenweg's keynote speech was highly-anticipated, and was unsurprisingly the most popular of all the talks during WordCamp Europe. One key aspect people were looking forward to was any information about Gutenberg. Fortunately, we got some concrete information on what the next steps are for this new editor.
If you're unaware of what Gutenberg is, it's essentially a replacement for WordPress' current TinyMCE editor. Its functionality is based on arranging a series of 'blocks' to design each post and page: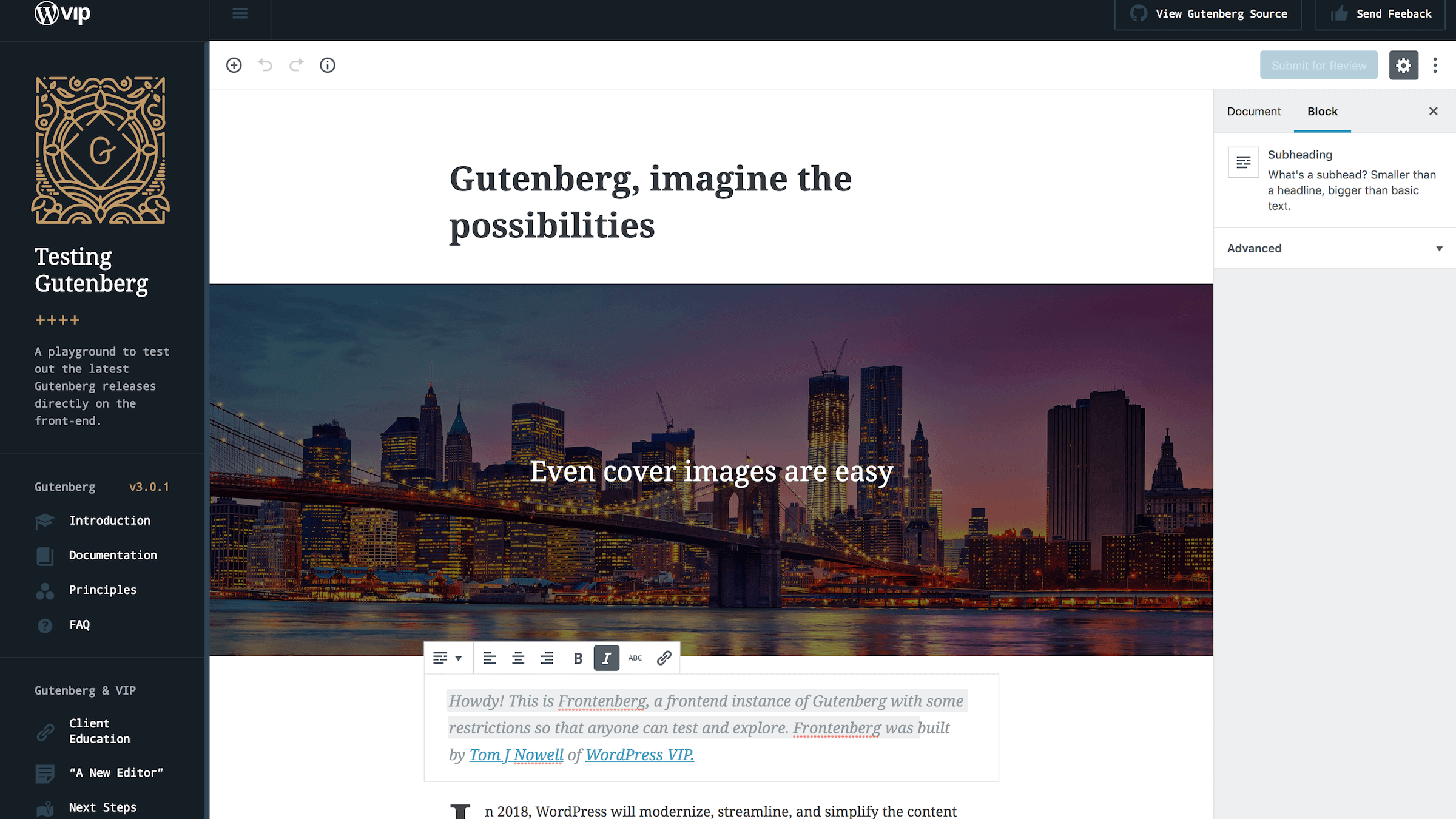 You can think of Gutenberg as a page builder, albeit one that offers less features at the moment. The main questions that the WordPress community has been asking itself are: "When is Gutenberg going to be added to the core platform, and how will it affect users?"
While we were given answers to both of those questions, they weren't as detailed as some would have liked. In a nutshell, Gutenberg is scheduled to be released as an 'opt-in' component on WordPress.com shortly. Users will see dashboard notifications asking them to try Gutenberg out for a while, until Automattic decides to fully pull the trigger.
At that point (the timing of which is still ambiguous), users will need to 'opt out' of Gutenberg if they want to revert to the classic editor. However, this change will be irreversible. The rollout to self-hosted WordPress users will follow a similar timeline and structure.
While Gutenberg has received a lot of criticism from many within the WordPress community, using the plugin and trying out the demo now shows just how far the new editor has come from its early days. This is to be expected, of course, and Gutenberg currently feels much more 'solid' and usable than it did in previous versions.
Overall, the news that Automattic has the confidence to release Gutenberg in the next WordPress update is exciting. What's more, it's a testament to the importance this shift will have for the platform's future.
2. Digital Experience Platforms are the 'Next Big Thing'
If the term 'Digital Experience Platform (DXP)' is new to you, join the club! This a recent development in how websites are delivered to users, and how they are accessed. It's an incredibly new concept, which means there's still some ambiguity over what it represents in objective terms – not to mention how it can be delivered and marketed.
Essentially, the concept revolves around personalizing each user's experience when it comes to engaging with your brand. This can happen directly via a website, through social media platforms, or wherever else the brand can be found online. In fact, some WordPress-specific hosts, such as WP Engine, are already adapting their voice and tone to reflect the growing interest in DXPs: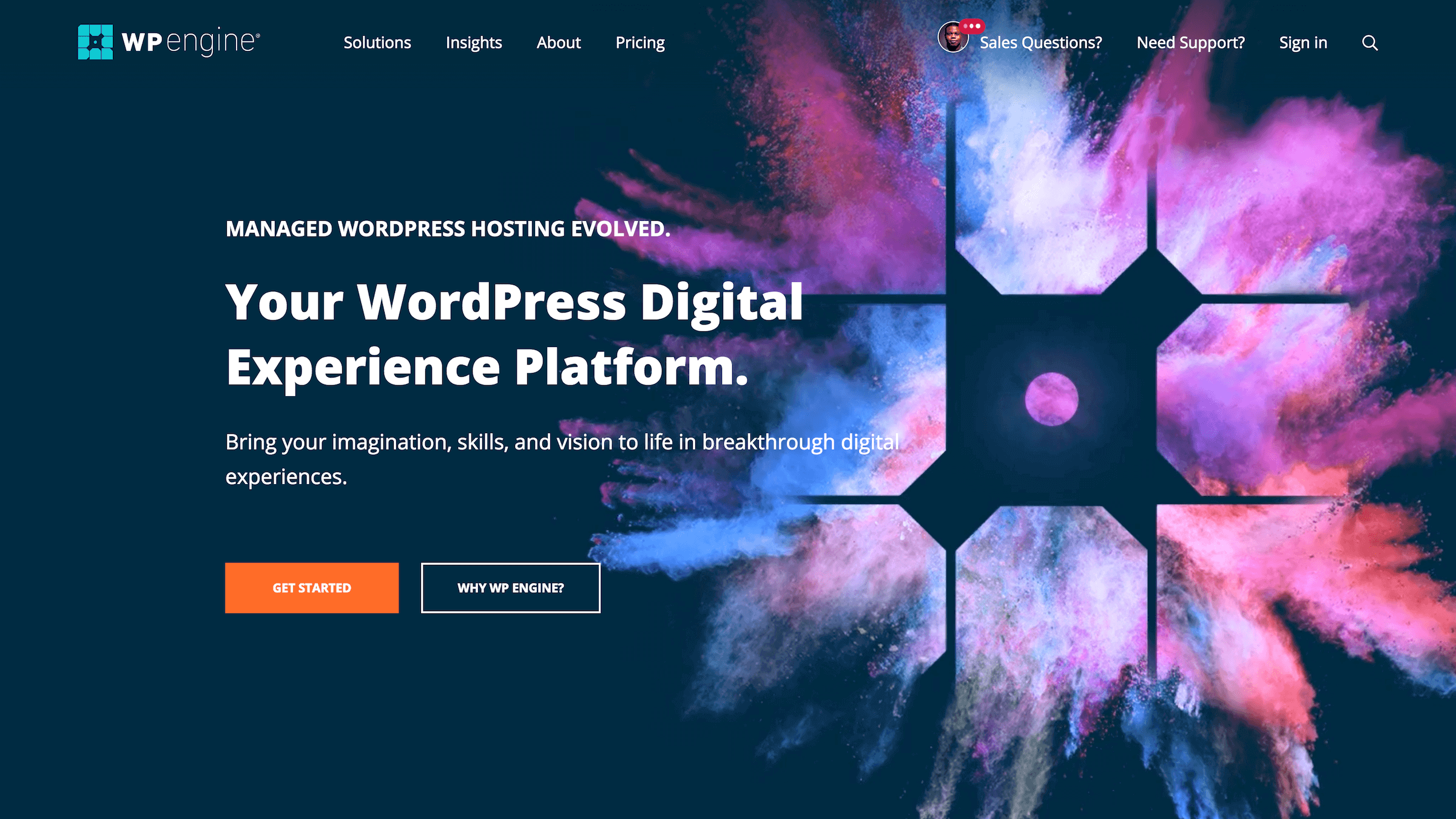 At WordCamp Europe, Human Made's Noel Tock delivered a talk on what WordPress will look like in 2019, and DXPs featured heavily. He discussed the fact that businesses are now looking for total-package solutions, rather than just a website.
In a nutshell, this talk explained the ways WordPress is looking to counter the rise of website builder platforms. It also covered how we need to 'own' the customer relationship more effectively. Noel went into much more detail, of course, and you can check out the uploaded slides from his presentation if you want to learn more.
3. Developer Mental Health Is Still High on the Agenda
As you may have noticed on prominent blogs such as WP Tavern, mental health was a topic heavily discussed around this time last year. Of course, interest in this topic isn't just a yearly occurrence (or it shouldn't be). Given the stresses and strains of running a WordPress site, everyone would do well to devote more time to discovering a work-life balance that suits them.
'Mindset' was high on the agenda at WordCamp Europe this year, with no less than four separate talks on the subject. In fact, there were five if you count Aaron Campbell's discussion on succeeding as an introvert. It seems as though people are beginning to recognize that much of the WordPress industry is frequently working at or over capacity.
As for the talks themselves, there were a wide range of related topics discussed, beginning with Christina Varro's introduction to all manner of health issues. She touched on mental health as well, although Laura Nelson's follow-on talk about anxiety was more focused on states of mind.
The second day introduced two workshops totaling around nearly three hours, which delved into the popular relaxation technique known as 'mindfulness'. This was followed by Dr. Sherry Walling's general talk on stress management techniques. Suffice it to say that mental health is proving to be a top priority for the WordPress community.
4. JavaScript Is Not Being Learned Deeply
Finally, there's another interesting insight from Matt Mullenweg's keynote speech that many haven't picked up on. During the talk, there was an almost throwaway question from Matt, in which he asked for a show of hands as to who was "learning JavaScript deeply." Unfortunately, there were very few raised hands.
While there's no guarantee that the audience was full of developers, anecdotal evidence over the weekend suggested that many were not excited or indeed interested in learning much about JavaScript. This is in contrast to the focus major blogs such as Torque have given to the language over the past couple of years.
Given all of this, there are two potential conclusions we can come to:
PHP is still seen as the perfect language to code WordPress solutions in.
Developers have no idea where to begin when using JavaScript for WordPress.
It appears as though the second conclusion is closer to the truth, as WordCamp Europe hosted a number of talks and workshops on using JavaScript and WordPress together. Adam Silverstein's JavaScript API talk was the perfect example, and was fittingly held as the very first discussion of the weekend. In this well-attended talk, Adam ran through the different JavaScript APIs included in WordPress. Plus, he touched on some practical examples of how they can be used.
On the second day, there was also a workshop about developing for Gutenberg using React, which is a JavaScript library for building user interfaces.  All in all, it's clear that Gutenberg and JavaScript need to become high priorities sooner rather than later. After all, these are essentially going to be the cornerstones of WordPress moving forward.
Conclusion
Earlier this month, WordCamp Europe 2018 arrived in Belgrade for three days of laser-focused WordPress discussion and promotion. While thousands descended on Serbia, there were many more who couldn't make the event.
To catch you up, we've given you a brief overview of what everyone was talking about during the weekend. As you'd expect, Gutenberg was a major focus, and is expected to launch soon. However, there's still a lot of work in store for both Automattic and the WordPress development community – especially when it comes to learning JavaScript. Time will tell whether both of these tools become top priorities for WordPress developers.
Sign up to stay up to date with the latest news!
(You will be forwarded to our subscribe form hosted by Mailchimp)