Running a blog can be complicated, especially if you intend to do it on your own. You'll need to put out content regularly, come up with new ideas, and interact with users, just for a start. It's a lot for any single person to take on.
That's why bringing new people into your team can be such a smart idea. Working with multiple authors will enable you to create content more often, and makes the entire process much less stressful. Plus, new voices can help you come up with better ideas and keep everything running smoothly.
In this article, we'll talk about the advantages of running a multi-author WordPress website. Then we'll provide you with a few tips for getting started, and explain how Uncode can help you out. Let's jump in!
The Advantages of Running a Multi-Author WordPress Website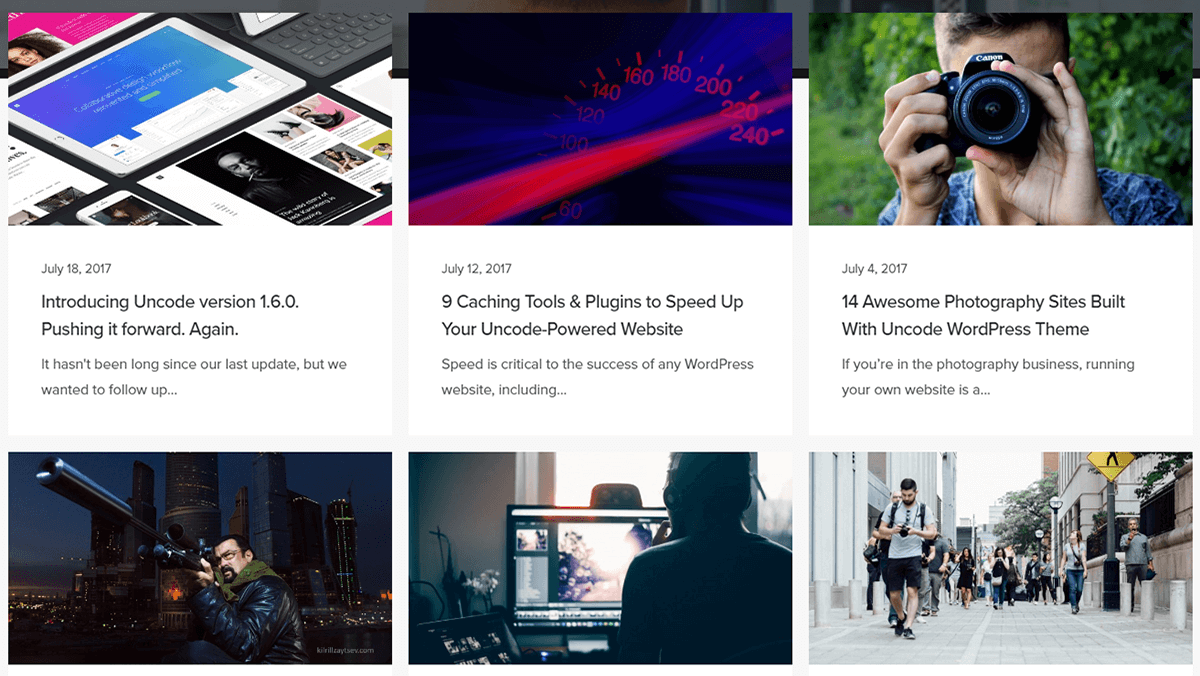 In most cases, running a popular website involves a lot more work than one person can reasonably handle. For example, the larger your audience is, the more often you may have to put out new articles to keep readers coming back. If you're on your own, that kind of pace can burn you out rather quickly.
Bringing more people into your team isn't a decision you should take lightly, but it can provide you with a number of benefits, such as:
Enabling you to create more content at a faster pace.
Making it possible to put together a team with experience across multiple fields, so you can help each other out.
Giving you the option to organize a content schedule in advance, and move posts around if one of your writers doesn't deliver.
Naturally, not every website is a good fit for a multi-author system. For example, if you're using WordPress to run a personal portfolio site, you don't need to put out multiple blog posts per week. However, a diverse roster of authors is an asset in cases where you have a large audience, you want to cover a broad range of topics, or you simply want to release as much content as possible.
3 Key Tips for Running a Multi-Author WordPress Website
If you think your site could benefit from including more authors and contributors, then you owe it to your readers to give this system a try. Here are three essential tips to help you get your multi-author website off the ground, and run it efficiently.
1. Find the Right Co-Authors
The first step to expanding your team is to find the right people for the job. Fortunately, the web is full of talented writers who are always on the lookout for their next opportunity. On the other hand, there are also plenty of less-talented authors, who will simply hammer out words as fast as they can with little regard for quality.
You want to attract only the former candidates to your team, even if you're on a tight budget. Here are a few tips to help you spot the right people:
Look for writers who have enough time to contribute to your content schedule consistently.
Keep an eye out for candidates with experience in your website's topic(s), and be sure to review their portfolios.
Make sure any authors you bring in are open to responding to comments on their articles, to promote engagement.
This almost goes without saying, but anyone you bring on board will need to have strong writing abilities.
Any writer worth their salt won't be discouraged by having to meet a few requirements, as long as they're reasonable. If you're having problems finding candidates who fit the bill, you can always let people know that you're accepting guest posts on your website. In our experience, it's easier to recruit authors from your pool of guest authors than to chase up strangers. Plus, they'll already be familiar with your content and style.
On the other hand, you can always take a more active approach to author hunting. For example, you can look on websites such as Upwork, or set up recruitment posts on job boards like ProBlogger.
2. Set Up a Content Schedule in Advance
In the last section, we mentioned that any authors you bring on board should be able to adhere to your content schedule. If you're not familiar with the term, your content schedule describes when and how often you publish new posts on your website.
When you're working on your own, your content schedule usually isn't set in stone. Many solitary website owners simply publish new articles when they have the time. That's a valid approach, but it quickly falls apart when you expand your team.
Here's how a set content schedule can help you stay organized:
It provides your authors with clear structure and deadlines to keep them on task.
You can determine ahead of time how many posts you want to publish per week and who to assign them to.
It offers clear guidance about who needs to perform what tasks (and how they should be completed).
You can re-arrange delivery dates if one of your authors falls through, and you need something to publish at the last minute.
Once you have multiple authors on board and a working schedule in place, you'll probably want to save a couple of articles under your belt just in case. That way, you won't need email your other authors in a panic if one misses a deadline or turns in poor-quality work.
It's also important that each of your authors is kept on a set schedule, so they know what they're responsible for and can plan ahead. For example, you may require that a specific writer delivers two articles per month, on the first and third Fridays. That way, there will be less stress on your end, and you'll be able to plan further in advance.
3. Assign Clear Duties to Your Co-Authors
Before any company can run smoothly, everyone needs to know what their duties are. For example, if you have three additional authors on board, they each need to know what their deadlines are, what they should write about, how to format their posts, and so on.
Being as clear as possible about what you expect from your team members right from the beginning is critical, because:
It makes the onboarding process simpler. If your new teammates know exactly what's expected of them, they'll be able to adapt faster.
It simplifies management tasks. Knowing who to contact in order to get specific tasks done is one of the most important aspects of managing a website. For example, you wouldn't expect one of your authors to handle troubleshooting your site, so that shouldn't be part of their duties.
You may have started out as a writer yourself, but if you're going to add more people to your website, you'll also need to sharpen your management skills. That means being upfront about what you expect from your coworkers, and setting clear boundaries.
An excellent way to do this is to outline the specific duties for each role on your team. That means spelling out tasks and deadlines, explaining how to ask for help, and more. Here's an example of an effective welcome letter for a new writer on your team:
Hi John,

As the newest member of our writing team, here are the duties you'll need to take care of:

Write and edit four blog posts per month, to be delivered each Monday.
Include a featured image for all of your posts (feel free to reach out to us if you don't know where to find these).
Reply to the comments on your articles in a friendly manner to engage our visitors.
Answer any work emails we send your way within a day (excluding weekends), to make sure we're all on the same page.

If you have any doubts or questions about any of these tasks, please let us know!
This is a simple example of how to outline what you expect from new authors on your team. Naturally, the tasks themselves will vary depending on what your website does, but your goal is to be upfront. You're in charge, so it's up to you to take the reins!
2 Ways Uncode Can Help You Set Up a Multi-Author WordPress Website
Once you have your team in place, you'll want to introduce them to your audience. Uncode can help you do just that, thanks to its robust set of features.
1. Set Up Author Profiles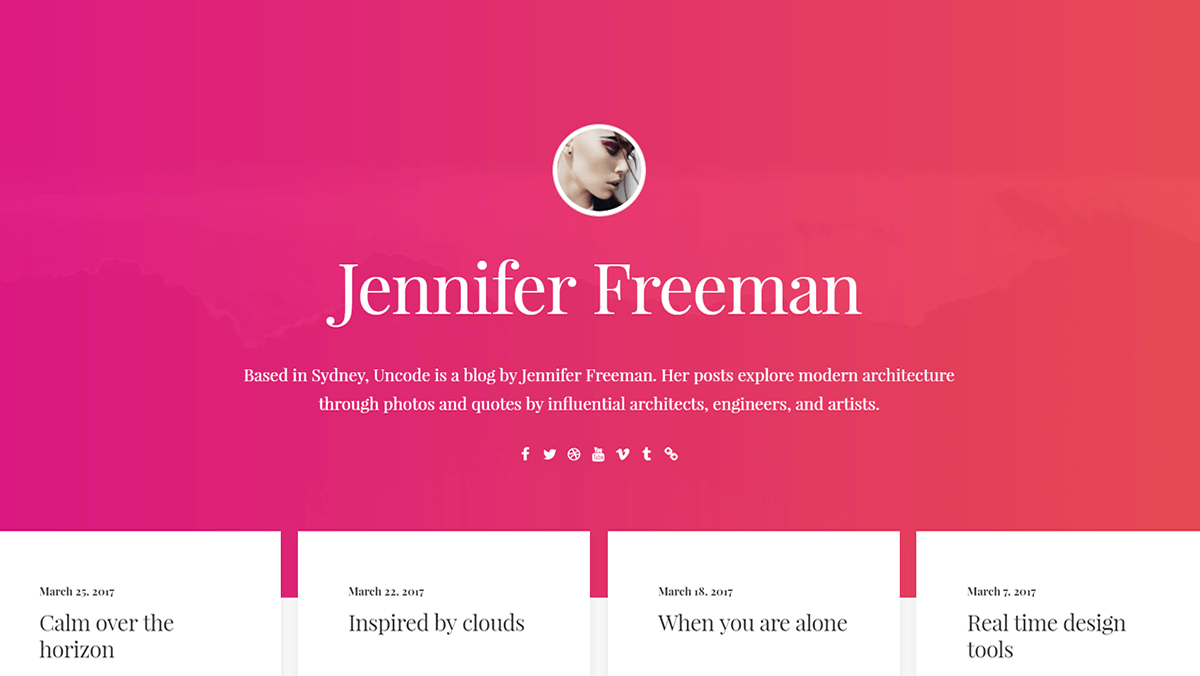 When you have multiple authors working on your site, it's important for readers to know a bit about them. That way, they can feel more engaged with their favorite writers, and even follow them on social media to receive updates about new posts.
Fortunately, Uncode includes an Author Profile module that you can set up on any page using Visual Composer. This module enables you to customize your basic WordPress author pages, including contact information, custom backgrounds, and more.
You can even use the same module to include condensed author profiles at the bottom of your posts, via Uncode's Content Block feature. For detailed instructions on how to use this module, check out our documentation.
2. Create a Team Member Section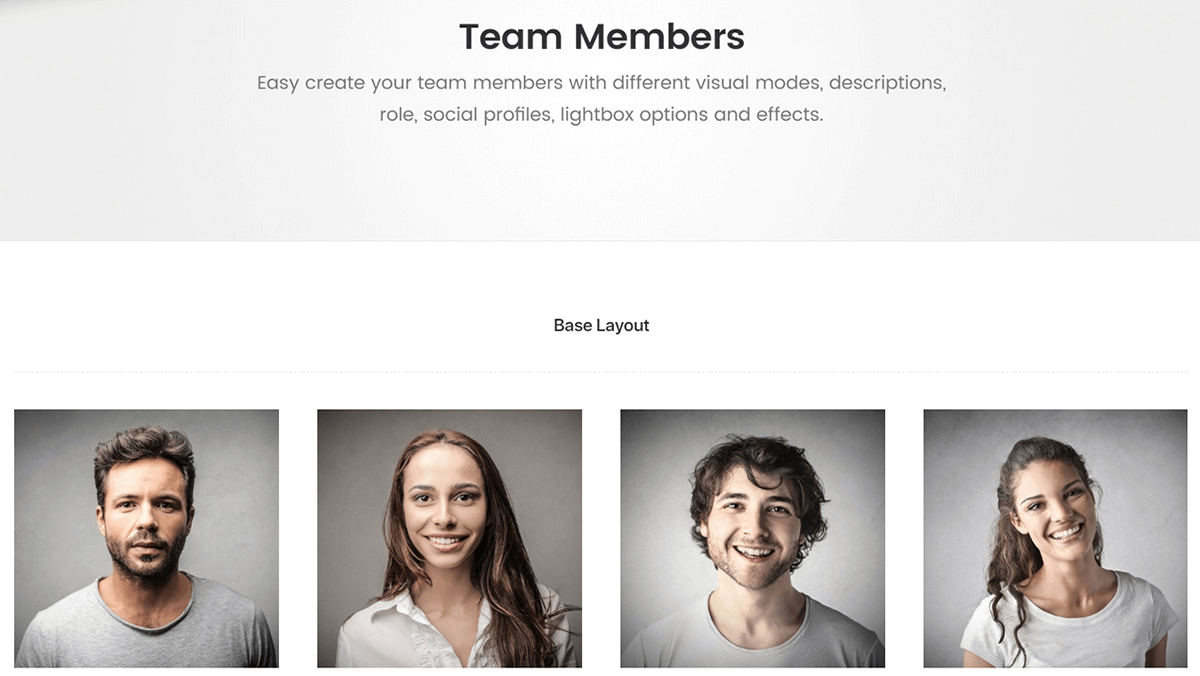 Aside from creating snazzy author pages for everyone on your team, it's also a good idea to display all key team members in one place. That way, new visitors can see who's behind the articles on your website at a glance.
In most cases, you'll want to include your team members section on your homepage, so it's one of the first things people will notice. It's also smart to stick with short biographies, and include social media links. That way you aren't overwhelming visitors with information, and readers will be able to visit their favorite authors' profiles off-site if they want to know more.
Uncode enables you to include team member sections as galleries on your site. All you need to do is upload your authors' headshots to your media library, and combine them in a Media Gallery module. It's that simple!
Conclusion
Finding the perfect new authors for your website can be difficult. However, this effort can have an incredible impact on your site. The more quality authors you have, the more content you'll be able to produce while keeping quality consistent. Plus, if you're an Uncode user, you can take advantage of our theme's awesome features to help you set up detailed author pages and archives.
Let's review the three key tips that will help you run your multi-author WordPress website more efficiently:
Find the right co-authors.
Set up a content schedule in advance.
Assign clear duties to your team members.
Do you have any questions about how to use Uncode to set up a multi-author website? Ask away in the comments section below!
Image credit: Pixabay.
Sign up to stay up to date with the latest and greatest news from Undsgn!
(You will be forwarded to our subscribe form hosted by Mailchimp)